Bring the celebration home with these Mardi Gras party ideas. Whether you're planning an intimate celebration for two or for a bigger group of friends, use these party ideas to kick off your Carnival festivities.
Disclosure: I may earn compensation from the purchase of any product or service linked on this website, at no extra cost to you. I only link to products I use and love, therefore feel comfortable recommending.
What is Mardi Gras?
What most people refer to as Mardi Gras is actually Carnival. Just like that in Brazil and Italy, Carnival is the period leading up to the Christian religious observance of Lent. During Lent, observers would often fast or give up certain luxuries.
Carnival season runs from Epiphany (or Three Kings Day) on January 6 up to Shrove Tuesday otherwise known as Fat Tuesday, or in French: Mardi Gras. While celebrations run for the entire season, Mardi Gras is the last hurrah before Lent and tends to be the most indulgent of the parties.
Louisiana hosts one of the world's largest Carnival celebrations. The State was first colonised by French explorers and adopted its early Carnival traditions from France. The festivities have since evolved and taken on a life of their own. For more on Carnival, see this post about New Orleans Mardi Gras traditions and symbols.
Mardi Gras party decorations
Louisiana's Carnival colours—purple, green and gold—are the perfect foundation for Carnival party decorations. Mardi Gras is supposed to be OTT, a lavish celebration where you can really go nuts. However, I find the more-is-more approach often ends up looking cheap when it meets with a budget. I'm also deeply opposed to the amount of single-use-plastic that is consumed during Carnival season. That's why this is the perfect time to bring out those surplus beads from previous years and reuse them in a meaningful way.
I chose to keep my decor minimal using a gold sequin tablecloth I already own, along with this paper garland on Etsy (tissue paper is recyclable – though I will be holding onto this peacock-hued beauty) strung from a macrame ring. I centred the table with these polyface vases filled with purple and green flowers as a reference to the masquerade element of Carnival. Gold tealight candle votives (thrifted but you can get them here) bring a warm glow to the table.
Mardi Gras party food ideas
I've combined traditional and contemporary items in my Mardi Gras dinner party menu and offered up some alternatives to suit different tastes.
Drink
New Orleans has a reputation for unique cocktails. If you love aniseed flavours, why not start with the city's official beverage the Sazerac. If licorice isn't your thing, then maybe a Hurricane is more your fancy. You can find recipes for these and other notable New Orleans cocktails here.
First course
Louisianan cuisine is full of great seafood – plucked straight from the Gulf of Mexico. Let's start with an ode to the salty bayous of the Pelican State with a crab and avocado stack like this one.
If you would prefer something hot at this time of year, the State dish, Gumbo is just the ticket. Mother's is a New Orleans restaurant renowned for its seafood soup. You can get one of Mother's recipes here.
Main course
A hearty Jambalaya is an obvious choice for main course. For the more advanced cooks, an etouffee is another seafood-lovers alternative, native to Louisiana.
Need more? Louisiana-style rice and beans coming right up (hint: it isn't just rice and beans).
Looking for a more casual alternative? Muffaletta's are an easy and satisfying alternative. I don't even make my own olive salad, substituting a storebought one from the deli section in our supermarket. You can get the genuine, New Orleans Central Grocery version here.
Dessert
A King Cake is really the only choice for a Carnival celebration. This half cake-half pastry is an essential Mardi Gras ingredient and probably available at your nearest French bakery if you live in the US. Those further afield may need to whizz up their own – here's a recipe and a cheat's version for those short on time. Fillings vary from glace fruit to cream cheese so look around at a variety of recipes.
If you're not enthused about time in the kitchen, dial-up some takeaway from your nearest New Orleans-themed restaurant and just serve it upon arrival. It's not cheating, it's enjoying!
Now all there is left to do is turn up the music—grab my playlist—and laissez les bons temps rouler! (let the good times roll)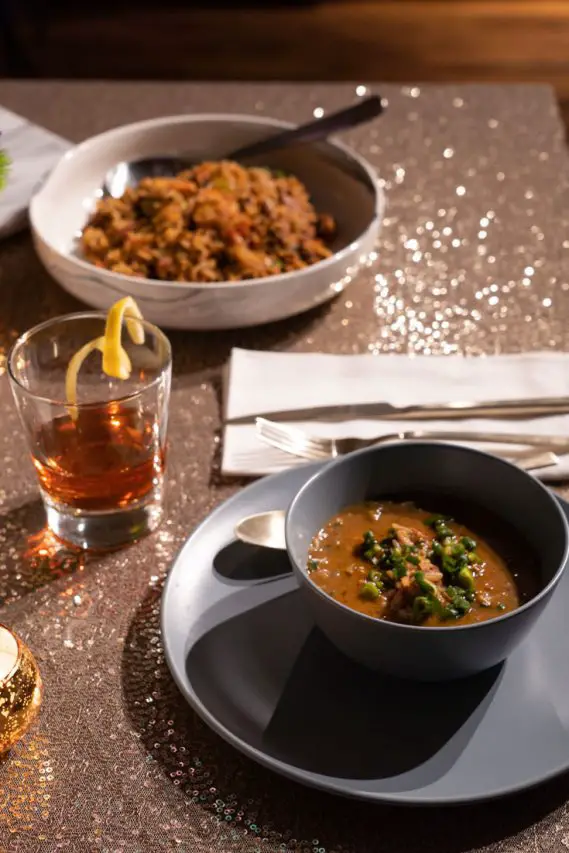 Have a wonderful Carnival Season and a festive Mardi Gras party at home!
Peace, love & inspiring travel,
Madam ZoZo