The moment you walk through the front doors of the Crayola Experience you're hit with a familiar, waxy smell. It's not a particularly pleasant scent, but it has a nostalgic appeal, triggering joyful childhood memories. I love crayons for the same reason I love the art of Henri Matisse, André Derain and Marc Chagall – thick, vibrant delicious colour.
Disclosure: I may earn compensation from the purchase of any product or service linked on this website, at no extra cost to you. I only link to products I use and love, therefore feel comfortable recommending.
For me that gummy smell also brings back a pang of conscience relating to the only time I consciously stole something – a set of Crayola crayons. In grade 2, we were given a colouring task at school and the teacher set an old ice cream container of crayons in front of me. As I dug through looking for the right colour I found something I had never seen before… sparkly, metallic crayons—jackpot!
However, so many of these crayons had been broken into small pieces by those "ungrateful" seven-year-olds around me. How could they mistreat these glittering waxy sticks, officially released as Silver Swirls? They were beautiful and had equally beautiful names like Rose Dust and Cosmic Cobalt.
I couldn't leave them in the hands of these ingrates. I stowed them away over several days, smuggling a couple home in my pencil case at a time. I figured if I was found with just one or two, then they would look like they accidentally got caught up in my stuff, rather than deliberate theft – it was a well-planned heist.
Over the course of a week, I got one of each colour safely home to my craft supplies. Victory! I could now lovingly preserve the glittering wax and use it in all my projects like writing thank you notes for my birthday presents. It would make my creations extra special, classy, adult even. Who doesn't want to receive a handwritten note from a primary schooler in Twilight Lavender or Misty Moss?!
Crayola made those metallic crayons with magical names, and they still do! So, I was excited to be visiting the Crayola Experience in Easton, Pennsylvania and return to my childhood passion for colouring.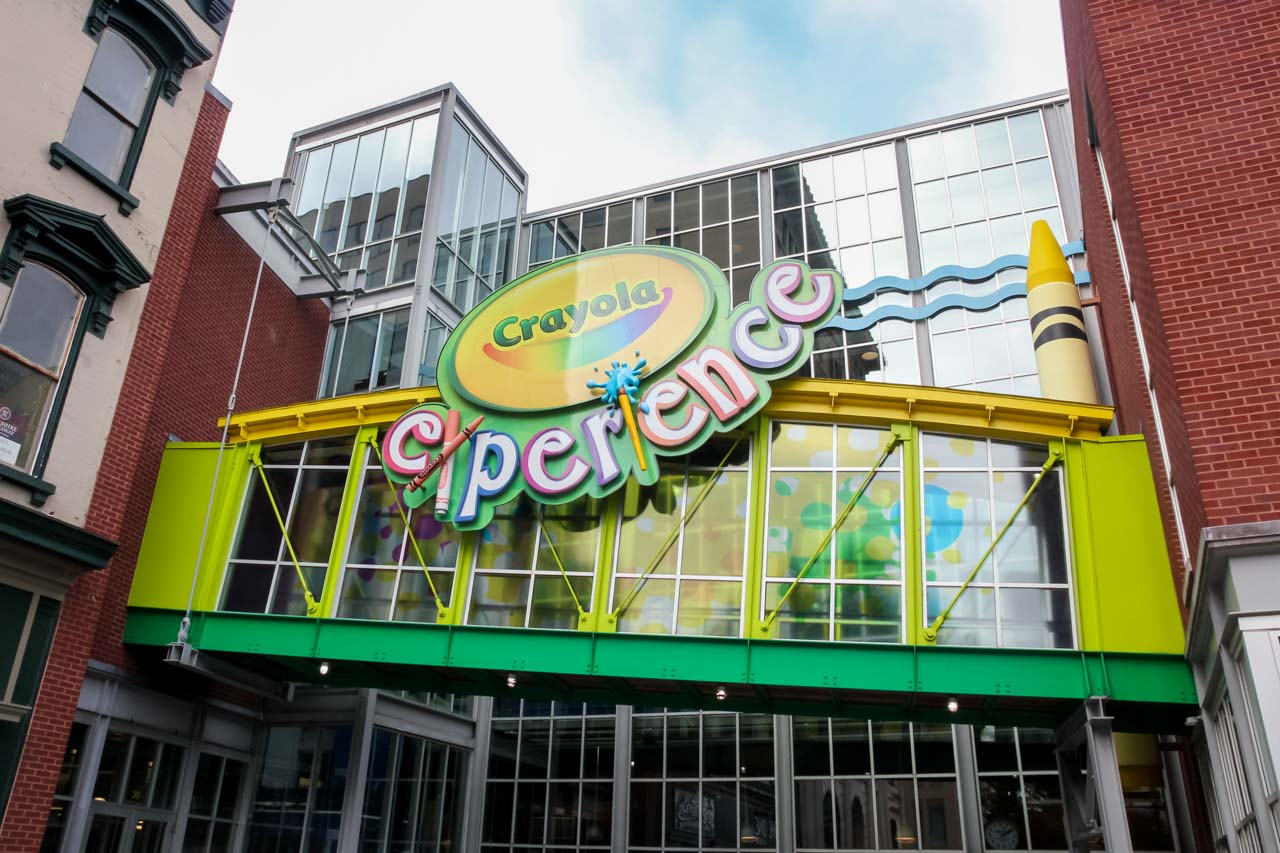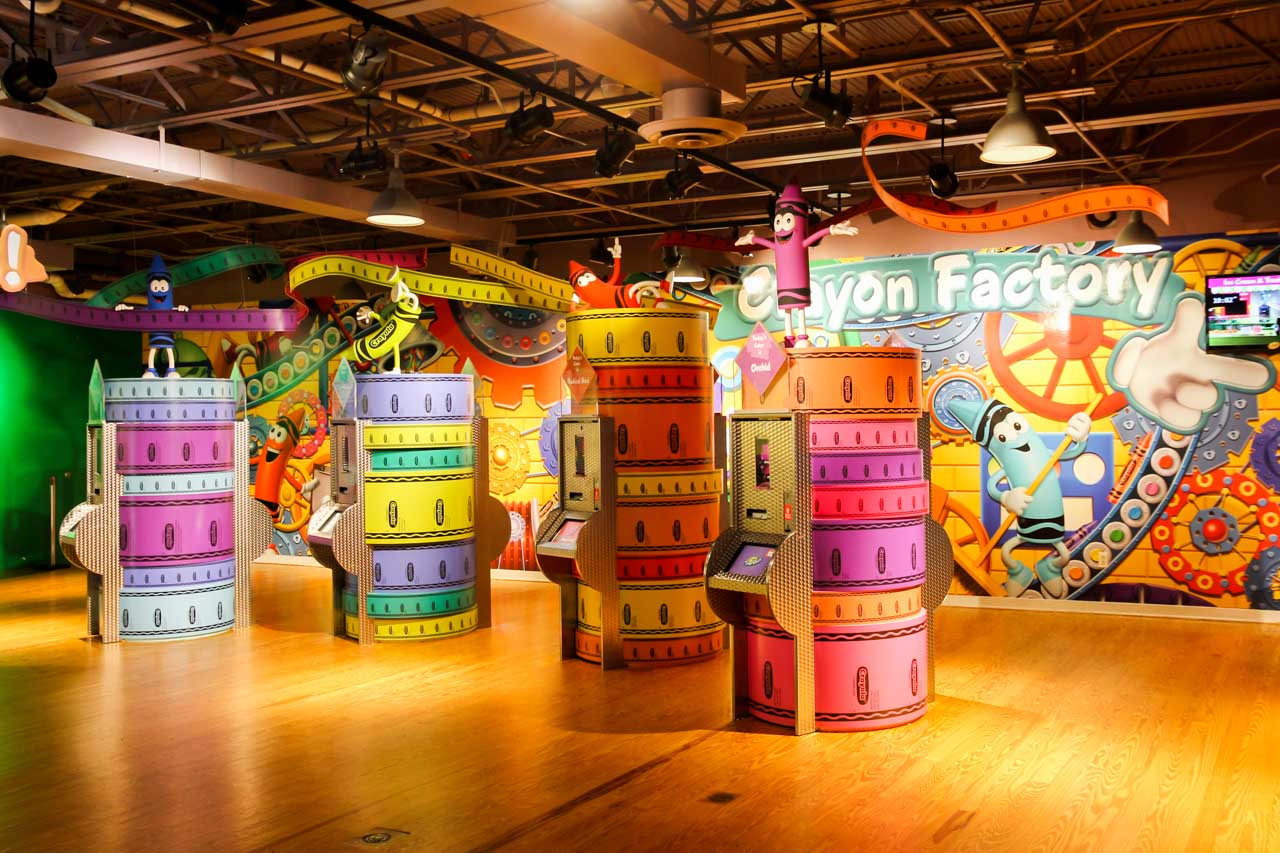 What is the Crayola Experience?
Just to be clear, the Crayola Experience is not the Crayola Factory. Tours of the factory ceased when the first Crayola Experience opened in 1996 offering an interactive alternative. There are now four Crayola Experience locations across North America offering the opportunity to learn, play and create with Crayola products. Crayola boasts that each of their Experiences are larger than an NFL football field, which house attractions such as colouring, melting, and moulding with Crayola products complimented by digital activities and play equipment.
There are now four Crayola Experience locations in:
Easton, Pennsylvania
Orlando, Florida
Plano, Texas
Bloomington, Minnesota
Benefits of colouring for adults
Need an excuse to visit the Crayola Experience as an adult? In case you feel you need an excuse to visit the Crayola Experience without a pint-sized human in tow, you'll be pleased to know that colouring has therapeutic benefits. While scientific studies in this area are limited, there is good reason to believe that colouring provides some of the effects of full-blown art therapy, such as short-term stress relief, increased focus and mindfulness.
Colouring has a meditative effect, especially when colouring repetitive patterns and designs such as mandalas. It allows you to switch off your brain and brings you into the present moment. If you're the fidgety or daydreamer type, colouring (like doodling) can also help you focus and better recall things you might hear while colouring. Read more about the benefits of adult colouring here and here.
Tips for adults visiting the Crayola Experience
If like us, you're visiting without children, arrive as soon as the doors open when it is quietest. Check the website for hours.
Some Crayola Experience locations hold adult-only events such as Crayola After Dark. Hello wine and colour! Keep an eye on the Facebook page or website of your nearest location for scheduled dates throughout the year.
Allow about 2-3 hours. The Crayola Experience recommends 4-5 hours which would be about right for those accompanying children. However, as an adult, you probably don't need to budget for time on the jungle-gym.
Enjoy a colourful time at the Crayola Experience!
Peace, love & inspiring travel,
Madam ZoZo