Guatemala packs a stunning variety of things to do, see and marvel at in a country one-ninetieth the size of the United States. Whether you're a history buff, nature lover, culture vulture or art enthusiast, Guatemala has you covered. From ancient, jungle-shrouded Maya temples to hiking live volcanoes there are so many things to do in Guatemala, you'll be spoilt for choice. Here are a few highlights to get you started.
Disclosure: I may earn compensation from the purchase of any product or service linked on this website, at no extra cost to you. I only link to products I use and love, therefore feel comfortable recommending.
Getting to Guatemala
If you are travelling by air, you'll find that most flights to La Aurora International Airport (GUA) in Guatemala City are routed through the US.  Direct flights depart Atlanta, Chicago, Dallas, Fort Lauderdale, Houston, LA, Miami, New York City and Washington D.C. Non-direct flights stop in San Salvador and Mexico City. There are also buses that travel regularly from Belize, Honduras and Mexico. Rome 2 Rio is a free online tool you can use to get an overview of the options from your specific departure location.
We worked with a local tour operator to create a custom overland itinerary from Belize to Guatemala, with a short detour into Honduras.
Explore the ancient Maya city of Tikal
Tikal is an ancient Maya city thought to have been inhabited between the 6th century BCE and the 10th century CE. It's estimated there are 3000 buildings across the core 16 square kilometres of the ancient citadel of which only about 15% has been restored. Tikal is estimated to have housed a population of around 100,000 people at its peak and was an important cultural, ceremonial and commercial centre. Like most Maya cities, it was eventually abandoned and reclaimed by the jungle where it remained hidden until it was rediscovered in 1848. Star Wars fans, take note, Tikal was a filming location in Star Wars: Episode IV A New Hope.
Tubing to Xibalba at Candelaria Caves
Candelaria Caves are seven huge, limestone caverns through which a 22km (roughly 13.5mi) section of the Candelaria River passes. Once sacred to the Q'eqchi Maya, the caves were only rediscovered in 1974 by a French scientist and explorer. In Maya tradition, the Caves are thought to be the entrance to Xibalba (the underworld) and therefore were the setting of many important rituals and sacrifices. Today they are largely unknown to foreign visitors. Different sections of the spectacular caves can be explored on foot or by drifting down the River on an inner tube.
Note, Candelaria Caves is still very much a "local's tourist attraction" as international visitors haven't quite cottoned on to them yet. This makes the Caves a terrific off-the-beaten-path experience and be prepared for some language barrier and the rustic nature of the facilities.
Bathe in the limestone pools of Semuc Champey
Semuc Champey, meaning "where the river hides under the earth" in the local Q'eqchi dialect, is where the Cahabón River dives beneath a natural stone bridge. Atop the bridge roughly 300m long, stepped limestone pools have formed, creating shallow swimming holes for locals and visitors alike. I recommend hiking the steep path to the lookout first, then cooling off in the turquoise waters after your descent.
Semuc Champey is relatively remote, so it requires both time and an appropriate vehicle to reach it. If you have space in your itinerary, it is well worth the journey.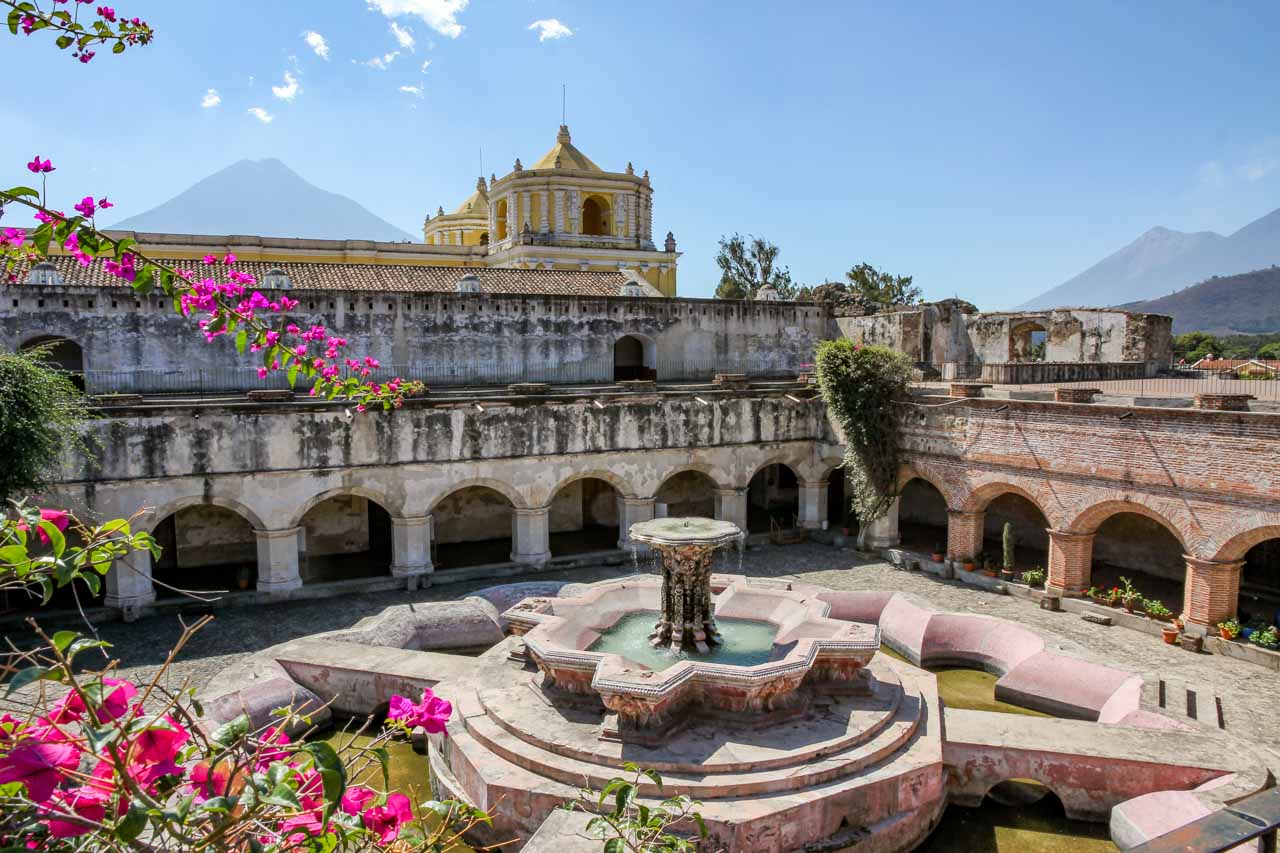 Visit the villages of Lake Atitlan
There are 11 towns and villages on the volcanic shores of Lake Atitlan, ready for you to explore. Roads around the Lake are in terrible condition so most travel is done by boat, which is a more direct and scenic way to get around anyway. Observe local life in townships such as Santiago and shop for delightful handicrafts, textiles, coffee and chocolate in San Juan. If you have more time in Lake Atitlan and want to get back to nature, the region offers picturesque hikes of varying difficulty, kayaking and zip-lining.
Discover the remarkable architecture of Antigua
The Spanish colonial architecture of Antigua is what qualified it for UNESCO World Heritage status. You'll be enamoured by the city's remarkable examples of Barroco Antigueño (Antigua Baroque) style buildings, both restored and in earthquake crumbled ruins. The colourful buildings, cobblestone streets, leafy plazas and colonial fountains are unlike anything else in Guatemala. For more on visiting Antigua's spectacular earthquake ruins and delightful colonial architecture, see Earthquake Baroque.
Shop the markets of Chichicastenango
On Thursdays and Sundays the town of Chichicastenango, not far from Lake Atitlan, bursts to life with its famous markets. There are many wonderful mercados and places to shop in Guatemala, but Chichicastenango is an experience unto itself. The bustling market stalls spill out of the central plaza into the surrounding streets. Vendors are not arranged in any particular way, it's a matter of taking a wander through the maze and exploring. In addition to the market, there is Chi Chi's rainbow-hued cemetery, a prime example of the colourful resting places throughout Guatemala.  You may even visit the workshops of costumiers and mask-makers that clothe performers in the annual Festival of Santo Tomás. Chichicastenango is conveniently located between Antigua and Lake Atitlan, so why not explore all three?!
Make chocolate the Maya way
The Maya of Central America made important contributions to developing raw cacao, into what we know today as chocolate. But industrialism and mass production have altered the quality and process of making the real artisan product. In Guatemala, you can hark back to more traditional methods of producing chocolate and indulge in all its deliciousness. For a wonderful chocolate experience in Antigua, see The Art and History of Chocolate in Guatemala.
Climb an erupting volcano
There aren't too many places in the world where you can (legally) get up close and personal with an erupting volcano, so close in fact, you can roast marshmallows on a red-hot tide of slow-moving lava. For some real adventure (and potential danger if we're honest), try a half-day hiking excursion of Volcán Pacaya. You might even take an overnight camping trip up the firey mountain or one of its volcanic neighbours.
Indulge in Maya food and culture
Food is an unbeatable way to learn about the history and culture of a destination. For instance, barely a meal in Guatemala is served without corn tortillas. This is because the Maya origin story speaks of deities that created the first humans from corn or maize. Look out for local dishes such as chiles rellenos, chicken pepian, kak'ik, jocon and tamales– all delicious and with their own tales to tell.
Are you ready to explore Guatemala yet?  I know it's one of those rare destinations I'd be happy to return again and again. If you're already planning a trip and looking for a packing list, you can find my recommendations on what to wear in Guatemala here and an international travel checklist over this way.
Peace, love & inspiring travel,
Madam ZoZo