From the scenic shores of Lake Atitlan to the cobblestones of Antigua; the jungle enveloped Tikal to the turquoise pools of Semuc Champey, Guatemala is one stunning country. However, due to political instability, drug trafficking and violence, much of the Central American nation is under-explored by foreign visitors. Like most developing nations, you need to be prepared to rough it a little more than at home, and it's ideal to be self-sufficient and bring the most important things you need with you. This guide will help you decide what to wear in Guatemala and pack it with ease.
Disclosure: I may earn compensation from the purchase of any product or service linked on this website, at no extra cost to you. I only link to products I use and love, therefore feel comfortable recommending.
General packing tips and notes on what to wear in Guatemala
Climate
Guatemala has three climate zones – tropical, temperate and cool, and two distinct seasons—wet (May -October) and dry (November – April). Depending on the specific places you are travelling to, and time of year you will need to adjust your pack accordingly. Check the temperature and rainfall averages for major cities/regions here.
Clothing
Due to the climate, Merino wool is perfect. It will keep you warm during cool nights and mornings, and wick away heat as the day warms up. Also, think about packing multiple light layers for the same reason.
Etiquette
Culturally, Guatemala is a conservative country. Most locals cover their chest, shoulders and down to below their knees – men too! Try to reflect this in your own dress and you are less likely to offend your hosts or attract unwanted attention. Pay special attention to covering up when visiting churches or rural villages.
Health
There is a risk of Zika Virus, Dengue Fever, Malaria and other mosquito transferred illnesses in Guatemala. Pack an insect repellent that contains recommended amounts of DEET, picaridin or other approved product e.g. RID Tropical Strength or OFF Deep Woods. Consult a doctor or travel clinic about your specific itinerary and whether you need vaccinations or preventative medications.
Security
Guatemala's minimum wage is about 80 Quetzales (roughly USD10) per day, therefore much of the population lives in poverty. Pickpocketing, theft and muggings can be a problem. Keep your valuables secure and don't flash them around. Dress casually and leave your treasured jewellery at home.
Electronics
Electricity in Guatemala is delivered at 110 volts, 60Hz with two-pin power outlets (same as the US). Depending on where you are travelling from and what kind of appliances you are bringing, you may need an international adapter and or converter. Generally, modern phones, tablets and laptops are made for both 110V and 220-240V, but it pays to check this detail.
Currency
The currency of Guatemala is called the Quetzal (GTQ), after the national bird. It is very difficult to exchange cash in Guatemala, even banks will only take pristine USD in $50 or $100 bills. We had been advised that USD were readily accepted in Guatemala (apart from rural areas), but they weren't. So we were stuck with a useless wad of cash, trying to find people to exchange it for us.
The simplest solution would be to withdraw cash in local currency once you're on the ground, however, card fraud is a problem. Use ATMs inside international hotels and banks as first preference and keep an eye on your account. As extra insurance it may be worthwhile getting a separate travel card for the trip, such as the Travelex Money Card, to limit your vulnerability if someone gets access to your account.
Guatemala Packing List
Basics
Underwear and socks
Sleepwear
Shirts – pack 1 t-shirt for every 2 days of your trip.
Shorts – wear long shorts that will be conservative, cool, and are comfortable for extended walking.
Midi-Skirt – substitute a pair of shorts for a midi-skirt if you feel its appropriate for your itinerary.
Zip-off khakis – 1 pair or zip-off, quick-dry khakis are great for more adventurous pursuits like caving and hiking.
Jeans – 1 pair of jeans for the evenings and early mornings.
Fleece or light down jacket – good to have all year round, particularly in the temperate mountainous areas and activities such as hiking Volcán Pacaya.
Rain jacket or poncho during the wet season (May-October).
Shoes  – depending on the activities you have planned, you need a pair of sturdy hiking shoes or light walking shoes, and a nice pair of sandals for the evening. I found the cobblestones in Antigua to hard to navigate in sandals and was wearing my sneakers at night. Some flat booties may be a better option, particularly in cooler months. Water shoes are recommended for activities such as caving at Candelaria and exploring Semuc Champey.
A wide-brim hat.
Sunglasses, preferably UV rated to protect your eyes.
Swimsuit – due to the conservative nature of the country, I would recommend a one-piece swimsuit for women and maybe a pair of boardshorts and/or rash vest. This would be an ideal combo for places like Candelaria Caves.  Don't pack a string bikini.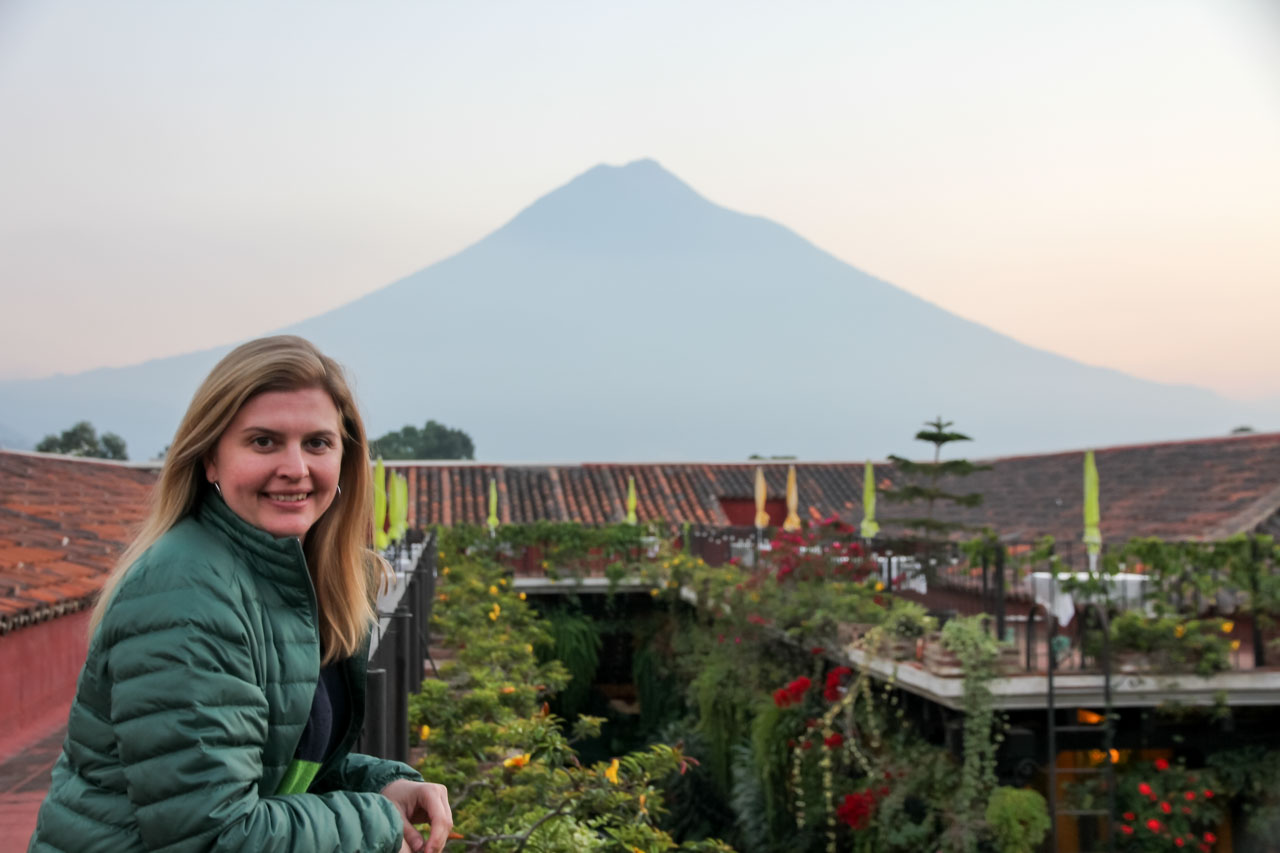 Toiletries
Deodorant
Toothpaste and toothbrush
Shampoo and conditioner
Aloe vera gel – doubles as sunburn relief and body moisturizer.
Face wash
Moisturizer
Hair accessories (ties and pins)
Menstrual cup/ tampons
Light makeup and perfume
Laundry soap – a cake of laundry soap is great for washing your smalls in the hotel basin and doesn't add to your liquids if you're travelling carry-on only.
Gadgets
A camera and accessories including charger, spare batteries; SD cards; and tripod.
Waterproof camera.
Phone and charger.
Day bag
Refillable water bottle – do not drink the tap water in Guatemala! Most hotels offered filtered water stations where you can refill your bottle.
Waterless hand sanitizer
Bandana/cloth napkin
Toilet paper in a ziplock bag to keep it dry.
Headphones
First aid kit
Medications and prescriptions
Dry bag for keeping your camera, phone and other valuables dry, during water activities.
Sunscreen
Lip balm with SPF 15+
Insect repellent
Flashlight or headlamp – ideally a headlamp to keep you hands-free while climbing around caves etc.
Money belt/bra pouch or another secure wallet.
Lightweight beach towel – a microfibre travel towel or peshtemal (cotton Turkish towel) are ideal. Note, even in the dry season we struggled to get things dry. It took days for our towels and swimsuits to dry after our trip to Semuc Champey.
 Making memories and filling spare time
Book
Sketch pad and pencils/paint
Notebook
Tablet device
Diary
See 5 Steps to More Sustainable Travel for tips and products that will help reduce your environmental impact while exploring, and this International Travel Checklist to ensure you don't forget any important preparation for your travel. If you need more help on what to wear in Guatemala, please ask away in the comments below.
Peace, love & inspiring travel,
Madam ZoZo