Explore the history, art, nature, and food of Canada's capital with these top things to do in Ottawa. While the city is often passed over by tourists, it offers a window into Canada's history and culture, as well as showcasing some of its best art and architecture. If you find yourself in Ottawa, here are the highlights you must cover during your stay.
Disclosure: I may earn compensation from the purchase of any product or service linked on this website, at no extra cost to you. I only link to products I use and love, therefore feel comfortable recommending.
1. Start with a walking tour
A walking tour is an excellent way to get oriented with a new city, so I recommend putting it first on your Ottawa to-do list.  I recommend André's team at Ottawa Free Tours, who present a fun and informative, two-hour, pay-as-you-wish tour of the capital city. You'll learn a little Ottawan history along with some local folklore, as you explore the streets and buildings that have witnessed important historical events.
2. Take in sunset at Nepean Point
Between the National Gallery and Alexandra Bridge, you'll find the perfect outlook for sunset. This scenic lookout is great at any time of the day, but the view is most impressive under that golden hour glow.
3. Explore the Canadian Museum of History
If like me, you have little knowledge of Canadian history then this is the perfect place to start your itinerary. The Museums' two buildings are located a short walk across Alexandra Bridge from Ottawa in Parc Laurier, Gatineau.
You will see the two Museum buildings long before you've arrived. The organic shapes of the Douglas Cardinal designed structures are mesmerizing. The architect intended that the Museum complex "speak of the emergence of this continent, its forms sculptured by the winds, the rivers, the glaciers."
Personally, I prefer the curatorial wing which represents the bedrock of the Canadian Shield with overhanging and receding levels of sinuous curves. While the public wing symbolizes a receding glacier, with a large glass facia like melting ice. Take some time to wander around the outside and admire the architecture.
If time is of the essence, skip straight to Level 3 and 4 of the Museum to work your way through the Canadian History Hall, where you can walk through a comprehensive timeline of Canadian history that includes over 1500 artifacts – this will take you about 90minutes. Also, make sure you stop in at the Grand Hall which contains the world's largest indoor collection of totem poles. The Museum offers free admission on Thursdays between 5-8pm.
4. Eat your way through Byward Market
Byward is one of Canada's oldest and largest public markets, and the area has traditionally been home to Ottawa's Irish and French communities. The buzzing marketplace houses permanent shops and restaurants, alongside temporary stalls filled with fresh produce and handicrafts. There's something here for every tastebud, so you may want to visit more than once during your stay.
I strongly recommend booking accommodation around the Byward Market area, not only for its great food but its central location. From this area, you can walk almost anywhere of interest in Ottawa. We had a very comfortable stay a the Courtyard by Marriott Ottawa Downtown from which we walked almost everywhere. Don't forget to pack your earplugs though, as this area is a popular nightlife spot and there is occasionally a loud reveller who takes the party into the street – especially on the weekend.
5. Admire the National Gallery of Art
Next on our list of top things to do in Ottawa is the Canadian National Gallery of Art. The museum holds the world's largest collection of Canadian art inside a post-modern, Moshe Safdie designed structure. If you're pressed for time, skip the European and American Art and go straight for the Canadian collection on Level 1, it is impressive!
The Rideau Chapel is an absolute must-see. The salvaged interior of the chapel, formerly situated at the Convent of Our Lady of the Sacred Heart, is the perfect setting to experience Janet Cardiff's sound sculpture Forty Part Motet. I lay on the benches staring up at the beautiful Tudor-style, fan-vaulted ceiling, enveloped in the sound of Spem in Alum recorded in forty parts and played back through forty speakers positioned around the space.
Tieing with the Rideau Chapel for my favourite, was the incredible gallery wall of modern art in the Galerie Ash K. Prakash. Visit the Museum for free on Thursday nights between 5-8pm.
6. Saunter the Rideau Canal
The Rideau Canal was constructed for defence purposes and was completed in 1837. It is a National Historic Site and UNESCO World Heritage Site which links Ottawa with Lake Ontario and the Saint Lawrence River. The locks are a beautiful part of town nestled between Parliament Hill and the castle-like historic hotel, Chateau Laurier. On the locks you'll find the Bytown Museum and stunning views of the Alexandra Bridge, Ottawa River and Musem of History. This makes it one of the best things to do in Ottawa!
In Summer, take the walking trail of approximately 6.5km (one way) from the Ottawa River to Dows Lake Pavilion. It makes a beautiful morning walk with lots of parks and green spaces to explore along the way. There are an additional 5km (one way) of walking path along the Ottawa River to explore.
If you are visiting in winter, you can ice skate the frozen Rideau Canal instead. The Rideau Canal Skateway is the world's longest skating rink at around 8km and open 24-hours a day. Check the website to see when it is open for the season.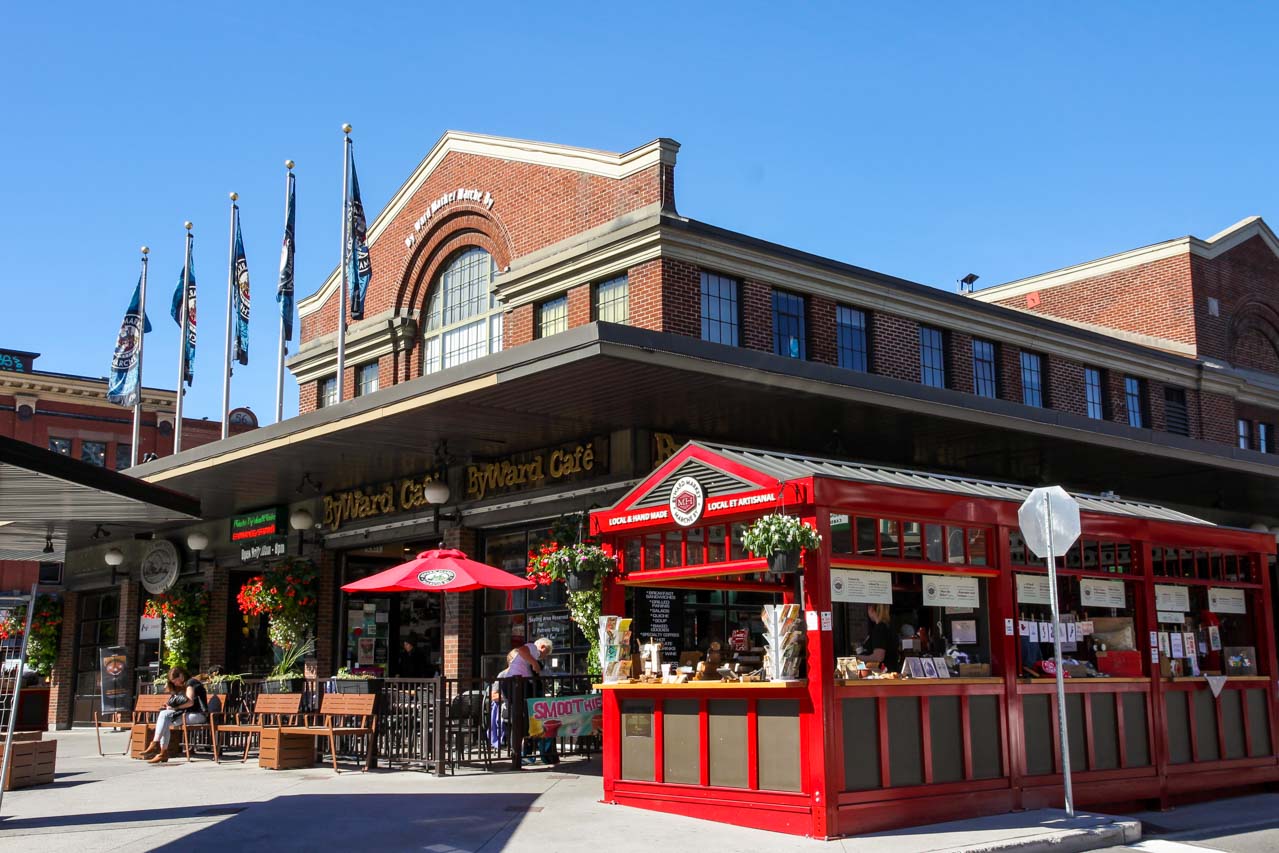 7. Hike Gatineau Park
If you haven't done enough walking yet and you have access to transport, pack a picnic and go hiking in Gatineau Park. Autumn is a particularly good time for all my fellow leaf peepers to get their fill of fall colour. I highly recommend the King Mountain Trail for spectacular views of Ottawa and surrounds. It is a relatively easy hike that strings together ten scenic lookouts. Have a thing for abandoned places? A trek to the Willson-Carbide Ruins will not disappoint.
8. Investigate Parliament Hill
Parliament Hill is the political centre of Canada and is an attention-getter with its grand Gothic revival architecture. Unfortunately, the original Centre Block was lost in a 1916 fire, however, the newer building opened in 1922 is still impressive.
Due to the new Governor-General of Canada being sworn in during my stay, I didn't get to take a tour inside Parliament. If you get a chance to take a look inside you will need to obtain a free ticket with a designated time from the tourist information centre opposite Parliament Hill. Either way, you can walk around the grounds and admire the exterior architecture. For visitor information see the Parliament of Canada website.
9. Tour Rideau Hall, official home of the Governor-General
The official residence and office of the Canadian Governor-General since 1867, Rideau Hall, was originally constructed as a Regency-style private villa. After the passing of its' original owner, industrialist Thomas McKay, the Government of Canada purchased the property and made renovations and extensions in Norman and Florentine Revival architecture. The Hall became the permanent residence of Canada's Governor-General – the official representative of the ruling British Monarch i.e. QEII. Rideau Hall is open for viewing on free guided tours – make a reservation – and self-guided walks of the grounds. You will see some of the Hall's most impressive spaces on the tour including my favourite, The Tent Room.
10. Take a peek inside Laurier House
If you love visiting historic homes then don't miss Laurier House. Home to two former Canadian Prime Ministers, the National Historic Site also saw guests such as King George VI, Sir Winston Churchill and Franklin Roosevelt. The home is now a museum open to the public between May and October each year. Though not as impressive in stature as Rideau Hall, the Second Empire style Laurier House possesses beautiful period décor and interesting artifacts throughout.
11. Note Notre Dame Cathedral
The silver spires of this National Historic Site will catch your attention blocks away from the Cathedral, located opposite the National Gallery. The Neoclassical church is the largest and oldest in Ottawa. Check mass times before visiting, or catch a guided tour from the middle of May to the middle of October.
12. Eat, eat, eat
Coffee – Planet Coffee (cash only), Bluebird Coffee and Second Cup all make a consistently good java, have friendly service and free wifi. Though my favourite was Origin for the coffee and ambience.
Breakfast – Benny's Bistro (look for the dachshund on the sign) is a local's secret you won't want to skip. The Scone Witch is a good budget option.
Lunch – LaPointe for Ottawa's best sushi and La Bottega for the most delectable sandwiches are both affordable options in the Byward Market area. For something a little more upmarket, try Play Food & Wine for modern, small-plates. They offer a tempting lunch menu of two plates per person for $22.
Dinners – For some amazing modern Middle-Eastern cuisine, try Fairouz in the Somerset Village area. Their halloumi cheesecake is amazing! Milestones and Beckta are fabulous downtown options, along with Vittoria Trattoria for Italian fare and The Keg for steak, both in Byward Market. For the ultimate indulgence book well ahead for a 12-course degustation at Atelier.
Dessert – A Beaver Tail is the done thing of course, and if you're a cake lover Oh So Good Desserts will have you returning for more.
Drop me a comment below if you have any questions about exploring Canada's capital and enjoy these essential things to do in Ottawa.
Peace, love & inspiring travel,
Madam ZoZo