Rising out of the shallow waters of Lake Inle, Myanmar is the stilted village of Innpawkhon. Here local women derive beautiful textiles from the lotus plant, a revered bloom in many cultures – more about that here. Lotus weaving demands many plant stems and the deft touch of skilled hands to transform the aquatic plant into the softest of cloth. The incredibly rare fabric that results is the ultimate in slow fashion and very definition of a soulful souvenir. 
Life on Lake Inle
Lake Inle is a large reservoir wedged in the valley between two mountain ranges of central Myanmar. The expansive Lake measures 22km long (13.5mi) and 10km wide (6.2mi).  It is home to the Intha people, who make their living largely from fishing. Some Intha live around Inle's shores, and others reside in floating villages. Although they are referred to as "floating," the townships are not adrift on the water like for instance, the reed villages on Lake Titicaca in Peru. The villages are composed of stilted, stationary buildings sitting high above the water. They are arranged to form canals navigated by narrow dugout boats. The Intha people also grow crops in floating gardens, making use of traditional hydroponic methods. In 2015 UNESCO designated Inle and its surrounding wetlands as a Biosphere Reserve, in an effort to preserve the relatively pristine environment.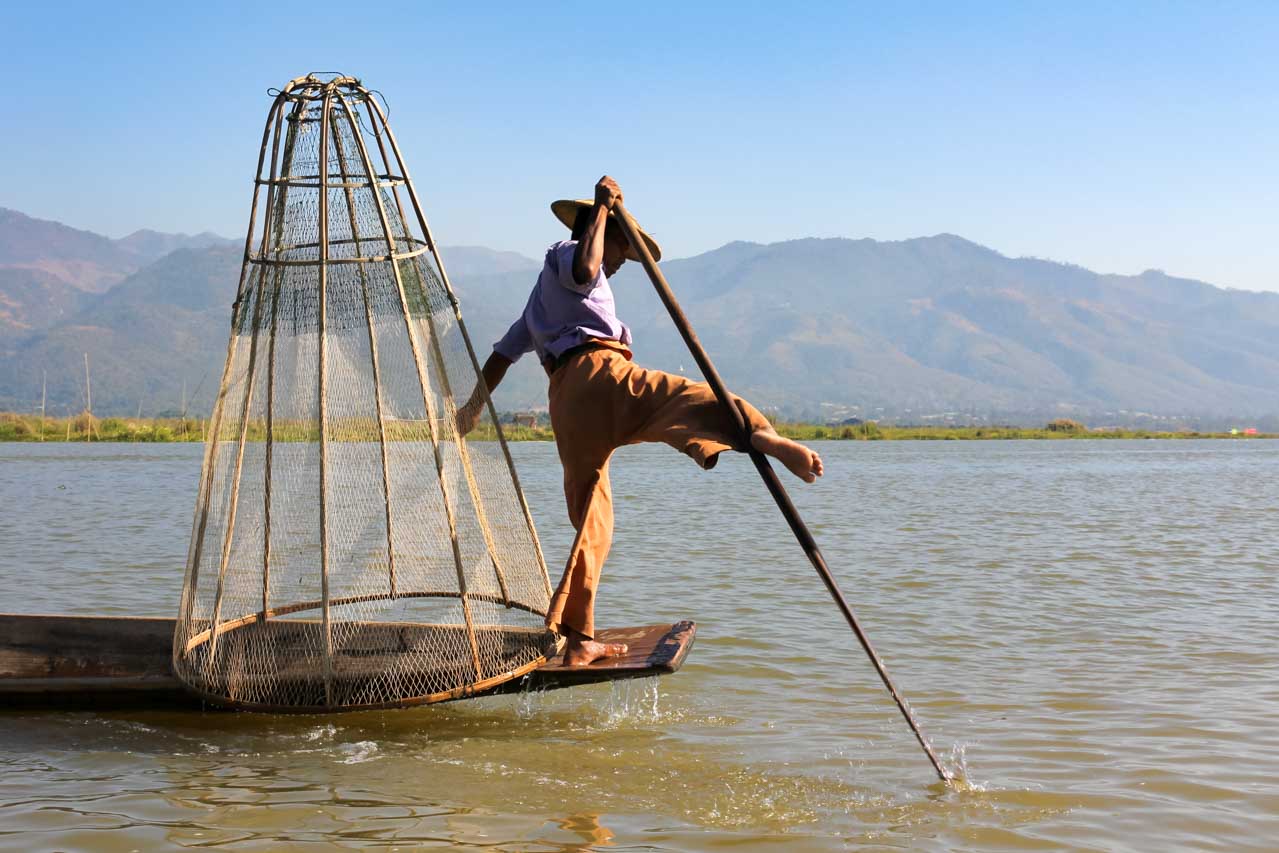 Lotus weaving
Loti flourish on the pristine waters of Lake Inle, yielding exquisite pink blooms and the healthy stems needed to create fibres for lotus weaving. The vibrancy of the flowers is used as a measure of plant quality, that is reliant on a healthy ecosystem.
The lotus is a sacred Buddhist symbol and is therefore tied intrinsically to the local faith. Lotus weaving is not just material and labour intensive, it is also spiritual. Prior to harvesting the loti, ritual offerings are made to the Guardian Spirit. Within three days of picking the stems, the outer flesh is sliced so that they can be gently separated without breaking the delicate fibres inside. The filaments are stretched and twisted together by hand, before being spun, washed and woven.
A small scarf can take 4000 lotus stalks and many hours to create! It is no wonder this is one of the most expensive textiles in the world. The raw cloth is a cream colour with natural variation and is dyed with natural pigments derived from tree bark, flowers, fruit and foliage. The fibres are sometimes woven into a blend with cotton or silk, to create a more cost-effective fabric.
Lotus cloth is soft, lightweight and breathable, keeping the wearer warm in winter and cool in summer. Those of Buddhist faith also believe in its calming and healing powers.
Increasing demand
As tourism in Myanmar grows and the world becomes more aware of lotus weaving, the demand for the exclusive threads has increased. While this creates jobs for the local weavers and helps a cultural tradition to endure, it needs to be protected from exploitation. It would be easy to overwhelm the natural resources and production methods used to create the fabric, resulting in environmental damage and diminished quality. Hopefully, local artisans find a way to grow their craft sustainably into the future.
If one day, you do find yourself surrounded by the serenity of Lake Inle, its friendly people and their exquisite handcrafts, I encourage you to enjoy a tour of a lotus weaving centre. Even if a small scarf is not in your budget, you will come away with a deep respect for the craft, the makers and fashion as it should be – slow!
Peace, love & inspiring travel,
Madam ZoZo