Savannah is the very definition of a picture-perfect town, with its charming historic architecture arranged in an easily navigable grid of oak-shaded streets and squares. The town is a treasure trove of history, art and architecture for a curious and creative traveller to explore. Here are some highlights of the Georgian city and things to do in Savannah for travellers with an eye for beauty and an appetite for culture.
t]Disclosure: I may earn compensation from the purchase of any product or service linked on this website, at no extra cost to you. I only link to products I use and love, therefore feel comfortable recommending.
Take an architectural wander
When it comes to architecture, Savannah truly represents! There are samples of styles from nearly every period of American history including Colonial, Federal, Antebellum, Victorian, and turn of the century through to contemporary. Furthermore, the planning and evolution of the Savannah historic district is as interesting as its buildings. A morning tour with Jonathan from Architectural Savannah is the perfect introduction to the town's history, layout and beautiful structures.
Tour historic homes
Once you've explored the streets and facades of Savannah's architecture, it's time to go inside. If you are only going to tour the interior of one Savannah building, Owens-Thomas House is the one to choose for its historical accuracy.
Mercer-Williams House is my second pick, particularly for my fellow interior design enthusiasts. The current owner still resides in the home, so you will only see the lower level. Tour guides are well versed on the background of each unique artwork, Chippendale chair and Murano glass chandelier. If that doesn't entice you, Mercer-Williams house was featured in the 1997 Clint Eastwood directed flick Midnight in the Garden of Good and Evil.
Note: Interior photography of these homes is not allowed, so put away your camera and just take it all in.
Scout movie locations
The number of Hollywood productions set in Savannah indicate that it has enchanted more than a few movie directors. In addition to the aforementioned Midnight in the Garden of Good and Evil, you will find locations from movies such as Now and Then (1995), and Something to Talk About (1995), though arguably the most famous would be Forrest Gump.
Make your way to Chippewa Square, where Tom Hanks famously uttered the line "life is like a box of chocolates." Don't go looking for the bench where Forrest sat, as it was a movie prop that is now in the Savannah History Museum. There is no plaque or other indication of the film setting, but this is the place. If you watch the movie's opening sequence that follows a floating feather, you will also recognize some of the surrounding architecture.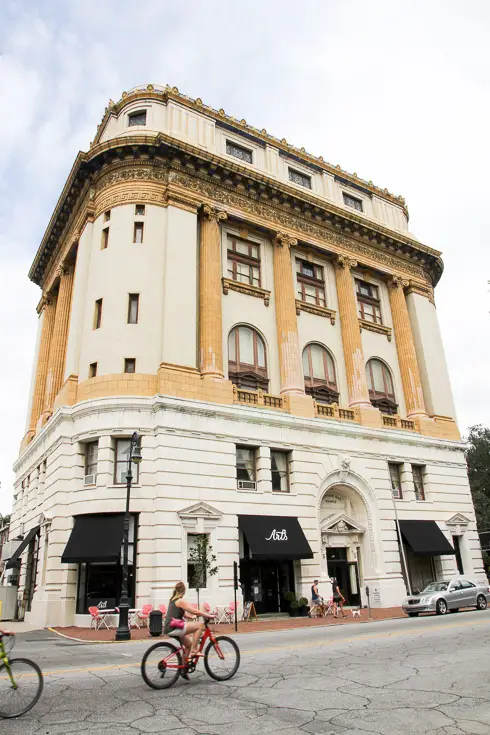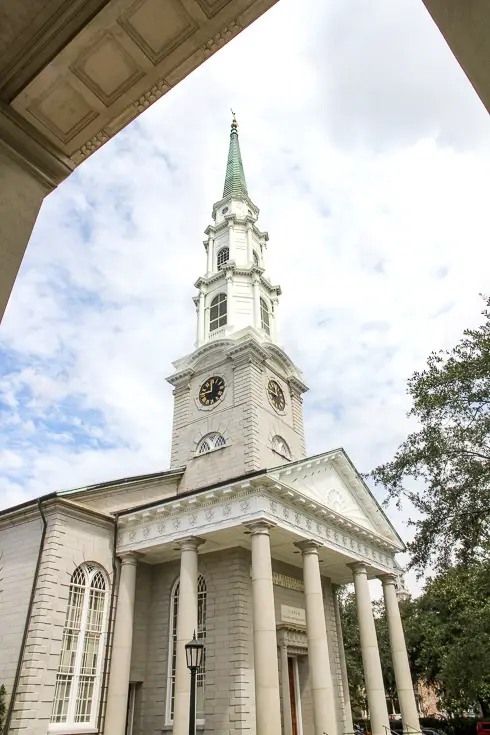 Museum hop
Avoid the afternoon heat by museum hopping your way through the local art scene. The Jepson Center offers a collection of contemporary art housed in a equally modern, Moshe Safdie designed structure.
The Telfair Academy, on the other hand, is a former home turned public art museum. Inside the William Jay designed Regency-style house are two rooms historically staged to reflect their 19th-century residential origins. The remainder of the home has been transformed into gallery space, displaying a variety of paintings and sculptures by local and overseas artists.
Ships of the Sea Maritime Museum and the SCAD Museum of Art are also worth exploring if you have the time. Current and former Girl Scout's may be interested in touring Juliette Gordon Low's birthplace.
Explore green spaces
Due to its wonderful city plan, you can't walk the oak-lined Savannah streets without stumbling upon its scenic green squares. However, do take the time to go down to Forsyth Park. The 30-acre green space was named after former Governor of Georgia, John Forsyth. It contains a Confederate Memorial, amphitheatre, tennis courts, basketball courts, playgrounds and a cafe. Forsyth Park's crowning jewel is the 1858 installed Forsyth Fountain, a cast-iron model ordered from the catalogue of a New York iron foundry. The same foundry supplied ornamental ironwork for the US Capitol, Library of Congress and other government buildings. This is understandably a popular photo spot, so if you want to get a pic without the crowd, you'll need to get there early especially on the weekends.
Eat your weight in food
There is so much good food and coffee in Savannah you will feel like there aren't enough meals in the day. Skip the familiar chains and support local eateries with these suggestions to narrow down the many options.
Brunch at Australian inspired The Collins Quarter or the budget-friendly Goose Feathers Café.
Lunch on fresh seafood at Savannah Seafood Shack, their low country boils are some of the best in town. Alternatively, the Public Kitchen and Bar has a garden-fresh menu of culinary goodies and the SCAD owned Gryphon Tea Rooms within the Scottish Rite building is worthy for not only its great food but interesting interior.
If you still feel like dinner The Ordinary Pub and Alligator Soul have you covered. Or return to the Savannah Seafood Shack to try their po'boys and shrimp tacos, like we did.
For dessert, skip the endless queue at Leopold's and try the Thai street-food inspired, rolled ice cream at Below Zero.
Savannah travel tips:
Pack comfy walking shoes and book a centrally located hotel, because Savannah is flat and its attractions are concentrated mostly within the historic district. This makes it a very walkable destination, though historic roads and sidewalks can be a little uneven under foot.
Telfair Museums owns Owen-Thomas House, the Jepson Center and Telfair Academy, so one ticket will get you entry to all three.
The Maritime Museum has a lovely garden you can wander through for free.
The plethora of antique stores and ShopSCAD are great places to pick up soulful souvenirs. You can also find some lovely things at Paris Market and Brocante, although only a small number of their products are locally made.
Avoid City Market which has the authenticity of a theme park.
Visit River Street for its historical value but do so early before the stale-beer smelling joints open their doors and the tourists pour in.
If you would like to take advantage of Savannah's open drink laws, and partake in a takeaway cocktail or two, note that there are restrictions on the type of cup you can carry your beverage in (read more here). Until Savannah's environmental preservation catches up with its progressive alcohol regulation, you will find us sustainable travellers at the bar with a reusable glass (no plastic straw).
Enjoy the picturesque, history-steeped avenues and all the standout things to do in Savannah, Georgia.
Peace, love & inspiring travel,
Madam ZoZo