Belize's innate beauty lies in its aquamarine Caribbean waters, sandy cayes and leafy jungles.  Whether you choose to experience it by snorkelling, sun-lounging, caving or hiking, you'll want to be comfortable in the balmy tropical heat. Apart from the obvious swimsuit and shady hat, here is a thorough packing list for Belize, with a handy checklist to download and print.
Disclosure: I may earn compensation from the purchase of any product or service linked on this website, at no extra cost to you. I only link to products I use and love, therefore feel comfortable recommending.
General notes on what to pack for Belize
Climate
Belize has a subtropical climate and therefore temperatures are always high and seasonal variations are more in terms of precipitation and humidity. The high season in Belize runs from December to March when there is less rain. June to November is wet season with hurricanes most likely between August and October. Coastal regions experience different weather from inland areas, so check the temperature and rainfall averages for the time and place/s of your visit. Also, consult the weather forecast for your specific dates as your trip gets closer.
Luggage
Though generally, I'm a roller bag fan, Belize is one of the few places where a backpack is ideal. Luggage doesn't roll so well on sand and stairs are more common than elevators. All-round I think a backpack is an easier, more convenient option and though my carry-on only case was light enough to cart around when necessary, I would have preferred a more balanced load for my back's sake.
A smaller backpack or canvas, beach-bag style tote are good day bag options depending on your activities. A drybag may be useful for water-based excursions.
Clothing
Due to Belize's tropical climate, pack lightweight, breathable fabrics for comfort. Think cotton, linen and silk.  Synthetics such as polyester and nylon will make you sweat.
Etiquette
Belizeans are casual dressers because of the tropical climate, however, modesty is still important. Belize is a predominantly Catholic nation and therefore reasonably conservative. A bikini is fine on the beach or on a boat, but in towns and villages, I recommend covering up with at least a sarong or kaftan to avoid unwanted attention.
Health
There is a risk of mosquito transferred diseases such as Zika Virus and Malaria in Belize. Pack an insect repellent that contains recommended amounts of DEET, picaridin or other approved product e.g. RID Tropical Strength or OFF Deep Woods. Cover up at sunrise and sunset when mosquitoes are most busy looking for a meal. Also, pack light colours because mosquitos are attracted to darker tones.
Environment
You are probably going to be staying on one of Belize's beautiful cayes which lie within the world's second largest barrier reef. Think about minimizing packaging and disposables as much as possible – these guides will help: 8 Essential Eco-Friendly Travel Products and 5 Steps to More Sustainable Travel.
Furthermore, consider the environmental impact of the toiletries you take to Belize and opt for as many natural products as you can. For instance, some ingredients in typical sunscreen can be harmful to reefs. Make sure you pack a water-resistant, coral-safe sunscreen.
Electronics
Electricity in Belize is delivered at 110 volts, 60Hz with two-pin power points (same as in the US). Depending where you are travelling from and what kind of appliances you are bringing, you may need an international adapter and or converter. Generally, modern phones, tablets and laptops are made for both 110V and 220-240V, but it pays to check this detail.
Security
While Belize is generally considered safe, it is a developing nation with a high rate of theft. Just being a tourist in a country like Belize suggests you have more means than the average resident. Leave any unnecessary jewellery and valuables at home, and dress casually. Consider takin a money belt or other secure pocket to carry cash, passport etc.
Currency
Belize dollars (BZD) are pegged to the US dollar (USD) at BZD $2 = USD $1. We didn't find anywhere that USD were not accepted, but expect to receive change in BZD. It is common to make transactions in both currencies at once. Credit cards and debits cards are generally accepted also, but fraud can be a problem. I recommend taking USD in cash to cover most expenses and using cards only for large transactions at reputable/traceable establishments such as hotels.
Packing list for Belize
Basics
Basics
Underwear, bras and socks
Sleepwear
Shirts – You will spend most of your days in swimwear, so don't go too heavy on other clothes. 1 shirt for every 2 days is plenty.
Shorts – 1 pair for every 2 days. I recommend shorts that will be cool, provide sun protection, and are comfortable for light walking.
Board shorts or zip-off, quick-dry khakis – Only if you plan to go caving, tubing or jungle hiking.
Full-length pieces – 1-2 pairs of lightweight pants/ maxi skirt/ maxi dress to wear in the evening when mosquitos are biting.
Light jumper (sweater) – Mostly for the cooler months (December-March).
Rain jacket or poncho, especially for wet season (November-April)
Shoes – Depending on the activities you have planned, a pair of sturdy shoes for light hiking and water shoes for caving. Pack sandals or flipflops for beach time and evenings.
A wide brim hat with a fit that won't blow off with a breeze or movement of a boat.
Sunglasses, preferably UV rated to protect your eyes and polarized to cut glare.
Swimsuit – In the tropical humidity everything takes a longer time to dry out, so if you prefer to put on a dry suit in the morning pack two and alternate.
Rashguard – Good for added sun protection during long stints in the water and for caving – see my post on preparing for ATM for more specific and detailed advice on clothing for caving activities.
Sarong or cover-up to keep you sun protected and modest between swims.
Toiletries
Deodorant
Toothpaste and toothbrush
Shampoo and conditioner
Aloe Vera
Face wash
Moisturizer
Hair accessories (ties and pins)
Menstrual cup/ tampons
Light makeup and perfume (I took nothing more than some bronzer and lip gloss)
Shaving kit
Laundry soap – I pack a cake of laundry soap, so I can wash underwear and socks in the hotel basin if need be.
Gadgets
A camera and accessories including charger, spare batteries; SD cards; and tripod. Polarizing and neutral density filters for your DSLR would also be helpful for the harsh tropical light.
A waterproof camera is a must for diving, snorkelling, kayaking etc.
Phone and charger.
Day bag/ beach bag
Refillable water bottle – Most Belize hotels offer filtered water to refill your reusable bottle.
Hand sanitiser and mask
Bandana/cloth napkin/handkerchief
Toilet paper in a ziplock bag to keep it dry.
Headphones
First aid kit
Medications and prescriptions
Dry bag for keeping your camera, phone and other water sensitive valuables dry, during water activities.
Sunscreen
Lip balm with SPF 15+
Insect repellent
Getting creative and filling downtime
Book
Sketch pad and pencils/paint
Notebook or diary
Tablet device
Playing cards or travel games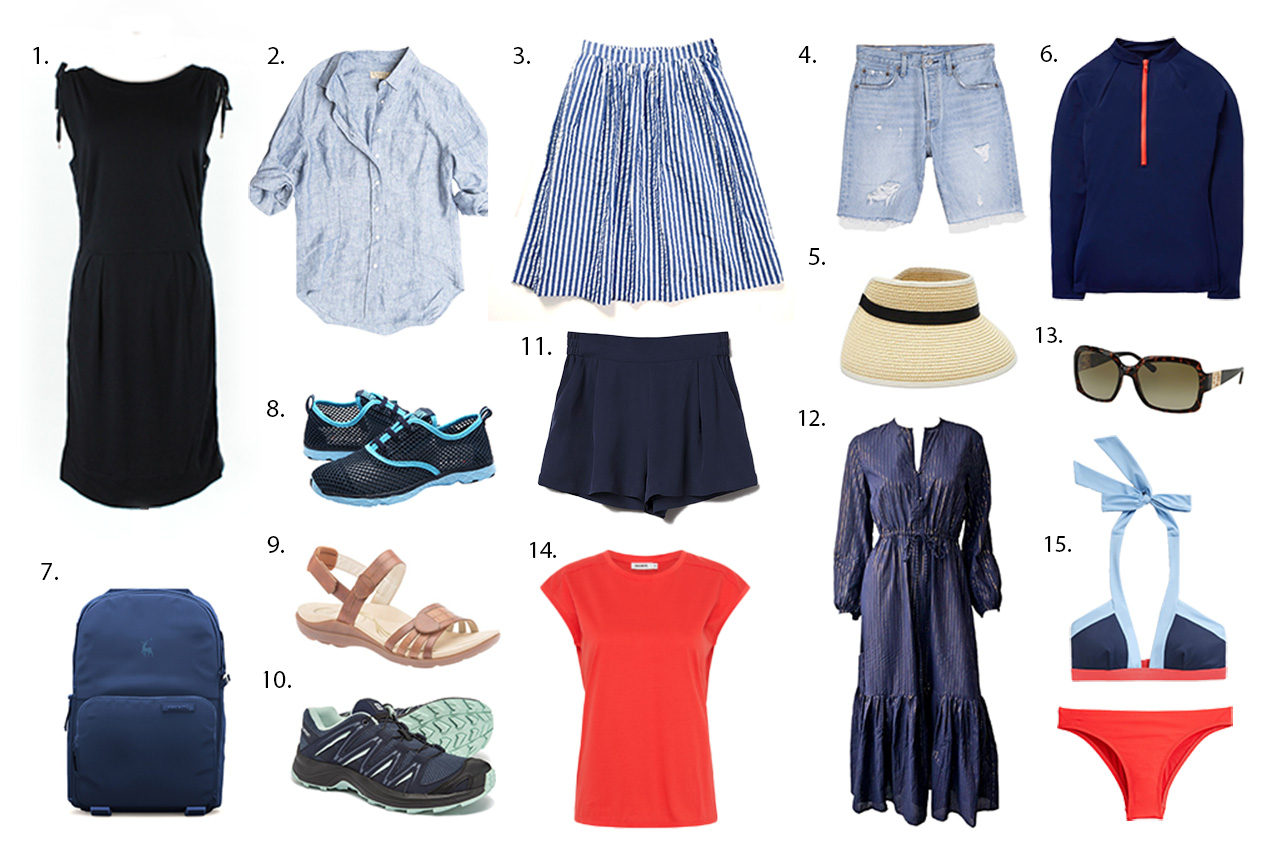 What I packed for Belize
Here are the key items I packed for my trip to Belize. I prefer to pack to a colour palette so I can mix and match my outfits to prevent overpacking and leave room for souvenirs. See my travel capsule wardrobe guide for more advise, along with this guide on how to pack a suitcase.
Marc by Marc Jacobs cotton shift dress
Camixa linen shirt
Homemade cotton seersucker midi skirt
Levi denim shorts (cut-off jeans)
Mimco rollable straw hat
Boden rash guard
Brevitē backpack
Aleader Quick-dry water shoes
Abeo Brynn walking sandals
Salomon trail runners
Grana silk shorts
Cotton maxi dress
Tory Burch tortiseshell sunglasses
Cotton tees
Swimsuit
You may also like to print a copy of our international travel checklist to ensure you have done all the prep you need for a stress-free vacation. Enjoy your Belize getaway and remember to take only photos, leave only footprints.
Peace, love and inspiring travel,
Madam ZoZo