Fall in love with Scotland on this 10-day road trip around the country's most scenic landscapes, cultural sights and historic remnants.  Enjoy the home of golf, single malt whisky and the Loch Ness Monster, among many other sights along the way from Edinburgh to Glasgow.
Full Disclosure: I may earn compensation for my endorsement, recommendation, testimonial, and/or link to any products or services from this website. I only recommend products/services that I use and love, therefore feel comfortable recommending.
Important Scotland road trip itinerary notes
We travelled this itinerary in seven days and it's possible, but high speed. I've made some tweaks and extended the itinerary out to 10 days to give it a more comfortable pace. Of course, it will depend on how many of the sights and activities you decide to include.
If you are planning to enter all the Castles and historic sights on this itinerary, you might consider purchasing an Explorer Pass or Scottish Heritage Pass (the later is only available in summer). These will save you on entry into many of the historic attractions along the way, but I always suggest thoroughly comparing the two and doing some quick maths to work out which, if either, is right for you – see more in Ultimate Guide to Saving Money with a Multi-Attraction Pass.
Scotland road trip itinerary
Day 1: Edinburgh (arrival day)
Arrive in Edinburgh and enjoy a walking tour to get oriented with the city and learn some of the sights to revisit later. We took a great pay-as-you-wish tour with Sandemans. Don't forget to ask your guide for recommendations on places to eat and see, they are a terrific local resource.
Day 2: Edinburgh
Head to Holyrood Palace first thing after breakfast and arrive just before opening at 9:30. Before you enter, you can observe the interesting contemporary architecture of the Scotland Parliament building opposite.
After your tour of Holyrood Palace, walk up Calton Hill for panoramic views of Edinburgh and explore the various monuments. Continue walking into New Town ("New" meaning 18-19th century versus the "Old" dating back to medieval times). Here you stop for lunch and wander through Princes Street Gardens which contains Scott Monument and the National Gallery.
Make your way back up the Hill to enter Edinburgh Castle around 2-3pm, when the crowds should be thinning. Note, the Castle tends to be most crowded an hour either side of the One o'clock Gun.
Day 3: Edinburgh—Speyside
After breakfast, collect your rental car (if you haven't already) and make your way out of Edinburgh to St Andrews. This is the longest drive-day of the trip, so make sure you get an early start on your journey. This is especially so if you are travelling in winter and daylight hours are short.
Once you arrive in St Andrews, there are a couple of options for experiencing the home of modern golf. There are guided tours of the 1st, 17th and 18th holes of the Old Course which will provide plenty of history and context. If you happen to be there on a Sunday, you can walk, run, picnic (and a variety of other things excluding golf) on the world's most famous Links because it becomes a public park.
Follow up with a quick stop in at the ruins of St Andrew's Cathedral (once Scotland's largest church) gander at the ancient University (yes, the one where Will and Kate met) and take a walk through the 13th century, St Andrew's Castle.
As you approach Cairngorms National Park, make a lunch stop at Pitlochry. The Victorian-era resort town is picture perfect and has lots of great food options.
Continue on to Dufftown for the night while taking in views of Cairngorms National Park – the largest National Park in the UK. If it happens to be Monday, you're in luck! Pop down to the Dufftown British Legions Club between 7:30-10pm for Stramash, performances of Scottish folk tunes by local musicians. Visitors are welcomed with open arms to this community event!
Driving distance: Edinburgh to Dufftown via St Andrews and Pitlochry 341km (212mi) 4hrs 50min
Day 4: Malt Whisky Trail
Follow the Malt Whisky Trail around Speyside, tasting and touring the region's best distilleries. Visit Speyside Cooperage to see how barrels are constructed and stock up on melt-in-your-mouth shortbread at the Walker's Factory Shop in Aberlour.
Driving distance: Local driving distance in Speyside region depends on accommodation location and chosen activities. If you plan to make the most of your day in whisky-country you might prefer to join a tour or hire a driver for the day.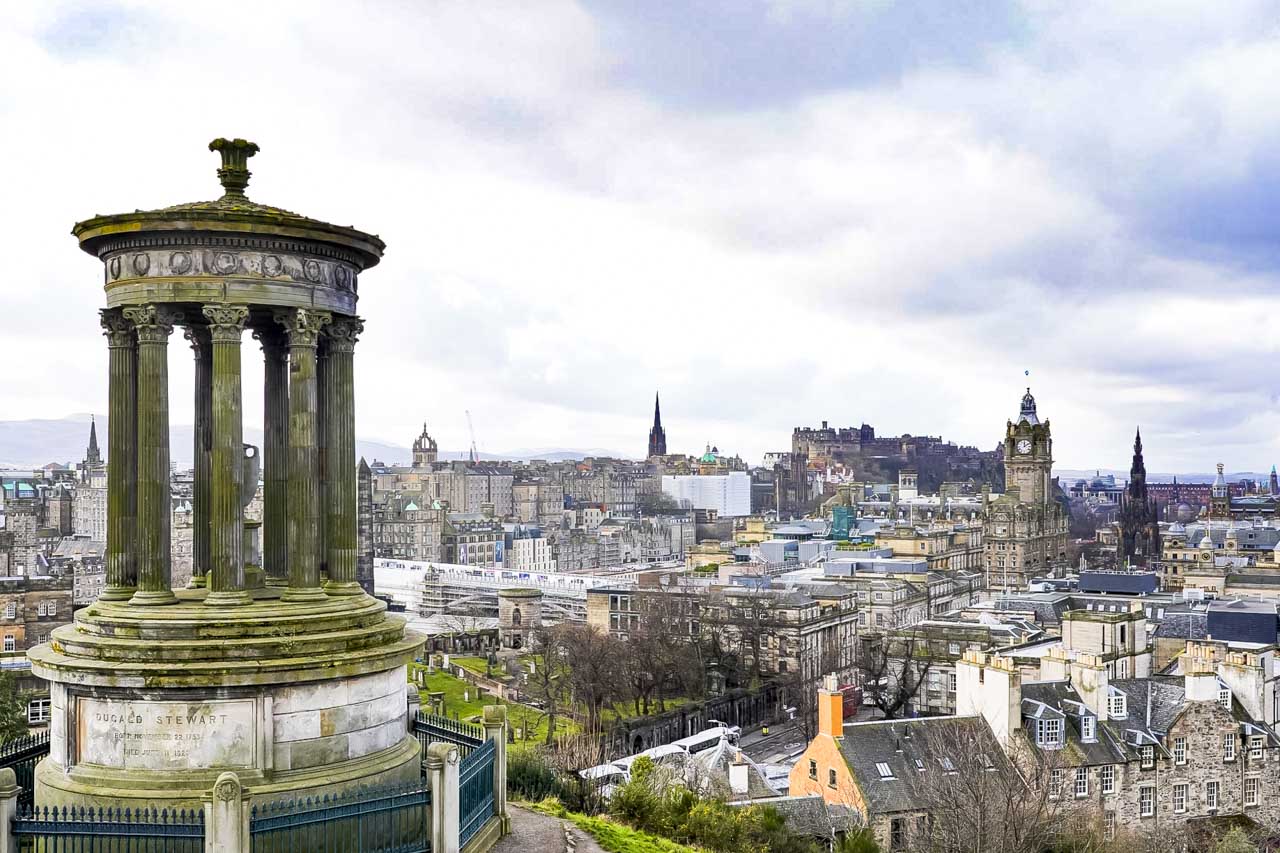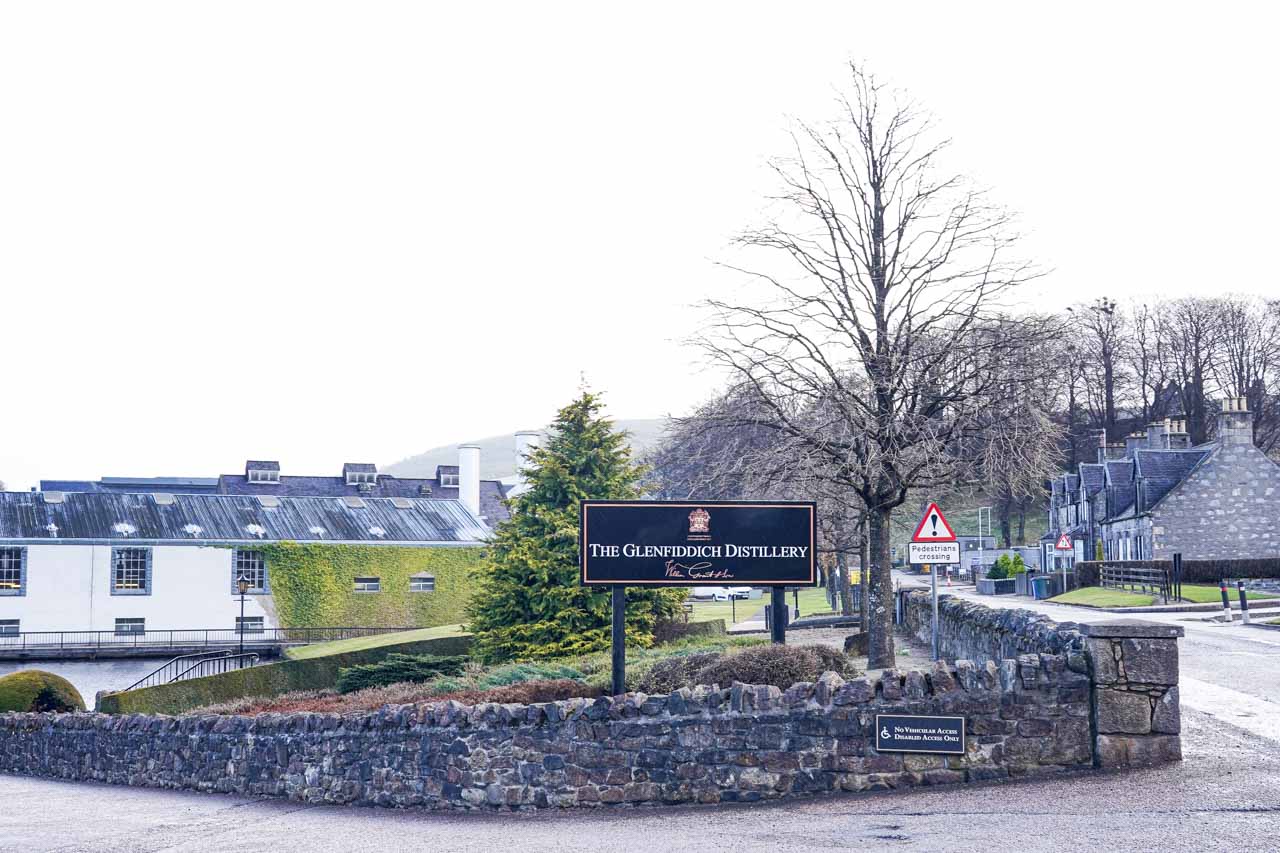 Day 5: Speyside—Fort Augustus
From Speyside, travel to Inverness and down the western banks of Loch Ness. Make a stop in at the Loch Ness Centre, an outdated but informative exhibit on the lake and its most famous resident/hoax. Then take in Urquhart Castle, ruins dating back to the 13th and 16th century with outstanding views for Nessie-spotting from its loch-front position. Spend the night in Fort Augustus.
Driving distance: Dufftown to Fort Augustus 145km (90mi) 2hr 20min
Day 6: Fort Augustus—Isle of Skye
On day 6 of our Scotland road trip itinerary, we take the scenic journey from Fort Augustus to Portree on the Isle of Skye. If you need to make a food/bathroom stop on the road, Cluanie Inn is a good spot. Make sure you stop at Eilean Donan Castle, a restored 13th-century fortification that stands on a small island at the intersection of three sea lochs (don't worry, the Castle is accessible by stone footbridge). There is a café in the visitor centre with views of the Castle.
Travellers' tip: As you continue on to Skye from Eilean Donan Castle, through the town of Dornie, take the first right and then the first right again, following the signs to Carr Brae Viewpoint (also in Google Maps as Eilean Donan Upper Viewpoint). The lookout offers more spectacular photo opportunities of the Castle in its sea loch setting.
Once you hit the Isle of Skye, pause at Sligachan Old Bridge for photos on the road to Portree for the night.
Driving distance: Fort Augustus to Portree 148km (92mi) 2hrs
Day 7: Isle of Skye
Spend a day touring the Isle of Skye's best, from the Old Man of Storr to Mealt Falls, the Fairy Pools to Neist Point. If you are a winter traveller like us, sights such as Dunvegan Castle will be closed and the weather, tempestuous. Hiking will be largely unpleasant, but there are still plenty of things to see.
Driving distance: Local driving distances around the Isle of Skye depends on the sights you choose to cover.
Day 8: Isle of Skye—Fort William
Depart the Isle of Skye and head for Glenfinnan, en route to Fort William. At Glenfinnan, see the Viaduct made famous by Harry Potter and the Glenfinnan Monument, an ode to Bonnie Prince Charlie on the shores of Loch Shiel.
If the weather is clear, drop into the Ben Nevis Visitor Centre for a view of the UK's highest peak before heading to your accommodation in Fort William for the night.
Driving distance: Portree to Fort William 222km (138mi) 3hrs 10mins
Day 9: Fort William—Glasgow
This morning we'll take a scenic drive to Glasgow through Glencoe and Loch Lomond and the Trossachs National Park. Be prepared to make lots of stops on the road through Glencoe -there are plenty of safe pullouts to stop and take pictures of the incredible mountain valley.
Loch Lomond is the largest lake in the UK by surface area and second in volume to Loch Ness. The long narrow Loch seems to go on forever. In 2015 the Park ran a competition for the design of five viewpoints. Two of the five architecturally designed lookouts fall on your path (the A82) today, and I highly recommend you stop at these points. The first is called Woven Sound located at the Falls of Falloch. The Second is An Ceann Mòr at the Invergus Cruise Terminal.
Luss is an adorable 18-19th century township that provides an idyllic location for lunch on Loch Lomond. The current town was built to house workers from a local slate quarry. The little stone workers' cottages are endlessly Instagram-worthy.
Take the road from Luss to Stirling. Here you'll visit the National Wallace Monument, a tribute to 13th-century Scottish hero, Sir William Wallace. Next up, Stirling Castle, a palace and fortress that housed many of Scotlands final royals before the nation was united with England.
Onward to Glasgow for your final night in Scotland. You can feel comfortable giving up your rental car now (instead of stressing over parking) and explore much of the city of foot and by public transport or Uber.
Driving distance: Fort William to Glasgow via Stirling 226km (140mi) 3hrs 15mins
Day 10: Glasgow (departure day)
Spend the morning in Merchant City discovering Glasgow's oldest quarter, where the port city's wealthiest traders once lived and stored their goods. Climb to the top of The Lighthouse, Scotland's Centre for Design and Architecture, for a rooftop view of Glasgow with art and design along the way. Visit the Kelvingrove Art Gallery and Museum to see art by the Scottish Colourists, Glasgow Boys, and Charles Rennie MacKintosh, along with works by Titian, Dali and Rembrandt. Delight in afternoon tea in the Willow Tea Rooms as a substitute for lunch, and make time for the Glasgow Cathedral before your flight out.
Places to eat drink and be merry
The Outsider – https://www.theoutsiderrestaurant.com/
Maison Bleue – https://www.maisonbleuerestaurant.com/
Hideout Café – https://www.hideoutcafe.co.uk/
Art & Vintage Café – https://www.artandvintage-edinburgh.co.uk/
Old Mill Inn, Pitlochry – https://www.theoldmillpitlochry.co.uk/
Commercial Tavern, Dufftown – http://www.commercialhoteldufftown.co.uk/restaurant/
Mosset Tavern, Forres – https://mossettavern.com/
The Cluanie Inn, Glen Shiel – https://blacksheephotels.com/cluanie-inn-home/
Dulse and Brose, Portree – http://www.dulsebrose.com/about/
Kcal, Glasgow – https://kcalkitchen.co.uk/
Willow Tea Rooms – https://www.willowtearooms.co.uk/
10-day Scotland Road Trip
If you "steal" this Scotland road trip itinerary, don't forget to also snatch my Scotland road trip playlist from Spotify, and leave us any feedback or questions in the comments below.
Peace, love and inspiring travel,
Madam ZoZo