This morning I was walking by a women's clothing boutique in my little Midwest historic town. A colourful bunting of vintage handkerchiefs in the window caught my eye. One, in particular, struck me – a pink flamingo and palm tree adorned souvenir handkerchief from Florida. The charming hanky featuring the state map has a scalloped border lined with pink tropical fish. James and I spent almost two weeks road tripping around Florida when we first arrived in the U.S., and never picked up a souvenir. "This could be it," I thought. I went inside to inquire if it was for sale and met handkerchief collector Stephanie. She agreed to sell me that swatch of fabric and I left dreaming up a list of ways to put to use my new treasure. Having recently written about vintage travel posters and postcards, this felt a logical progression, so I dived into some research.
Souvenir handkerchief history
Handkerchiefs, in general, can be traced back to ancient China and Rome, but souvenir hankies hark back to the comparatively recent 17th century. Battles and other key events (particularly those involving royals) were a reason to make a cloth memento. Hankies were fast and cost-effective to manufacture, which made them easy to produce as event merchandise. They were also cheap, compact and lightweight enough for consumers to purchase and mail them to friends and family.
During WWI, soldiers sent home embroidered silk hankies from the locations they were stationed and visited. Though, like postcards, they really took off in the United States during the 1950s when the growth of a highway network and the commonality of cars led to a rise in domestic travel. Souvenir handkerchiefs were particularly in demand for locations popular with vacationers such as Florida, California and road trip stops along Route 66, the Lincoln Highway and Orange Coast Highway. The handkerchiefs featured cities, landmarks, attractions and even well-known brands associated with a particular location. For example, a hanky featuring Cincinnati, Ohio mentions Procter & Gamble and G.E Jet Engines. At this time a souvenir handkerchief cost less than a dollar. During the early 1960s, a public health campaign promoted use of disposable facial tissues that were developed in the 1920s. From there the handkerchief fell out of favour.
Judging by the number of vintage Australian souvenir handkerchiefs for sale online, I'd say they were very popular there too during the midcentury period.
Who made my hanky?
Handkerchiefs were produced by a number of large companies around the world, and yes there was hanky snobbery afoot as people preferred certain brands.
Swiss company Klauber produced embroidered state maps and pictures on sheer cotton.
Kimball, also Swiss, created linen squares featuring artist-autographed designs of attractions.
Foard was known for hand rolled edges and impressionist style prints.
American company Burmel was popular with readers of Harper Bazaar because of their clever marketing ploy "design of the month". Burmel's handkerchiefs had scalloped edging and bore state maps.
Franshaw made more generously sized hankies of a similar design and became very sought after for their script typefaces, detailed maps and vibrant hues.
Hanky designers
I couldn't find much on the artists and designers that created earlier handkerchiefs. Due to the resurgence of interest in midcentury design, it is the prolific artists of the 1940s through early 1960s that get most mention. Names such as Tammis Keefe, Pat Pritchard, Faith Austin and Carl Tait are highly covetable in collector circles for their spirited designs of a variety of themes including travel destinations.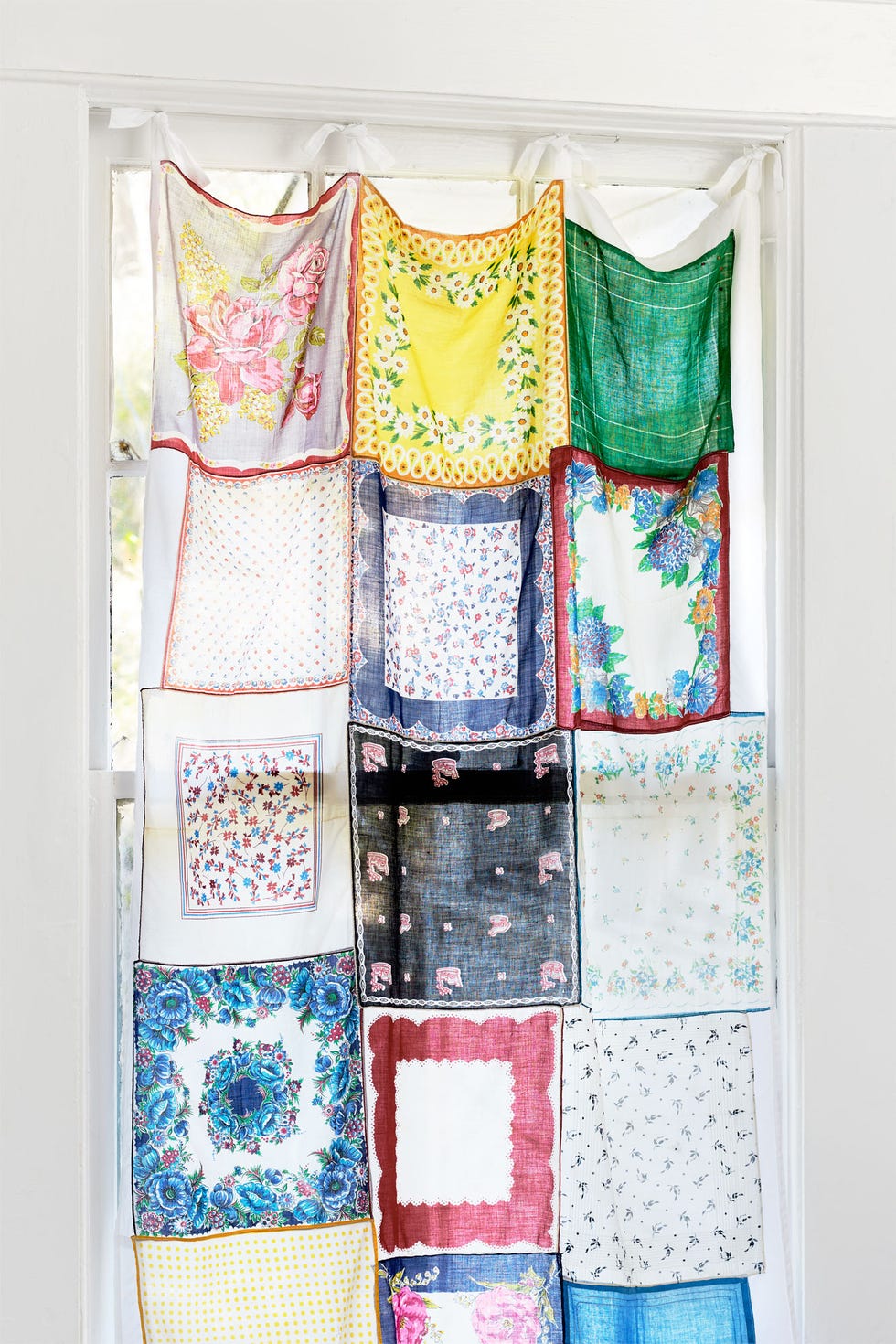 Souvenir handkerchief DIY ideas
Collecting souvenir handkerchiefs may sound redundant or old fashioned, but with a little creativity, these swatches of fabric can be turned into all sorts of wonderful things. You can pick up old hankies for your project quite easily on Etsy and eBay. Here are a few ideas:
Next time you come across a vintage shop, have a rumble through those hankies and see what you can find. The possibilities for creating DIY souvenirs with these are endless.
Peace, love & inspiring travel,
Madam ZoZo