If you're planning a trip to Eastern Washington, or maybe a leisurely drive from Seattle to Spokane, you might be wondering what activities and attractions to include in your itinerary. Look no further! Let me guide you through the 10 must-visit attractions in the region, ensuring that you make the most of your adventure. Start planning your trip today with these fun, fascinating and jaw-dropping things to do in Eastern Washington State.
1. Discover the beauty of Lake Chelan
Lake Chelan is a much-loved spot in Central Washington that offers stunning beauty and endless recreational opportunities. This pristine, glacier-fed lake stretches over 80-km (50-mi) and is surrounded by picturesque mountains and vineyards of one of Washington State's 16 official viticulture regions.
Visitors can enjoy a variety of activities such as boating, fishing, hiking, and wine tasting. The charming town of Chelan, located on the southern tip of the lake, offers a range of accommodations, restaurants, and shops. Whether you're looking for a relaxing getaway or an adventure-filled vacation, Lake Chelan is a must-visit attraction in Eastern Washington.
2. Visit a charming Bavarian-themed town
Leavenworth is the epitome of a lemons-to-lemonade story. Established along the Great Northern Railway, it was a burgeoning logging town until the Railway re-routed and the sawmill closed leading up to the Great Depression. During the 1960s, remnant business folk met and community members turned their alp-like Cascade Mountain Range backdrop to their advantage. They transformed Leavenworth into a Bavarian-themed town.
As the town drew tourists from near and far, they began to hold festivals such as the much-loved Christmas Lighting Festival and Oktoberfest celebration. Today, the revitalized town draws over a million visitors a year to its scenic location on the Wenatchee River. Exploring Leavenworth with its gingerbread-style streetscape and beautiful natural surrounds is one of the most fun things to do in Eastern Washington.
3. Cycle the Apple Capital
Wenatchee is a rural town set among the apple growing regions that line the Columbia River from Canada to Oregon. Washington produces more apples than any other US State and Wenatchee proudly declares itself the Apple Capital. One of the best ways to see the city in North Central Washington is by bike.
For someone like me who only gets on a bike about once every 3-years, or for a family with kids, the Apple Capital Loop Trail is perfect. The paved trail is relatively flat but with enough twists and turns, ups and downs to be interesting. The trail along the east side of the River is set in natural habitat with stunning views back at the confluence of the Columbia and Wenatchee Rivers. The west side of the trail is lovely groomed gardens and campsites, full of flowers in spring. There are connector trails if you want to extend your cycle too.
4. Admire the Columbia River
The contrast of the raging Columbia River flowing through Central Washington's high desert is a sight to behold. One of the best Vantage points (pun-intended) is in the Wanapum Lake area where the River has been dammed to create a reservoir.
Here, by the town of Vantage, the steep bluffs carved by the River offer wonderful viewpoints from both sides of the Columbia. On the eastern side stop a Wild Horse Scenic View and the Scenic Overlook. On the western side discover magnificent views from our next thing to do in Central Washington, a visit to Ginkgo Petrified Forest State Park.
5. Go wine tasting in Walla Walla
Located in the heart of Eastern Washington, the historic town of Walla Walla is a must-visit destination. Known for its charming downtown area and rich history, Walla Walla offers a unique blend of small-town charm and big-city amenities at the heart of another Washington State viticulture regions.
Explore the town's historic buildings, browse the local shops and art galleries, and indulge in the region's renowned wine and culinary scene. With its beautiful parks, outdoor activities, and vibrant cultural events, Walla Walla has something for everyone. It's also one of the prettiest East Washington cities.
Don't miss the opportunity to experience the charm and beauty of this historic town in Eastern Washington, especially in the spring and autumn months. Walla Walla holds its annual Balloon Stampede—a hot air balloon festival—in May each year. It's a spectacle from the ground and in the air.
Tip: The town of Prosser (about 1.5-hr drive from Walla Walla), also holds a hot air balloon event: The Great Prosser Balloon Rally, annually in September.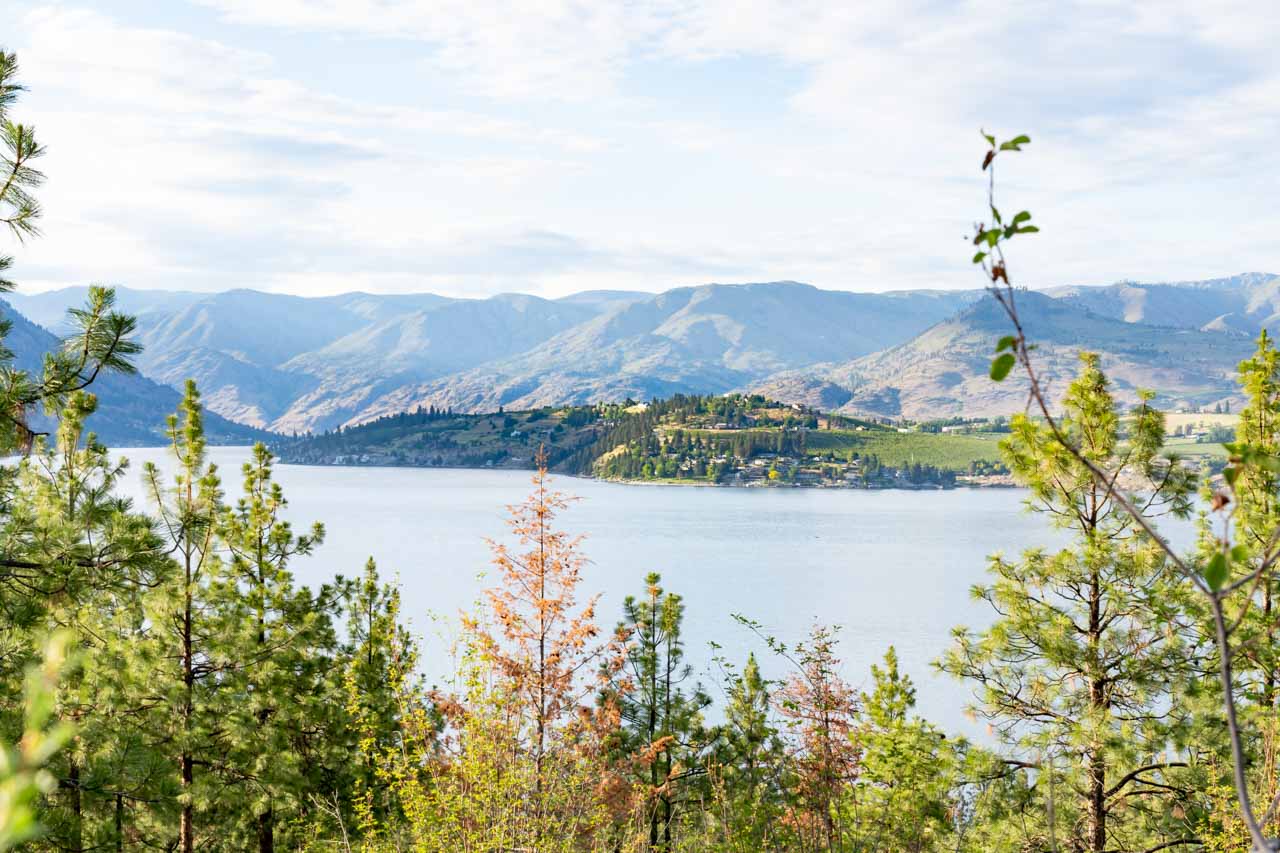 6. See the remains of a petrified forest
Ginkgo Petrified Forest State Park was created to preserve rare specimens of a petrified wood discovered in 1932. Millions of years ago, basalt lava flows buried this part of Washington State around what was then Lake Vantage. Water-soaked logs in the bottom of the lake were petrified, a process whereby organic matter such as wood, is slowly replaced by minerals, turning it to stone. Erosion eventually uncovered these petrified logs, exposing them to the surface again.
Ginkgo Petrified Forest State Park conserves samples of petrified maple, Douglas-fir, spruce walnut, elm and the most rare: ginkgo. Visit the Interpretative Center for sweeping views over the Columbia. The Center has a fascinating exhibit of petrified wood samples and ancient petroglyphs relocated from beneath the hydroelectric dam's high water mark.
Tip: You'll need a Discover Pass to visit Ginkgo Petrified Forest State Park and some of the other sights on this list. A day-use pass is USD10 per vehicle. However, if you intend to explore this entire list, an annual pass is the best value at USD30.
7. Explore nature and history at Hanford Reach
Did you know that the plutonium used in the atomic bombs dropped on Japan during WWII were produced in a reactor in Eastern Washington State? Hanford Reach National Monument derives its name from Hanford Reach, a free-flowing stretch of the Columbia River about 82-km (51-mi) long.
In 1943, the U.S. War Department chose this location for secret nuclear reactors. The first of these went on to produce the plutonium used in the world's first nuclear explosion in New Mexico and the following atomic bombs used against Japan in 1945.
Today's National Monument mostly consists of shrubsteppe wilderness set aside as a security buffer around the site. If you want to see the actual nuclear plant and learn more about its role in the Manhattan Project, you can tour the disused reactors.
Tip: Be prepared for conditions in the Monument. All roads are gravel, but generally well graded. There are no marked hiking trails, only a few social trails. There are no facilities and little cell service, so you need to be self-sufficient. Bring lots of water, food and sun protection for your visit.
8. Float down the Yakima River
Summer is a great time to cool off with a tubing trip down the Yakima River. The Yakima River Canyon is a scenic, semi-arid landscape to look out upon from your inflatable seat, drink in hand. The River offers several in and out points along a rapid-free 25-km (16-mi) stretch, making it an enjoyable day out.
There is no shade along the route so be sure to bring plenty of sun protection. You'll also need to pack water and snacks for the ride. A waterproof, Bluetooth speaker is good for background music just remember to respect other river-users who came for the quiet of nature.
Bring your own tube or rent one from a nearby outfitter. If you don't have two cars, you'll also need to pay for a shuttle service to get you back to your vehicle. Tthere are no taxis, rideshare services or public transport and very little cell service in the area.
Tip: Start and end your cycle at the Pybus Public Market. There you can rent a bike, enjoy a pre-cycle brunch or farm-fresh refreshments following your ride.
9. Be stunned by Washington's State falls
One of the must-see attractions in Eastern Washington is the stunning Palouse Falls—Washington State's official State waterfall. Located in Franklin County, this natural wonder is a sight to behold. The waterfall drops 60-m (198-feet) into a deep canyon, creating a breathtaking view.
Visitors can hike to various viewpoints to admire the Falls and take in the surrounding beauty. Whether you're a nature lover or simply looking for a picturesque spot to visit, Palouse Falls is one of the most memorable things to do in Eastern Washington.
10. Watch sunset over the Palouse Hills
The Palouse loess are rolling hills in Eastern Washington formed by silt probably created by the grinding of icesheets and glaciers across the landscape during the last ice age. The sediment blew into mounds creating these fertile undulations, that are today covered in wheat, canola and other crops. Their velvet-like sheen and the deep shadows cast in the early morning and evening golden hours are a favourite of photographers.
The best places to get a view of the hills is from two local buttes that rise above the lower-lying surrounds. Steptoe Butte State Park and Kamiak Butte County Park provide natural overlooks to get a view of the surrounding landscape, share a romantic sundown picnic (the Park gates close at dusk) and capture the photogenic green or gold waves – depending on the season.
You'll be amazed at the diverse and fascinating landscapes of Central and Eastern Washington. Enjoy a glass of local wine, chill out on the cooling rivers and enjoy all this amazing things to in the east of Washington State.
Peace, love & inspiring travel,
Madam ZoZo