Explore the history and culture of Toronto, Canada in a weekend with this 2-day, fun-packed itinerary. I have included some tips and shortcuts we learnt from our short time in Toronto, so you can cram a whole lot more art, architecture and delicious food into your 48-hours in Hogtown.
Disclosure: I may earn compensation from the purchase of any product or service linked on this website, at no extra cost to you. I only link to products I use and love, therefore feel comfortable recommending.
Saturday
Self-guided walking tour of Old Toronto
First up, start with a walking tour of the historic downtown core of the city. "But what about breakfast?" I hear your stomach rumble. Don't worry, I've got you. The Old Town Toronto Tour is broken into East and West. I suggest you start with the West using this map, as that will take you through St Lawrence Market where you can pick up a Toronto-rific Peameal Bacon Sandwich at the Carousel Bakery. If you are a vegetarian or vegan, don't sweat it, there are a ridiculous number of good places to eat in the Market, you'll find something that doesn't contain the city's iconic bacon. Once you've eaten, continue with the remainder of the West Tour and then on to Old Town Toronto East.
Top tip: Take cash to St Lawrence Market, lots of vendors don't accept card including Carousel.
Amazing views from the CN Tower
Usually, I expect places like the restaurants at the CN Tower to be a complete tourist trap with high prices and low-quality food. I'm delighted to report that wasn't our experience of the CN Tower at all. If like us you have a lot of Toronto to see and very little time, you don't want to be standing in a long queue to get up the Tower. We decided to make a booking at the revolving 360 Restaurant which provided us with magnificent views, good food and excellent service without the wait.
Top tip: If you purchase the pre-fixe meal ($60 per person for 2 courses), you will also have complimentary access to the LookOut and Glass Floor levels of the Tower once you are done eating. When you compare that to $38 for a general admission adult ticket to two observation levels alone, it's a much better deal.
Toronto street art hot spot
From the CN Tower, you can burn off your lunch with a 20min (1.7km) walk to Rush Lane, one of Toronto's hottest street art spots. Finding art on the streets of Toronto requires no more than going for a walk and keeping your eyes peeled but if you are looking for a street art hub, this is the place.
Toronto, in particular, showcases a great array of talent for wildstyle graffiti. I like to think of wildstyle as both the calligraphy and secret code of street art. It is a highly complicated form of typography that is often unreadable to those who don't create it.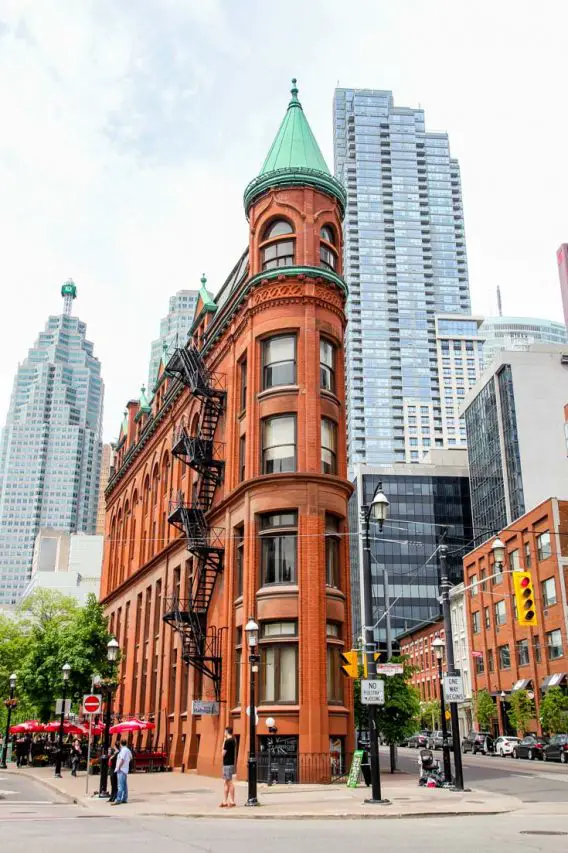 Sunday
Breakfast and a scenic architectural walk
I'm a huge fan of a leisurely Sunday brunch, but you will need to keep moving if you want to see more of Toronto today. We stopped for a casual breakfast at Karine's en route. Our destination? The Royal Ontario Museum, a 40min (3km) walk north of downtown. Along the way you'll pass the ultra-modern Art Gallery of Ontario and OCAD, along with a number of historic buildings in the University of Toronto campus and Queen's Park, making it worth the stroll rather than taking motorised transport.
Royal Ontario Museum (ROM)
You could spend hours browsing the extensive collection of the ROM, so I focused my limited time on all things Canadian. The Daphne Cockwell Gallery is dedicated to the art and culture of Canada's First Peoples with more than 1000 artifacts. While the Sigmund Samuel Gallery of Canada picks up from the time of European settlement with approximately 560 artifacts from Canada's heritage.
Afternoon in a castle
Complete your weekend in Toronto with a trip to a fairytale castle. I was so fascinated and impressed by Casa Loma, Toronto's "Castle on the Hill," I wrote more about it here. Take a couple of hours to explore the mansion and grounds with an audio guide to learn all the fascinating ins and outs of the wealthy industrialist and his European castle-inspired abode that was never completed.
Places to eat during your weekend in Toronto
There were way more than a weekend's worth of places to eat on my list when we arrived in Toronto, so here are the ones we ate at and loved:
Karine's – Karine's offers casual, healthy, home-style breakfasts in a slightly hard-to-find location. You'll find it tucked away in a food court at Village by the Grange. Plenty of vegetarian and vegan options are available.
360 – The revolving restaurant at the top of the CN Tower pleasantly surprised us with its fresh, locally inspired cuisine. Check their menu and make a reservation here.
Byblos – We rolled out of Byblos after eating way too much of their delicious Middle Eastern food. Ensure you make a reservation, it's a popular joint.
Alo – If Michelin gave out stars in Canada, Alo would have one or two. Even if you forget to make an advance booking, there's a chance you can treat yourself to a fancy dinner in the bar. We arrived late Friday night and were seated in the bar straight away.
What to do with more time in Toronto
Should you be fortunate enough to have some more time in Toronto, I recommend heading down to Niagara Falls and the wine region around Niagara-on-the-Lake. This weekend getaway itinerary wraps up the highlights of the area.
If you have any questions about your weekend in Toronto, please drop them in the comments below.
Peace, love & inspiring travel,
Madam ZoZo