Canada's father of hydroelectricity was a gentleman possessed by the idea that a man's home is his castle. Sir Henry Pellatt and his wife wanted to create a home fit to host British royalty. Did they succeed? You be the judge. Experience their medieval-style Toronto castle, Casa Loma.
Disclosure: I may earn compensation from the purchase of any product or service linked on this website, at no extra cost to you. I only link to products I use and love, therefore feel comfortable recommending.
Once upon a time
Sir Henry Pellatt made a fortune dominating Toronto's electricity supply and investing mercilessly in progress. From the Canadian Pacific Railroad to the North West Land Company, Sir Henry staked his career on innovation and looking forward. However, when he and Lady Mary Pellatt set about making plans for their dream home in Toronto, their inspiration came from looking back. Back to the medieval castles of Europe and Sir Pellatt's British heritage.
In 1903, Sir Henry Pellatt purchased 25 lots of land on a leafy hillside overlooking Toronto. The site was dubbed "Casa Loma" by the previous owner, and the Pellatt family retained the name as they carried out construction on their family home.
Circa 1905, a hunting lodge, along with workmen's cottages were constructed on the land. While Sir Henry waited for approval on his pièce de résistance (which finally came in 1909), stables were also assembled and used as a base for operations onsite during Casa Loma's construction.
The architecture of a Toronto castle
Sir Pellatt engaged Toronto architect Edward James Lennox to bring to life his romantic notion of a Medieval castle, that would conjure up images of noblemen and knighthood. Maybe even a few dragons and damsels in distress too. Lennox was known for his work on City Hall and the Bank of Toronto as well as homes for other wealthy Torontonians.
Sir Pellatt and Lennox worked on plans for almost a decade before ground was broken on Casa Loma. Much like the Seiberling-family in the making of Stan Hywett, they toured Europe together, looking at the finest castles to inspire their design.
The grand plan for Casa Loma
Sir Pellatt and Lennox's plans for Casa Loma were a three-story mansion with the essence of a sixteenth or seventeenth-century castle. Replete with two turrets, stone cladding and crenulated battlements.
Behind the historic façade, would be a home fitted with all the mod cons of the day. The home was to have 98 rooms covering 6,011 sqm (64,700 sq ft), including a central vacuum system, elevator, climate-controlled wine cellar, rifle range and swimming pool.
The ground floor plans were comprised of a porte-cochere entry and a vast great hall. There was to be an elegant drawing room, generous library, a study complete with hidden staircases, modest dining room and light-filled conservatory.
The second floor was to have a gallery overlooking the great hall, and the private suites of Sir Henry and Lady Mary. Each of the owners' suites were to be comprised of a bedroom, sitting room and bathroom. There was also to be a guest room and additional bedrooms – one dubbed the Windsor Room as a "build it and they will come" suite for the British Royal family.
A third floor would house servants and stairs to the rooftop terrace with views to downtown Toronto.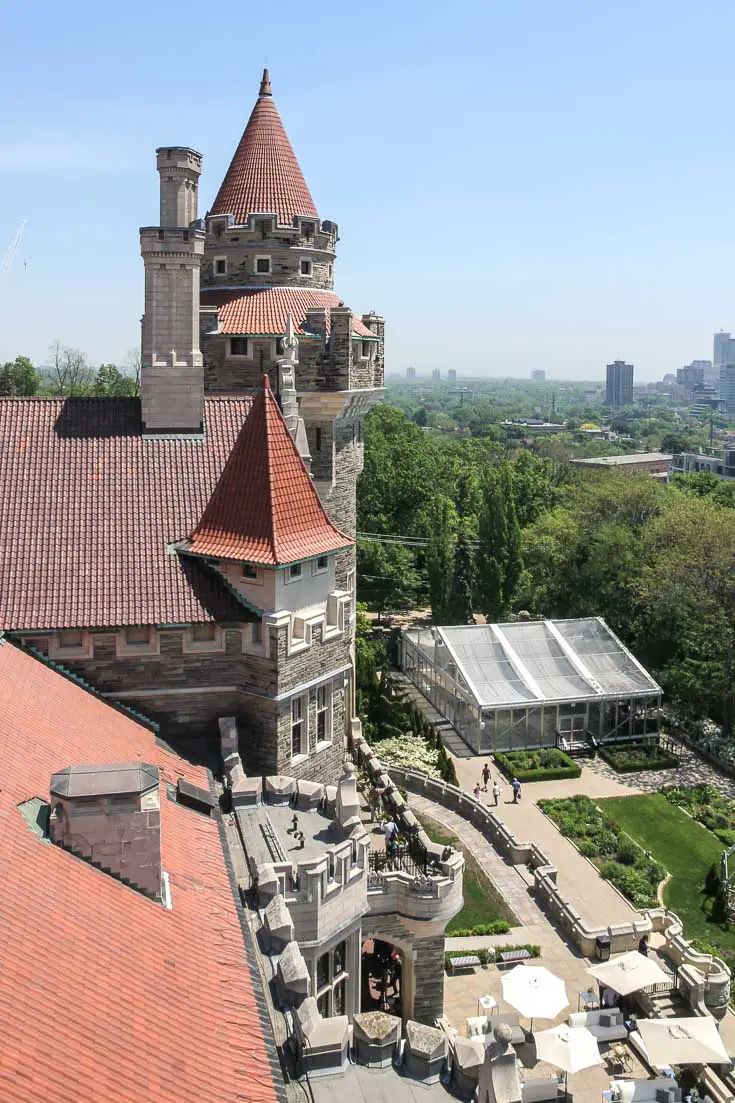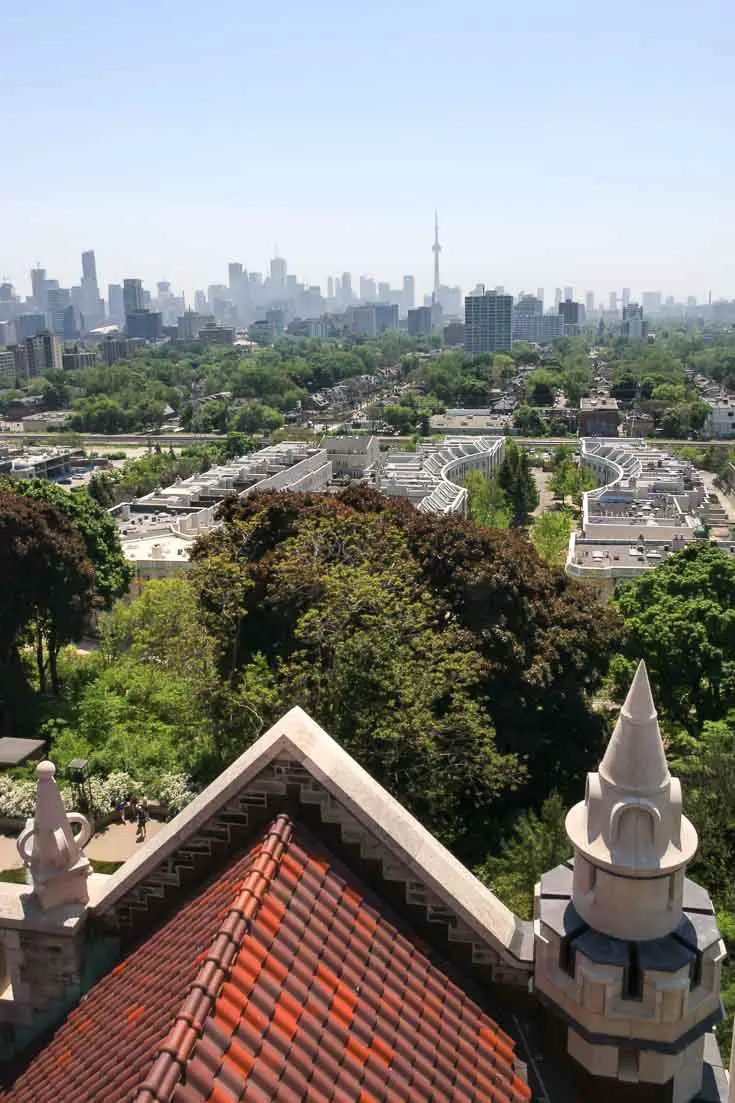 Castles made of sand
Three hundred workers, 3.5 million dollars and three years later, the Pellatt's moved into their semi-complete Toronto Castle.  There was still work to do on the Great Hall, basement and the third floor, but Casa Loma was still a luxurious place to live.
Sir and Lady Pellatt occupied their Toronto castle until 1923 when they were forced to sell the home due to debt. World War I halted construction on unfinished parts of the home, before debt and rising property taxes took over.  The contents were auctioned off and the home laid unoccupied for several years. The Pellatt's moved out to their more modest country home, Marylake, in King Township north of Toronto.
Sadly, the marble pool, bowling alley and shooting range in the basement were never completed before finances dried up. The marble staircase got lost on its way from Scotland, and a custom-made theatre organ never played a note in the house before it had to be auctioned off for a teeny-tiny fraction of its worth. Worst of all, the British royals never came for a slumber party.
What happened to Casa Loma?
In the late 1920s Casa Loma briefly operated a luxury hotel, and during WWII the stables were used for the secret research and construction of sonar devices that would detect U-boats. In 1937 it became a museum and tourist attraction as it remains today.
Visiting Casa Loma
Here are some tips for your visit to the Toronto castle:
The best time to visit is generally accepted to be mild weather, as there is no central heating or cooling system in the castle. Summer is the busiest time of the year and can be crowded.
The castle is located at 1 Austin Terrace. There is onsite parking at $10 flat rate, or down the hill at George Brown College. You can also access Casa Loma by train, bus or streetcar, with some walking.
Casa Loma is open daily from 9:30am-5:00pm with last entry at 4:30. The castle is closed on Christmas Day and closes at 4:00pm on Christmas Eve.
Visits to Casa Loma are self-guided using a multimedia device provided at the mansion and included in the ticket price. The audio tours are available in English, French, Japanese, German, Italian, Spanish, Mandarin, Korean, and American Sign Language.
Casa Loma is a historic home, and therefore shows little concession to matters of accessibility. See the website for details.
See the Casa Loma events page for details on theatrical gaming fun, summer concerts and other special experiences.
If you want to bypass the history and immerse yourself in the enchantment, try the Casa Loma Escape Rooms.
Sir Pellatt set out to build himself a castle of Medieval proportions, overflowing with storybook romance. Though the Pellatt's empire may have washed into the sea like a sandcastle, Casa Loma remains ready for you to explore. Enjoy the fruits of Sir Pellatt's labour!
For more fabulous things to do in Toronto, check out this 2-day itinerary.
Peace, love & inspiring travel,
Madam ZoZo