Laos (Lao PDR officially) is one of Asia's secret treasures when it comes to travel destinations. It wasn't on our original itinerary, but as we researched things to do in Laos it became obvious there was far more to experience than we could cram into 7-days! Here are the shimmering highlights of things to do in Laos and places to visit including Luang Prabang, Vang Vieng and Vientiane.
Getting to Laos
Air
If you're travelling to Laos by air, there are very few direct flights into the country. Most international travellers from UK, US or Australia will arrive via connections in Hong Kong or Bangkok. There are also flights from Cambodia, Singapore, Malaysia, Vietnam, South Korea and China, for those already on the ground in Asia.
Flights generally arrive in Wattay International Airport, Vientiane (VTE), Luang Prabang International Airport (LPQ) or Savannakhet Airport (ZVK). 
Land
There are various land border crossings from neighbouring countries: China, Thailand, Cambodia and Vietnam. Visa-on-arrival availability and opening hours can vary so it is best to research the exact border checkpoint you intend to use.
Water
We arrived in Laos from Thailand via a blissful two-day float cruise down the Mekong River from Mae Sai, Thailand. We had options to make our way by road or plane, but we chose the boat to mix things up a bit and see some great scenery along the way – it was the BEST decision!
Chilling out on the rooftop of a medium-sized boat for almost two full days as we floated down the mighty Mekong was heavenly. The trip was a divine rest in our hectic itinerary and the vistas were incredible. The overnight stay in the Luang Say Lodge at Pakbeng was very comfortable and our first taste of Laotian food? Delicious!
There were two sightseeing stops along the way. One, a traditional local village called Ban Houy Phalam, which produces stunning silk scarves. The other was Pak Ou Caves, which have been a significant religious site for Theravada Buddhists in Laos since the 15th Century. The Caves are like a Buddha orphanage – they contain thousands of Buddha images that can no longer be venerated in a temple because they are old, damaged or their home temple was destroyed.
Traveller tip: There is a faster (one day), speedboat option to transfer between Houay Xai (Laos town on the Thai border) and Luang Prabang but it is a deeply uncomfortable 7hr trip from all reports I have received.
Luang Prabang – World Heritage-designated city
Luang Prabang, a former ancient capital and current cultural centre at the confluence of the Mekong and Nam Khan Rivers, is a French-colonial architecture hotspot. The city is surrounded by beautiful landscapes and is the central marketplace of ethnic minority groups that produce beautiful textiles and jewellery. No wonder it is UNESCO World Heritage-listed!?
Within Luang Prabang, explore the Wat's (temple complexes), shop the night market, rise early to witness daily almsgiving,  and enjoy a sunset on top of Mount Phousi. Cycle or saunter the French colonial streetscapes and indulge in great Laotian food. Visit the National Royal Palace Museum and textile/fashion lovers must check out the Traditional Arts and Ethnology Centre and Ock Pop Tock Living Crafts Centre.
Also, use Luang Prabang as a base for exploring the broader region including the milky-jade cascades of Tad Sae and Kuangsi Waterfalls; trekking to the villages of local ethnic minority groups such as Khmu, Hmong, Tai Dam and Yao peoples; interact with (not ride) rescued elephants with MandaLaos; and kayak the Nam Khan River.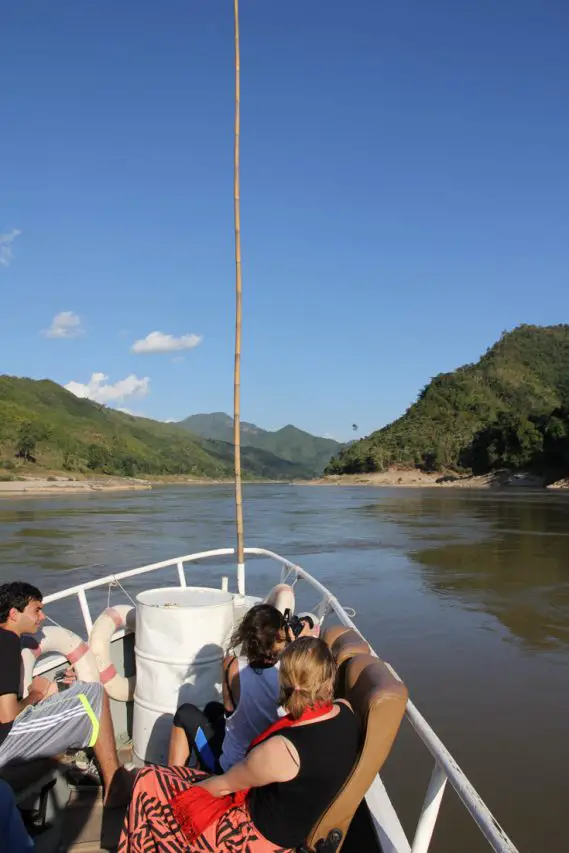 Vang Vieng – Laos' adventure capital
Vang Vieng, once known as the country's hedonistic capital has been reformed into a place of quiet tranquillity with endless opportunities to enjoy nature. Adventure travellers, this is one of the best places to visit in Laos. The town has taken it back to basics with its karst mountain landscape and lazy river that can be experienced by kayaking, caving, hiking and hot air balloon rides. Thank goodness Vang Vieng has passed its time of tubing bar to bar for pail size drinks concocted of unknown substances. I would hate to have had to skip this natural beauty.
Vientiane – Wats and wonder
Vientiane, the modern capital, has its own architectural gems both French-colonial and Buddhist wats. I'm not going to lie, by the time we arrived in Vientiane we were exhausted after three weeks of travelling through Myanmar, Thailand and Laos in top gear. We were ready for a rest day or ten and were getting harder to impress. Still, the Laotian capital pulled a few punches and won us over.
Top of the list is the 1930s-built That Luang Stupa and midcentury-constructed, Patuxay – Lao's unexpected war memorial also known as the "Arc de Triomphe of Vientiane". Not to mention Ho Phra Keo (or Haw Phra Kaew), the rebuilt home of the Emerald Buddha which is now a religious art museum, and Wat Sisaket's curious cloister wall housing over 6000 Buddha images.
If you found this list of places to visit and things to do in Laos helpful, check out these guides to Vietnam, Myanmar or get my Southeast Asia packing tips.
Peace, love and inspiring travel,
Madam ZoZo