Shanghai isn't the picture of ancient culture I expected from China. Unlike Beijing's obvious historical legacies, evidence of Shanghai's quaint, fishing village past is long buried beneath urban sprawl. Only the meandering Huangpu River is old enough to tell the city's full history. Spending an entire week in the metropolis, I really got to spend some time with the city and here I share my favourite things to do in Shanghai to inspire your visit.
Disclosure: I may earn compensation from the purchase of any product or service linked on this website, at no extra cost to you. I only link to products I use and love, therefore feel comfortable recommending.
Dance the green ballrooms
Parks are a wonderful place to witness Chinese culture and daily life take place. On any given day of the week, you can pull up a park bench in any of the city's major green spaces to watch couples practise their ballroom moves. First thing in the morning and early evenings sees groups of mostly seniors fox-trotting their way throughout Shanghai's leafy public spaces. You may also find others practising martial arts or locked in a game of xiangqi (Chinese chess). Popular parks for witnessing or even taking part in the ballroom blitz are:
Shanghai Fuxing Park
Shanghai Xiangyang Park
Shanghai Liyuan Park
Shenzhen Lihuashan Park
Stride The Bund
In the 1840s the west bank of the Huangpu River became a British settlement and Shanghai soon transformed into a major trading port. Buildings flourished in a variety of imperial European styles that housed banks, newspapers and consulates. These buildings remain today as an architectural testament to the cities colonial heritage on the boulevard known as The Bund. Learn more about colonial architecture in Shanghai here!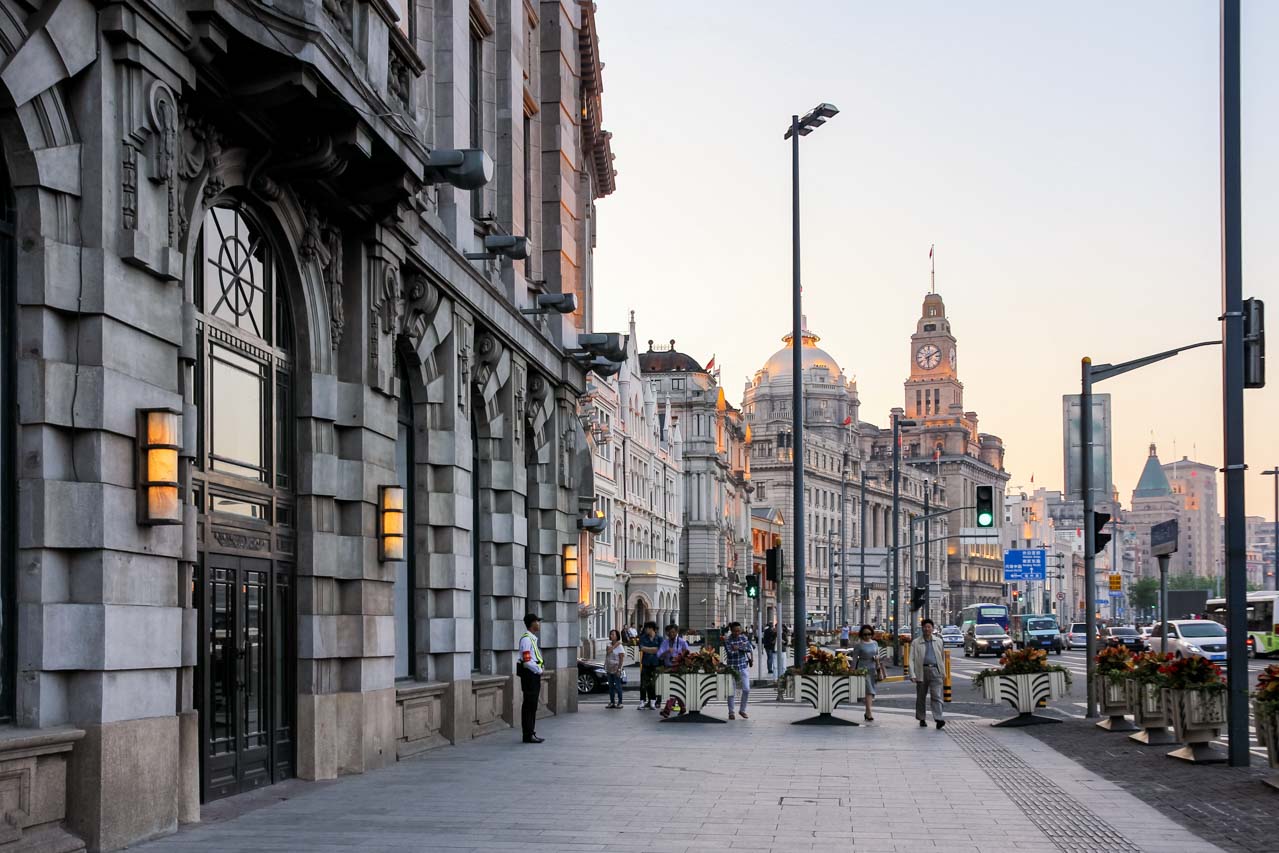 Discover the arts district
50 Moganshan Road is the address of Shanghai's contemporary art district. Housed in warehouses and factories abandoned by the textile industry, the neighbourhood often referred to as M50 is now occupied by studios, galleries, cafes and bars. In 2000 local artist Xue Song took up residence and sparked a trend that attracted a steady influx of artists to the area, such as electronic art collective Liu Dao, who showcase their work at Island6—a must-see gallery. Bandu Cabin (1/F, Bldg. 11, 50 Moganshan Road) is a great place to stop for refreshment as you make your way through the 100+ artists worth of work on display.
Get lost in heaven
While there is all manner of delicious things in which to indulge in Shanghai, make sure you spare a meal for Lost Heaven. The upscale, yet casual restaurant features cuisine from the trading route that historically linked Tibet with the Yunnan Province of China, and down into Burma and Thailand, known as the Tea-and-Horse Trail. The dark, atmospheric space is distinctively furnished in a modern style that reflects the richly coloured aesthetic of the region's ethnic minority groups. The food is fresh and tasty, the cocktails are…heavenly!
Muse over the Museum
The Shanghai Museum contains an extensive collection spanning China's artistic heritage including calligraphy, coins, sculpture, seals, painting, porcelain, jewellery, traditional dress and furniture, just to name a few. I found it effortless to while away half a day (or more) marvelling at the exquisite details of the display.
Explore traditional crafts
The Shanghai Arts and Crafts Museum is worth an hour of your time not just to explore the beautiful traditional crafts of China including jade, boxwood carving, embroidery and paper cutting, but for the Museum building itself. Built in 1905, the French Renaissance style building is known as "the little White House of Shanghai." It was formerly a World Health Organisation office and the Sino-USSR Friendship Organisation before it became a centre for arts and crafts research.
Old Shanghai
It's crowded and it's touristy, but there is no visit to Shanghai without visiting the Old City – Shànghăi Lăo Chéngxiāng. The architecture and layout of the Old City evoke the style from the Ming Dynasty (1368-1644) up to the time of European influence. Stop for a cuppa at the Qing Dynasty Huxinting Teahouse, shop more than 200 stores, wander Yuyuan Gardens and visit the Taoist Temple of the City Gods.
If you've found more inspiring inspiring things to do in Shanghai, please share with us in the comments below.
Peace, love & inspiring travel,
Madam ZoZo