So, you're thinking about travel wardrobe essentials. Maybe you just went on a trip and packed all the wrong things; or you're new to travel and want to invest wisely in a few foundation pieces – well done, you! You've come to the right place. Here I share the clothes I deem my travel wardrobe essentials—the travel clothing that has earnt its space in my suitcase time and again over the last 20-years.
What is travel clothing?
Let's make sure we're on the same page here. Travel clothing. It means different things to different people with varying styles of travel; and just varying style in general. What it does, or at least should mean to everyone, IMHO, is comfort, safety and the ability to go all the places and do all the things without pulling, tugging, sweating, shivering, scratching, tripping or any other nonsense that detracts from an amazing travel experience. It also shouldn't make you feel un-stylish (is that a word?) or self-conscious in any way, because that's a distraction from the experience of travel too.
When I first started travelling, all the recommendations were to go out and purchase "travel clothing" i.e. technical adventure/outdoor-wear. Some of those original, technical items have stuck, and are listed below in my travel wardrobe essentials. Others are long gone.
Depending on the type of travel you do, there are definitely times when a travel or adventure brand have the best solution. But you don't need to only shop travel or outdoor brands for travel clothing, as long as you carefully consider quality, design, and fabric. In many cases, particularly urban travel, you can shop your regular favourites or utilise your existing wardrobe.
Investing in travel wardrobe essentials
When I think of travel wardrobe essentials, I think of foundational pieces that are going to get packed for many, many trips. You're probably going to wear them at home too. For this reason, cheap, fast fashion items that stretch in the first wash are not going to cut it as travel wardrobe essentials. Travel clothing needs to stand up to many wears and washes.
Yes, good quality and good design are more expensive. Try to think in terms of cost-per-wear rather than absolute cost. A $30 t-shirt may seem expensive next to a $6 tee, but worn 30 times it's only $1 per wear. Whereas a $6 t-shirt probably won't even last 30 wears.
As you'll see in the following list of garments, there are examples of clothing that was a real stretch for me to buy initially but have paid dividends over time because I've never had to replace them. The quality and fit have stood the test of time and travel.
How I determined these travel wardrobe essentials
When pulling together these travel wardrobe essentials, I wanted to be as scientific about the process as possible. So, I went back through my travel photos since 2004 and noted which were my most packed, most joyfully worn travel clothes. I analysed these garments to determine why I packed these time-after-time. Here are the results with photographic evidence…
Neutral-coloured button up
Let's begin with a neutral-coloured, long-sleeve, cotton or linen top. I bought a white one in 2003 and only recently replaced it after many, many wears. Though it was expensive for me at the time, even on sale, the cost per wear is next to nothing. I've got so much mileage from this piece because:
The cotton fabric is cool to wear in hot environments, which is particularly useful when you need to keep your arms covered in certain locations, for sun, mosquito or cultural reasons.
It can be layered in cooler weather.
The breathable 100% cotton fabric, means it's wearable again and again without needing a wash every time.
The light, neutral colour is good for mixing and matching with your other travel clothes.
The fit is tailored just right, making it comfortable and flattering even through weight fluctuations and changes in lifestyle.
The simple, flattering style means it can be dressed up with a few accessories.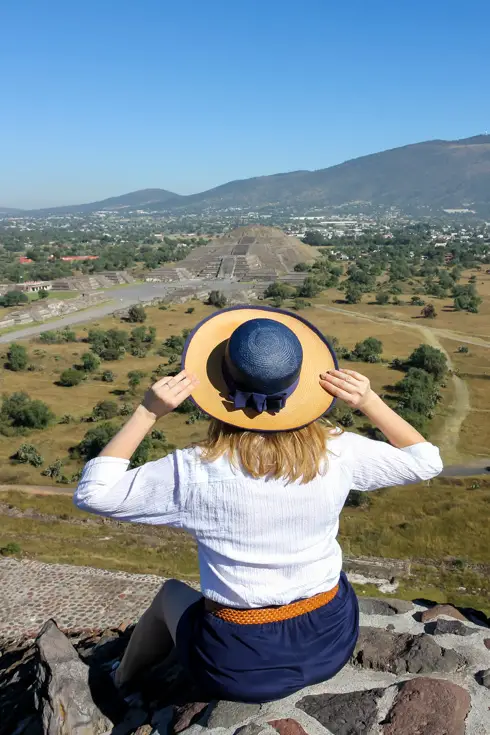 Cotton t-shirts
Cotton tees in your most flattering and favourite colours are going to be your "go-to". Cotton tees are a staple in my travel wardrobe because:
The cotton is cool to wear in tropical climates.
The fabric doesn't hold smells, so you can re-wear it without worrying.
A good quality cotton will take a beating and washes easily. No hand washing or special treatment required.
A relaxed fit will get you through the long-term.
Lightweight long pants
Loose-fitting, lightweight pants in breathable fabric and bonus points if they have an elasticized or adjustable wais. Unfortunately the brand that my favourite light travel pants, didn't make it through the pandemic. The pair pictured below have been from Myanmar to Mexico and beyond. The reasons these pants have gone the distance:
The cotton is perfect for warm climates where a little modesty is called for or you need a mosquito shield.
The adjustable waist means you can indulge in a large lunch or two. Or in my case, put on several kilos and lose them again.
Breathable cotton allows you to get away with several wears before washing.
They weigh nothing and take up barely any space, great for travelling carry-on only.
The print and colour are so much fun! You'll always find a reason to wear something you love.
Jeans
A pair of comfy, well-fitting jeans are just a wardrobe staple. Jeans were invented as workwear. They are hardy by design and have become a fashion baseline. You can't go wrong because:
Traditionally jeans are cotton (I'm starting to sound like a broken record now), these days they often incorporate a portion of spandex or other materials to give them stretch i.e. fit and comfort.
Denim is a neutral. Wear it with anything; dress it up or down. It's your canvas—go paint.
You can re-wear them many times between washes. Note, the more stretch your jeans have, the more likely you'll need to wash them regularly due to sagging.
Merino wool thermal underwear
A set of merino wool thermal underwear are travel wardrobe essentials. I first bought a set in 2011 preparing for trekking the Inca Trail in the Andes, and have worn them repeatedly since. Merino wool is expensive but worth every penny. Shop the sales and you won't regret it. Merino base layers are useful because:
Merino wool is a super-fabric, it will keep you warm when the temperature drops and is breathable and cool when things heat up. Perfect for hikes when it will be cold starting out in the morning but warm up later in the day.
They are excellent base layers in cold climates.
Good quality pieces in a thicker, more opaque knit can be worn on their own. For instance, I have used the bottoms as leggings under a dress and worn the top by itself, making them multipurpose pieces.
Down (or down alternative) puffer vest
A down vest is the extra layer you need as the sun goes down or the wind comes up. Obviously, it won't cut the mustard in Arctic environments, but when you need something warm for a milder climate  or for a transitional season trip, this is it.
A good quality, well-designed vest will have a tall collar and elasticised arms that close off space where the chilly wind can potentially get in. It has a zipper that does up from the bottom and down from the top, so you can loosen the vest around your hips when you sit down.
Note, I bought my vest a long time before I knew anything about live plucking and other horrid down industry practices, so I would encourage you to do your research and purchase from an ethical source. There are also synthetic options for anyone wanting to avoid down completely.
This vest has been in my travel wardrobe since the pictured trip to South America in 2011. They most recently accompanied me on a summer road trip around Alaska in 2022. A down vest is a travel wardrobe essential because:
It provides an extra layer of warmth that doesn't take the same volume of luggage space as a full coat.
The slim fit and neutral colour are flattering and don't feel like you're entirely sacrificing style for practicality.
Combining a down vest with the aforementioned merino wool thermal has creates a dynamic travel wardrobe duo, especially for adventure trips.
LBD
Whether yours is a "little black dress" or a "little blue dress" like mine—let's just call it a "little basic dress" shall we? One simple, flattering dress is a travel wardrobe essential. Take the time to find a quality dress in a cut that suits your body shape and you will have a go-to piece.
I first bought my LBD secondhand in mint condition for $35 online. It has been the ultimate workhorse at home and away. After four years I finally wore it out, but I couldn't let it go until I found another and I did! I thrifted the exact same dress, in great condition online and paid less than $20 for it – soon to be 20c cost per wear. This is why it works so well:
Plain enough to be transformed with a few layers or accessories, and with enough design details to stand on its own.
The fabric is a high-quality Ponte knit that has a nice amount of stretch but is thick enough not to reveal every lump and bump. The cotton is breathable and doesn't need any special care – just throw it in the wash.
Accessories – hat, scarf, gloves & sunglasses
Cold or hot, no matter where you go, you need to take an appropriate hat, scarf and sunglasses. Add gloves if you're going somewhere cold.
In warm climates, a wide-brim hat is essential sun protection. Consider a hat that can get wet and be washed if you are doing watersports. A light cotton scarf is good to cover your shoulders respectfully during visits to religious sites or when the air conditioning is turned up in hot-weather destinations. Get my tropical vacation packing list here.
In cooler climates, a warm hat, a pair of toasty gloves and a cozy scarf can help alleviate the chill. I have a couple of sets of gloves, one fingerless pair for when I'm taking photos, as I find it hard to feel the camera buttons in a pair of full-fingered gloves. These basic accessories are useful as:
Sun protection
Modesty
Warmth
Stylish adornments to change up an outfit
Technical hiking pants
I know this isn't what you wanted to hear, but if you are an adventurer at any level, you need a pair of technical hiking pants (maybe even ones that zip-off to become shorts). Not just fashion ones, but proper, outdoor, made-for-hiking pants– they are adventure travel wardrobe essentials.
True, they won't win any style awards, but they are highly practical. The photos below prove how this pair, bought for hiking the Inca Trail in 2011, were still in rotation in 2021 and beyond. These pants have been invaluable in all kinds of adventurous pursuits since I purchased them over a decade ago because:
They are pants that zip-off to shorts. Useful when fording streams or in variable weather.
They are really well designed for their purpose, with reinforced stitching, large pockets and enough stretch to scramble over rocks.
The partially elasticized waist makes them flexible and comfy. No matter how my weight has fluctuated, I've still been able to wear them.
The fabric is cool, light and most importantly, quick drying.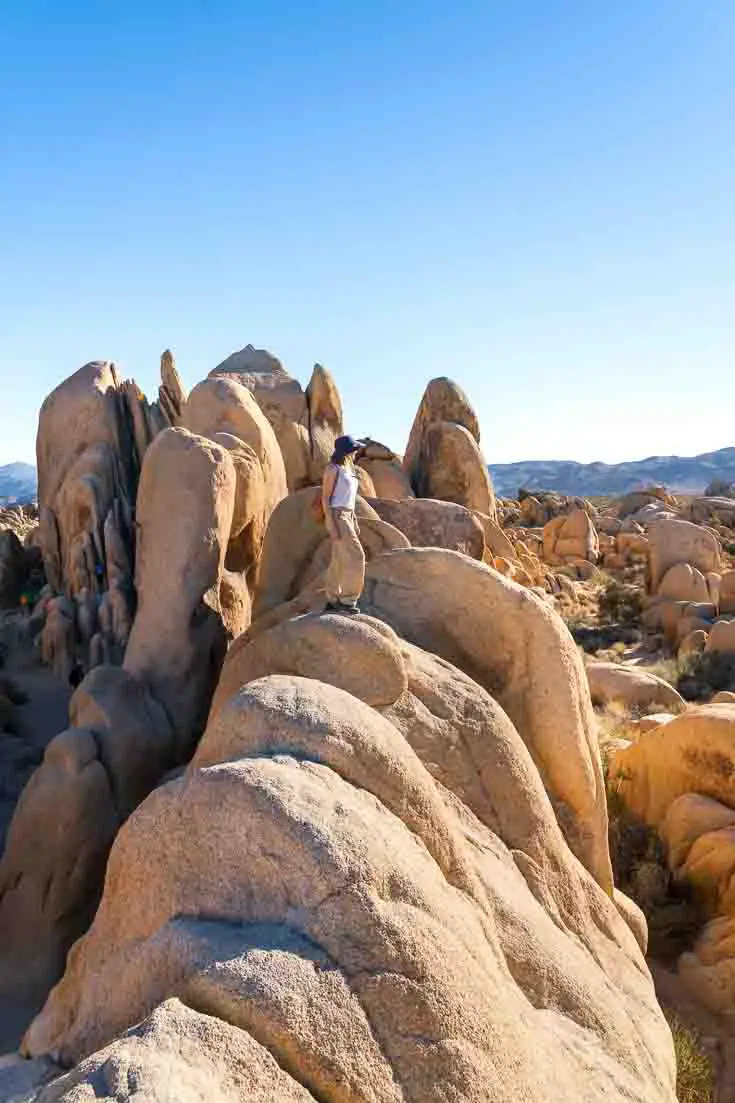 Rash vest
This is the most recent addition to my travel wardrobe essentials and I have no clue why it has taken this long. A rash vest is a lifesaver—literally. As someone with a family history of skin cancer, I should know. There are so many surfer-cool rashies around these days, you don't even have to sacrifice style. You should definitely add one to your suitcase because:
Sun protection, sun protection, sun protection.
Save time applying sunscreen.
Save more time scrubbing off said sunscreen.
Rash vests aren't just great for the beach, consider them for any activity involving a bathing suit including caving, river rafting, water skiing, snorkelling and diving.
Comfortable walking shoes
Sounds like a no-brainer right?! But the extended title of this would be "comfortable walking shoes you're not embarrassed to be seen in". It's a lot easier now than 20-years ago to be accepted in sneakers wherever you go and there's a lot more styles to choose from. I have walked my way through many pairs to find a stylishly comfortable pair of shoes and its still my biggest packing challenge. So if you find a pair, buy them, because:
Your feet, knees, hip and back health are important.
Blisters suck.
Sore feet are a distraction, even a deterant, from sightseeing. Who wants that?
When you're starting out, selecting the right travel clothing can be difficult. Hopefully, this list of my tried-and-true travel wardrobe essentials will help you choose well and invest in pieces that will see you through many great adventures.
See my favourite places to shop for travel clothing in this post and my travel capsule wardrobe formula here. If you have any questions, please drop me a note in the comments below.
Peace, love & inspiring travel,
Madam ZoZo