Palm Springs lays claim to the "Largest Concentration of Mid-Century Modern Architecture in the United States". Let's take a nostalgic self-guided architecture tour of Palm Springs and discover the magic of Desert Modernism.
What you'll find in this post:
What is Desert Modernism?
From highly customized mansions to suburban tract-housing, Palm Springs was at the forefront of American architecture during the mid-20th-century. Visionary architects working in the burgeoning Coachella Valley put their own spin on Bauhaus and the International Style, reworking it for the desert environment.
Desert Modernism, as it has become known, is an interpretation of the International Style that suited the Southern Californian and American Southwest climate and lifestyle. Architects adapted concepts of European Bauhaus to fit the local environment, à la Frank Lloyd Wright.
Desert Modernism, is recognizable by its minimalist, clean lines and use of mass-produced building materials. Roof lines are often flat, asymmetrical "skillion" or butterfly-wing v-shapes. Floorplans are open with lots of windows and sliding glass doors that bring the outside in and vice-versa. While breeze blocks and sun shades temper desert heat.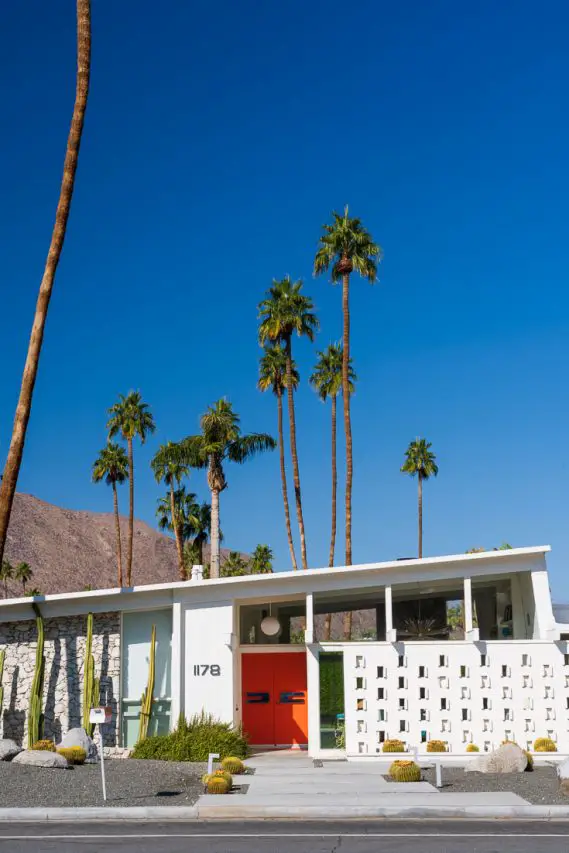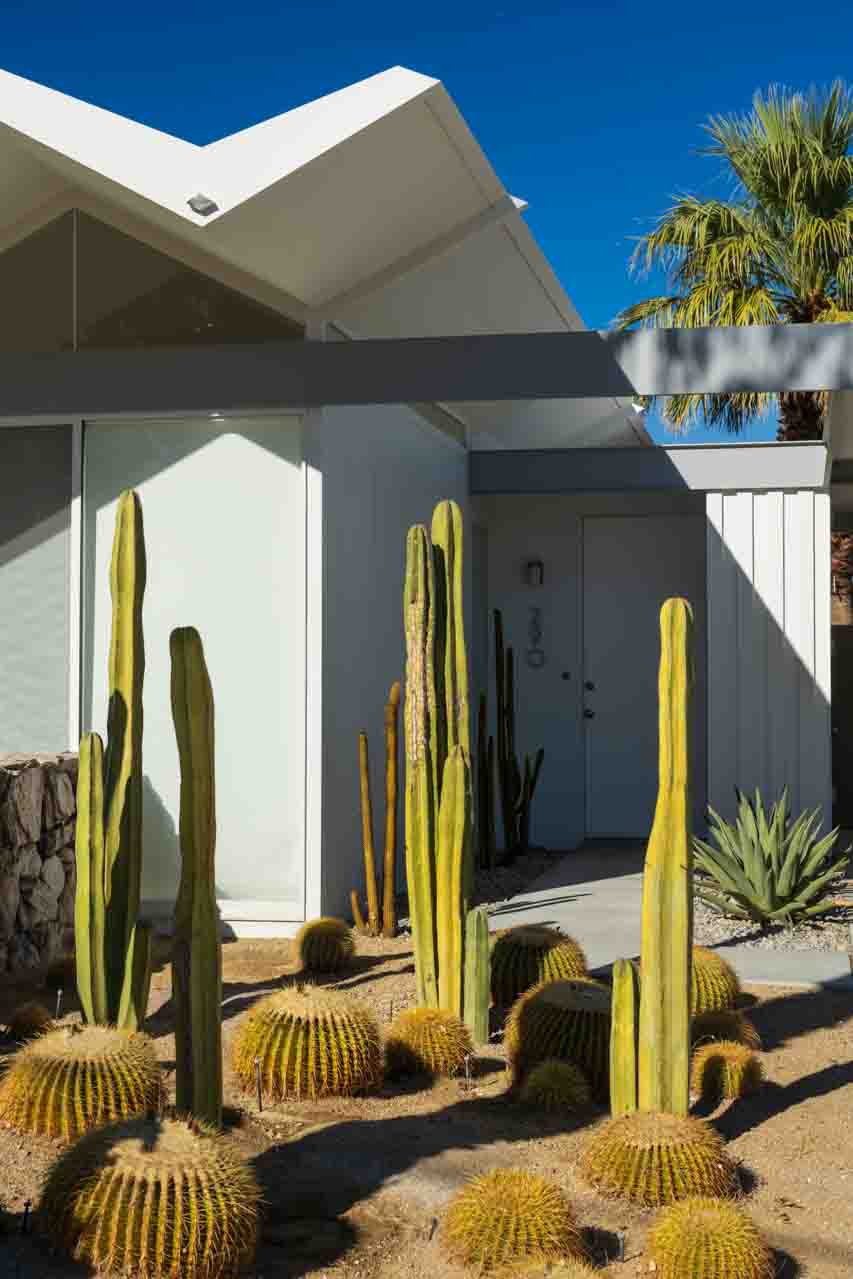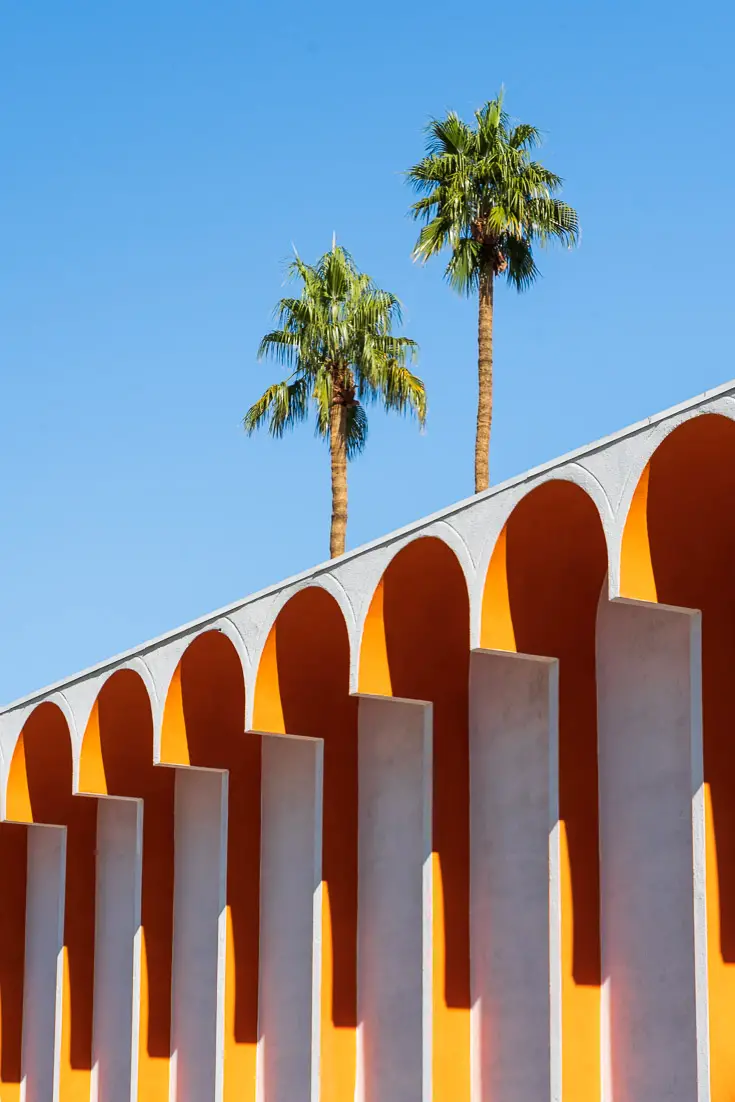 Mid-Century architecture in Palm Springs
So how did all this cool architecture end up in Palm Springs? The area first became trendy in the early 1900s. Dry air was thought to be good for tuberculosis suffers and so the desert town started to flourish with hotels and health resorts. However, the two World Wars took their toll.
After World War II, Palm Springs' re-emerged as a popular winter escape, notably for movie industry elites and deep-pocketed industrialists from the east coast. It is said that Hollywood studios had their stars on a 2-hour leash, so Palm Springs was a local getaway that didn't contravene their contractual obligations.
The wealthy brought their "keeping-up-with-the-Jones'" mentality with them, and the desire to have the latest, greatest design and technology for their holiday homes. They could back these desires with the fat wallets it took to commission the day's foremost architects to design them something highly original and cutting edge.
Simultaneously, the masses rolled into the Coachella Valley and its population swelled. Builders struggled to keep up with the influx. Tract housing became the natural solution – you know, those Stepford Wives-esque, cookie cutter developments. The minimalism of Desert Modernism was perfect for developers trying to erect houses fast and cheap. Hence, downscaled versions of "it" homes and innovative new building materials trickled down to the every-person.
Some decades later the trend changed. During the 1970s and 80s, cheaper air fares and more flexible Hollywood working conditions allowed stars to travel the world. The local economy suffered and there weren't the financial resources to demolish and rebuild structures that had fallen out of style. So, Palm Springs' Modernist buildings lay preserved until trends turned back in favour of Mid-Century Modern in the early 1990s.
Architects (and builders/developers) to know and love
Before we embark on our Palm Springs self-guided architecture tour, let me give you a quick snapshot of a few architects and developers that were highly influential on the city's streetscape and the evolution of Desert Modernism. If you want to crack on with the tour, click here to jump right in.
Richard Neutra
Austrian born, raised and trained, Neutra immigrated to the U.S. in 1923 where he worked with Frank Lloyd Wright and Rudolf N. Schindler before branching out on his own. Of the three homes Neutra designed in Palm Springs, his masterpiece is the residence he designed for Edgar Kaufmann in 1946.
John Lautner
Yep, the John Lautner that Dua Lipa references in the song, Future Nostalgia (although the video was actually shot in the Graham Phillips designed "Skywood House" in the UK–but I digress). After training under Frank Lloyd Wright at Taliesin West, Lautner moved to LA and focused on residential architecture. His combination of progressive engineering and dramatic space-age flair culminated in the Palm Springs homes for Arthur Elrod and Bob Hope.
Donald Wexler
Hailing from South Dakota, and studying at the University of Minnesota, Donald Wexler served in the Navy during WWII before moving to LA. He worked for Richard Neutra for a while, then relocated to Palm Springs where he was employed by William Cody. Wexler partnered with Richard Harrison for a time. Together they designed many school buildings and the Steel Development Homes for Alexander Construction Company. Other notable designs include the Dinah Shore Residence, Spa Hotel Bath House (demolished) and Royal Hawaiian Estates.
William "Bill" Krisel
Born in Shanghai to American expats, Krisel was raised in China until age 13. He studied architecture at the University of Southern California and became a licensed landscape architect. There are 30,000 residences in Southern California that can be attributed to Krisel.  As a personal friend of Bob Alexander, his name appears on many Alexander Construction Company developments.
E. Stewart Williams
Born in Dayton, Ohio the son of an architect, Williams studied at Cornell and the University of Pennsylvania. Some of his notable Palm Springs designs include the Palm Springs Art Museum, Coachella Savings and Loan (now a Chase Bank), Palm Springs Aerial Tramway station and Frank Sinatra Estate.
William F. Cody
Like Williams, Cody was born in Dayton, Ohio. He studied architecture at the University of Southern California before moving to Palm Springs in 1946. He designed the Del Marcos Hotel the following year and went on to work on several clubhouses and Country Club developments as well as projects outside Palm Springs. Among Cody's celebrated designs are Abernathy House, Palm Springs Public Library and his contribution to the demolished Palm Springs Spa Hotel.
Albert Frey
Frey was born in Zurich, Switzerland and studied architecture at the Institute of Technology in Winterthur. He worked in Paris for Le Corbusier and Pierre Jeanneret before moving to the US in 1928. While working with A. Lawrence Kocher on the East Coast for some years, a project brought Frey to Palm Springs. In California, he worked with John Porter Clark. Buildings of note include Frey House I and II, and the Tramway Gas Station (now the Palm Springs Visitor Center).
John Porter Clark
Born in Iowa, Clark studied architecture at Cornell and apprenticed with Garrett Van Pelt in Pasadena. He relocated to Palm Springs to find more work. In 1935, Clark met Albert Frey with who he partnered on eight projects. Frey left for a time to pursue projects outside Palm Springs and rejoined Clark on his return.
George and Robert Alexander (land developers and builders)
The Alexander Construction Company was founded by Robert Alexander financed by his father George. They specialized in residential developments, creating affordable tract housing estates in the Coachella Valley. The prolific developers helped to double the size of Palm Springs. Their homes are known colloquially as the "Alexanders" though they enlisted William Krisel to provide much of the architecture.  They also partnered with architects Charles Dubois and Donald Wexler.
Hugh Kaptur
Born in Detroit, Kaptur studied architectural engineering and served with the Marines in Southern California. His first built project was his in-law's real estate office before working for General Motor's styling division back in Detroit. He relocated to Palm Springs in 1956 and apprenticed for Wexler and Harrison. Kaptur designed the Triangle Inn, Fire Station #3 (with Robert Ricciardi) and #4, the Musicland Hotel and houses for Steve McQueen and William Holden among others. He is still active as of July 2019.
Jack and Bernie Meiselman (land developers and builders)
The Meiselman brothers have a mysterious background. What we do know is Jack was a builder who worked with the Alexander Construction Company for a time. After a falling out with the Alexanders, Jack teamed up with brother Bernie, buying up land close to Alexander plots and building a variation on his former partner's design. It is easy to confuse Meiselmans with neighbouring Alexanders from the outside, but each had their own distinct floorplan that could identify them from the inside. The Meiselmans built approximately 350 tract homes in Palm Springs, making them much rarer than Alexanders.
Joseph Eichler (developer)
Eichler was born in New York City in 1900 and studied business at New York University. He took a job for a San-Francisco based business owned by his in-laws and moved to California in 1940. Between 1949 and 1974 Eichler Homes developed tract estates, mostly in the north of the state. One of his principal architects was A. Quincy Jones. Eichler did not build homes in Palm Springs, but his Mid-Century designs have been licensed and built there in recent years (more on that later).
A. Quincy Jones
Jones was born in Kansas City, Missouri raised in Gardena, California and completed his Bachelor of Architecture at the University of Washington in Seattle.  Returning to LA, he worked with a slew of modernist architects including Douglas Honnold, George Vernon Russell, Burton A. Schutt and Paul Williams. It was with Paul Williams he later partnered on several Palm Springs projects including Palm Springs Tennis Club (1947), the Town & Country Restaurant (1948), and Romanoff's On the Rocks (1950). He went on to work with the aforementioned developer, Joseph Eichler as well as William Pereira.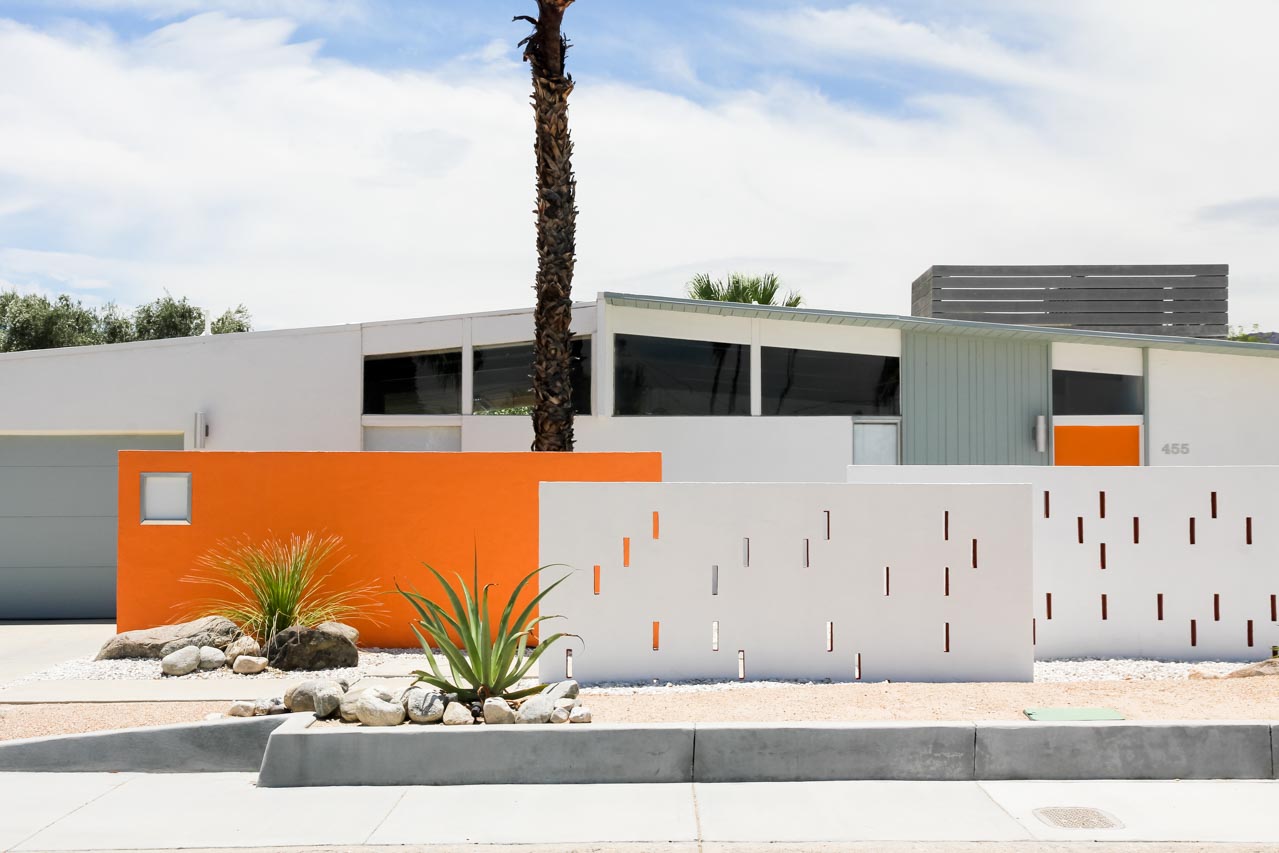 Palm Springs self-guided architecture tour
It only makes sense to begin at the Palm Springs Visitor Center, situated inside the 1965 Albert Frey-designed Tramway Gas Station. Take a look inside and chat to the volunteers about any questions you may have about specific homes, architects or things to do in and around Palm Springs. You may also find it useful to pick up a physical map, though I will provide a Google Map at the end of this post.
Racquet Club Estates
From the Visitor Center, take West San Rafael Drive east into the Racquet Club Estates for your first glimpse of the /Alexander Construction Company Steel Houses. Designed in 1960 by Donald Wexler and Richard Harrison, these pre-fabricated, all-steel homes were to fill an entire neighbourhood. However, after seven homes were built, rising steel prices made further homes in this style, cost-prohibitive. All seven homes are now Class One Historic Sites.
There are many other great homes in this area, many of which are Palmer and Krisel creations for the Alexander Construction Co – I've listed some of my favourite addresses below. Mid-Century Modern fans will be delighted with all the breeze blocks, vibrant front doors and the occasional kitsch touch like a flamingo mailbox. In the Racquet Club Estates you'll also find the Hugh Kaptur designed Fire Station #3.
Wexler/Alexander Steel homes:
290 Simms Rd
300 and 330 East Molino Rd
3100, 3125, 3133 and 3165 N Sunnyview Dr
Fire Station #3:
590 E Racquet Club Rd
Krisel-designed homes:
325 Francis Dr
388 and 520 Desert Holly Circle
970 E Racquet Club Rd
455 and 483 E Francis Dr
Chino Canyon/ Little Tuscany Estates
Cross back over to the western side of the CA-111 to explore the Chino Canyon and Little Tuscany Estates. Note, if you go via 2311 N Indian Canyon N Drive, you might be able to glimpse a little of the Neutra-designed Grace Miller House from the street (or just Airbnb the home if you have the budget), en route. Once over the west side of N Palm Canyon Dr, look for the 1951 Edward Fickett-designed Alexander-May House, built for George Alexander, co-owner of the construction company bearing his last name.
Be sure to stop by Neutra's masterful Kaufmann House built in 1946 – you know the one from THOSE Slim Aaron pics entitled "Poolside Gossip" by the pool, the very definition of glamour. Yes, if Kaufmann sounds familiar, he is the same department store mogul for who Frank Lloyd Wright-designed Fallingwater in Pennsylvania.
Follow up with the rocky, cliff-dwelling, Edris House constructed in 1953 and designed by E. Stewart Williams. Almost directly opposite is the home of Intel Corporation co-founder Max Palevsky. He commissioned Craig Ellwood aka "California's Mies van der Rohe" to design this home inspired by a Moroccan walled home. It is best viewed from the side street.
Finally, you can see just how timeless these Desert Modern designs are through the three new builds of a Hugh Kaptur design, in the appropriately named "Kaptur Court." Mr Kaptur is almost 90 years old and still active in the Palm Springs architecture scene as of July 2019.
Grace Miller House: 2311 N Indian Canyon N Drive
Kaufmann Desert House: 470 W Vista Chino Rd
Alexander-May House: 424 W Vista Chino Rd
Kaptur Court: 262-266 W Vista Chino
Edris House: 1030 W Celio Dr
Max Palevsky House: 1021 W Cielo Dr
Franz Alexander House: 1011 W. Cielo Dr
Vista Las Palmas and Old Las Palmas
Make your way south into the Vista Las Palmas estate and explore the collection of "Swiss Misses" designed by Charles Dubois for the Alexander Construction Company. Though they were nicknamed to their resemblance to a-frame, Swiss chalets, they were actually inspired by traditional Polynesian architecture.
The House of the Future aka Elvis Honeymoon Hideaway (architect unconfirmed) resides here too. This neighbourhood is known for its many celebrity homes, which is a whole other tour. So, I'll skip those on this itinerary unless they have significant Desert Modernist architecture worth note… enter the Dinah Shore Estate now owned by Leonardo DiCaprio, and designed by Donald Wexler in 1964.
The development of Vista Las Palmas was dominated by the Alexander Construction Co and business partner, builder Joe Dunas. Hence, there are lots of Krisel designs here to be spotted – again I've listed a couple of standout examples below. I'm also partial to the Merito Manor condos styled by Barry Berkus, with the folding plate rooflines and vibrant front doors with some amazing door handles.
Charles Dubois Swiss Misses:
755 W Crescent Dr
855 Via Las Palmas
797 Via Vadera
Dinah Shore Estate:
432 Hermosa Place
Merito Manor:
193 W Merito Place
Krisel:
967 and 983 N Coronet Cir
1111 Abrigo Rd
Palm Canyon Drive
As you continue on your Palm Springs self-guided architecture tour, let's take a look at some more commercial buildings. Cruise down Palm Canyon Drive for glimpses of Kaptur's Farrah Building/Las Casitas Restaurant.
You'll need to take a slight detour off the main drag if you want to see the primary Palm Springs Art Museum building, designed by E. Stewart Williams. Return to S Palm Canyon Drive via W Tahquitz Canyon Way and you'll find yourself at another Williams design, the Oasis Commercial Building at 121 S Palm Canyon Dr.
Right alongside is what's left of the Oasis Hotel designed by Lloyd Wright, son of Frank Lloyd Wright, in the 1920s. The slip-form concrete building was one of Southern California's first Modern-style hotels.
A little further and you will reach the Palm Springs Art Museum Architecture and Design Center. I also encourage you to stop in at the Center to explore their rotating showcase of different architects and designers – allow 45-minutes to an hour. Opposite you'll see the fabulous Alley Building, former Robinson's Department Store (look for the BevMo!) designed by Luckman & Pereira.
Turn right at W Baristo Rd because you don't want to miss the 1947-opened, Del Marcos Hotel, a William Cody favourite. If you can, the Del Marcos is a great place to stay while you're in town appreciating all things Mid-Century Modern, along with these other authentic, Modernist hotels.
Turn left into S Cahuilla Rd and pass the new build (2009) Krisel butterfly home at number 421 and return to S Palm Canyon Drive via W Ramon Rd. On the corner you'll see the E. Stewart Williams designed, Coachella Valley Savings & Loan Association (now a Chase Bank).
The blue, Bank of America that sits at the confluence of S Palm Canyon and Indian Canyon Drives, was designed by Rudy Baumfeld and inspired by Le Corbusier's Chapel of Nôtre Dame du Haut in Ronchamp, France.
Continue down S Palm Canyon Dr for two Hugh Kaptur designs, The Five Hundred and Musicland Hotel.
Farrah Building:
362 N Palm Canyon Dr
Palm Springs Art Museum:
101 N Museum Dr
Oasis Commercial Building:
121 S Palm Canyon Dr
Town & Country Center:
146-174 N Palm Canyon Dr
Palm Springs Art Museum and Design Center:
300 S Palm Canyon Dr
Alley Building:
333 S Palm Canyon Dr
Del Marcos Hotel:
225 W Baristo Rd
Krisel (new build):
421 S Cahuilla Rd
Chase Bank:
499 S Palm Canyon Dr
The Five Hundred:
500 S Palm Canyon Dr
Bank of America:
588 S Palm Canyon Dr
Musicland Hotel:
1342 S Palm Canyon Dr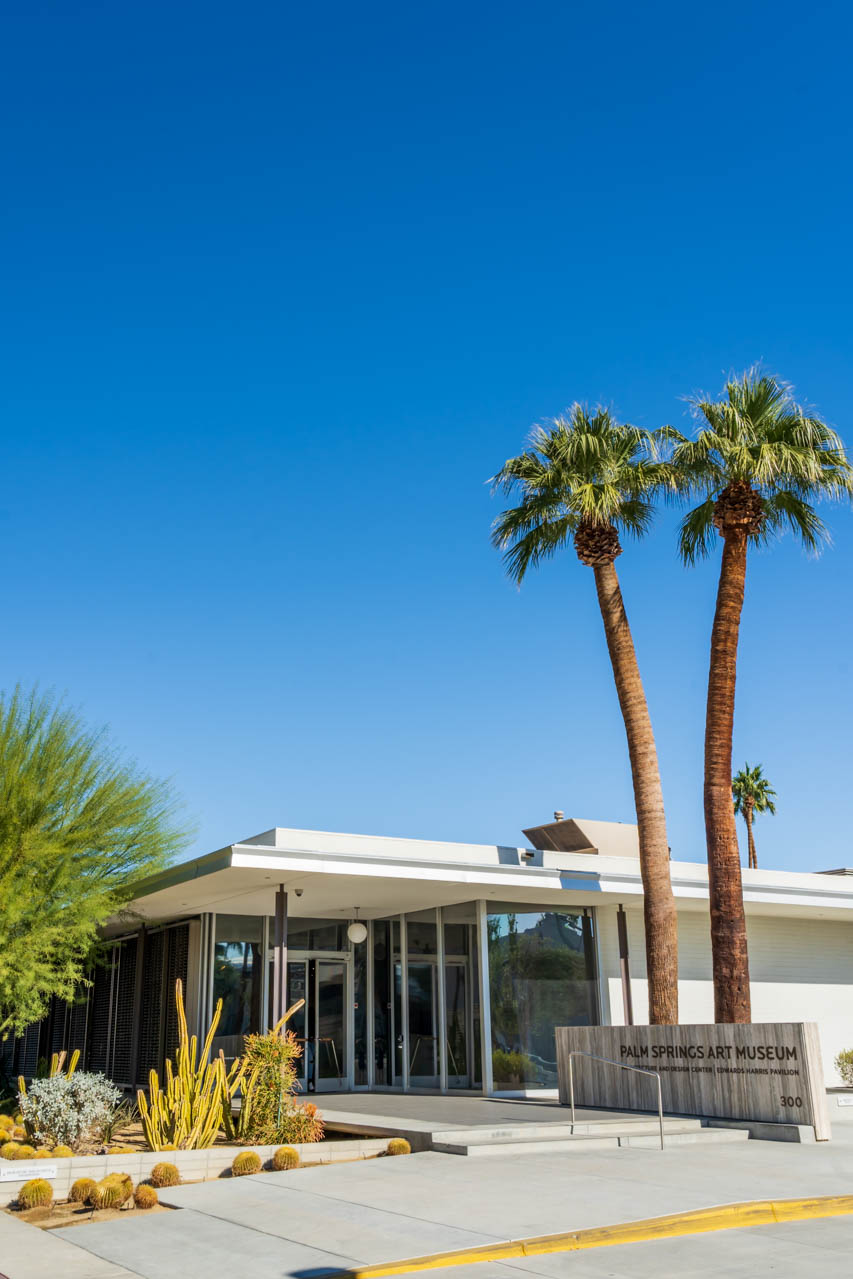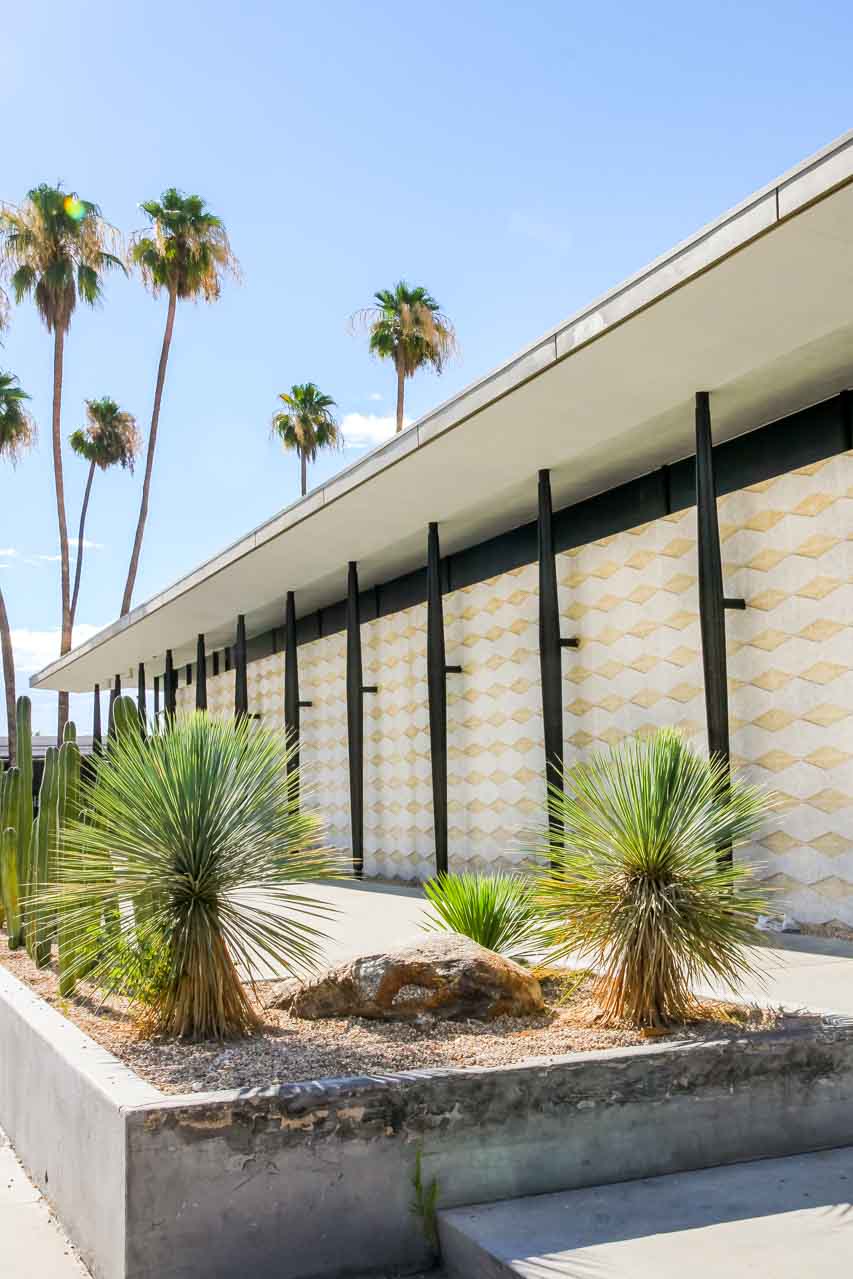 Tahquitz River Estates
Right after the Musicland Hotel turn left into East Sonora Road to see the Joseph Eicher rebuilds happening in this street.  Though developer, Eichler, was known for his tract homes in northern California, these new builds based on original plans fit seamlessly into the Desert Modern streetscape. Take a look inside the "The Desert Eichlers", as they have been dubbed, by watching the videos on developer KUD Properties, website.
Eichler new builds include: 342, 398, 402 and 426 E Sonora Rd (there are now more, but I haven't been able to confirm addresses)
The Mesa/Canyon Corridor/Twin Palms Estates
Continue south into Canyon Corridor neighbourhood and check out the Royal Hawaiian Estates which were a Donald Wexler and Richard Harrison collaborative design.  Travelling right to the base of the San Jacinto Mountains in The Mesa, sail by the Streamline Moderne home dubbed "The Ship of the Desert." The original designed by Earl Webster and Adrian Wilson, was damaged by fire. Never fear! The home was purchased and lovingly restored by renowned Palm Springs-based fashion designer, Trina Turk.
Make your way east on La Verne Way and you'll be close to the Insta-famous pink door. The owners have requested that the door no longer be photographed, but a drive-by can't hurt. Then on to another Hugh Kaptur Fire Station, #4.
The triangle-shaped area between La Verne Way and East Palm Canyon Drive is the Twin Palms Estates and is absolutely chock full of Krisel's. If you haven't had enough butterfly rooves yet, try Apache Road, Aquanetta Drive and Caliente Road.
Royal Hawaiian Estates: 1774 S Palm Canyon Dr
Ship of the Desert: 1995 Cam Monte
That Pink Door: 1100 East Sierra Way
Fire Station #4: 1300 S La Verne Way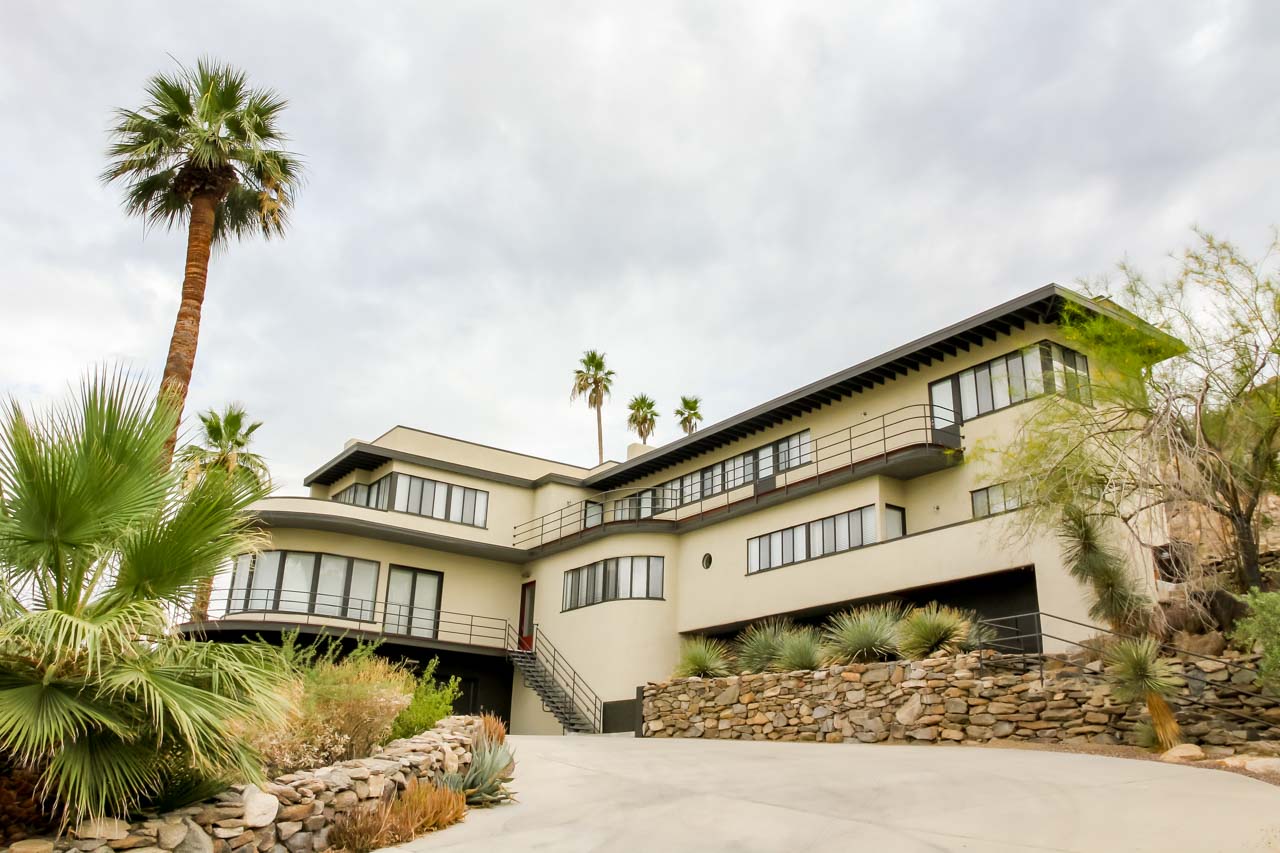 Deepwell Estates
Venturing north of East Palm Canyon Drive you enter the former apricot farm, Deepwell Estates. First, you will likely pass the gorgeous white-washed Werner Hogback House, a Hugh Kaptur design. Continue onto Calle de Maria where you'll find various homes designed by E. Stewart Williams along with Donald Wexler and John Clark Porter.
Numerous developers, realtors and contractors lived in Deepwell Estates back in the day, so you know there's going to be some good stuff here. That includes the work of lesser known, but equally fabulous Desert Modern architects such as Stan Sackley who is said to have been another student at Frank Lloyd Wright's Taliesin architecture school. You will come across plenty more breeze bricks and sunny-hued doors in this part of town.
William Holden Estate: 1323 S Driftwood Dr
Werner Hogback: 1577 Calle Marcus
William Bogess House: 1366 Calle De Maria
Leo Koerner Residence: 1275 Calle De Maria
Sutter House: 1207 Calle De Maria
Fey House: 1120 S Calle De Maria
Stan Sackley:
1131 S. Driftwood Dr
1475 S. Paseo De Marcia
1325 Sagebrush Rd aka "Playboy Pad"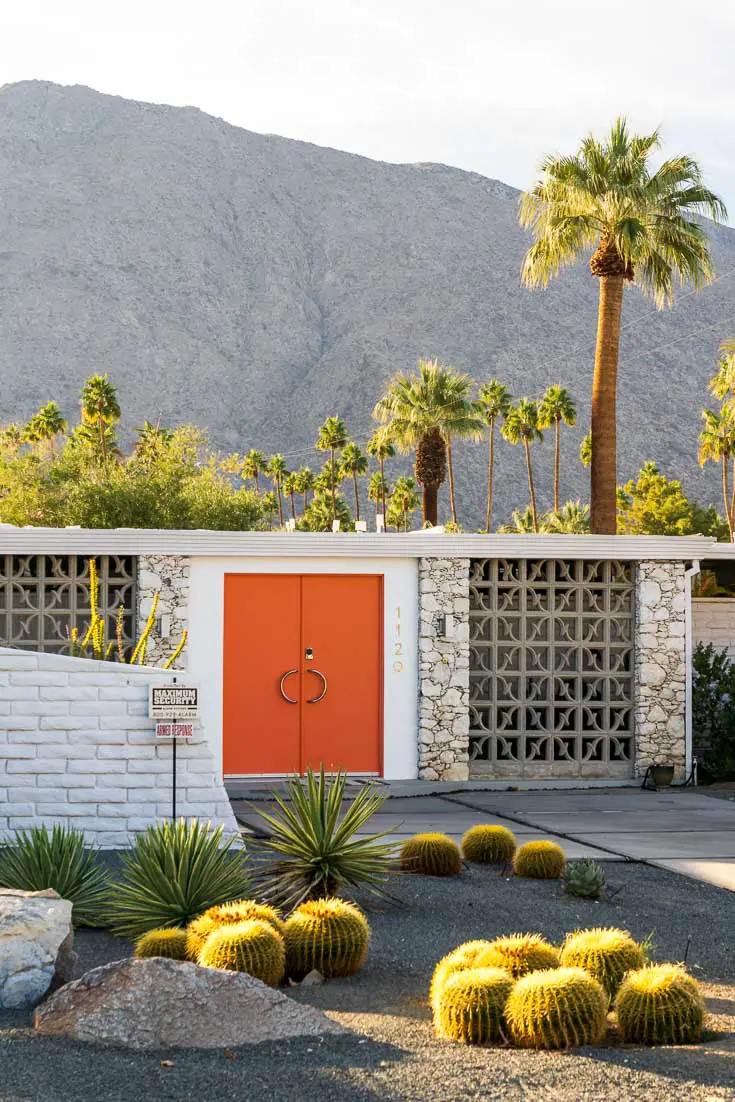 Sunmor Estates/Enchanted Homes
Further northeast, towards the Airport are William Cody's St Theresa Catholic Church, and Palm Springs City Hall. City Hall was a star-chitect collaborative effort involving Albert Frey, John Porter Clark, Robson Chambers, and E. Stewart Williams. Crawl the Sunmor and Enchanted Homes estate streets which are just brimming with late 1950s homes designed by Wexler & Harrison and Krisel.
St. Theresa Catholic Church: 2800 Ramon Rd
Palm Springs City Hall: 3200 E Tahquitz Canyon Way
Krisel: 204, 205 and 206 N Airlane Dr
Wexler & Harrison:
2928, 2968 and 2980 Plaimor Dr
260 N Airlane Dr
1837 Aquanetta Dr
Movie Colony
Moving westward we finish our tour back towards the main strip, in the neighbourhood dubbed Movie Colony. Pass by Frank Sinatra's Twin Palms Estate which was designed by E. Stewart Williams and is every bit as glamorous as you'd expect, down to the piano-shaped pool (check it out on Google Maps satellite view).  You might also want to take a peek at Palm Springs Convention Center, the work of William Pereira.
Twin Palms – Sinatra House: 1148 Alejo Rd
Palm Springs Convention Center: 277 N Avenida Caballeros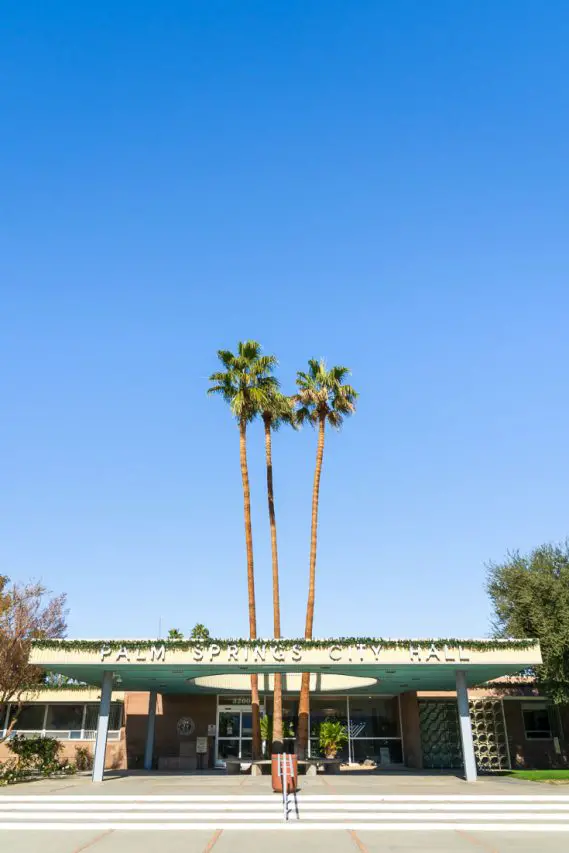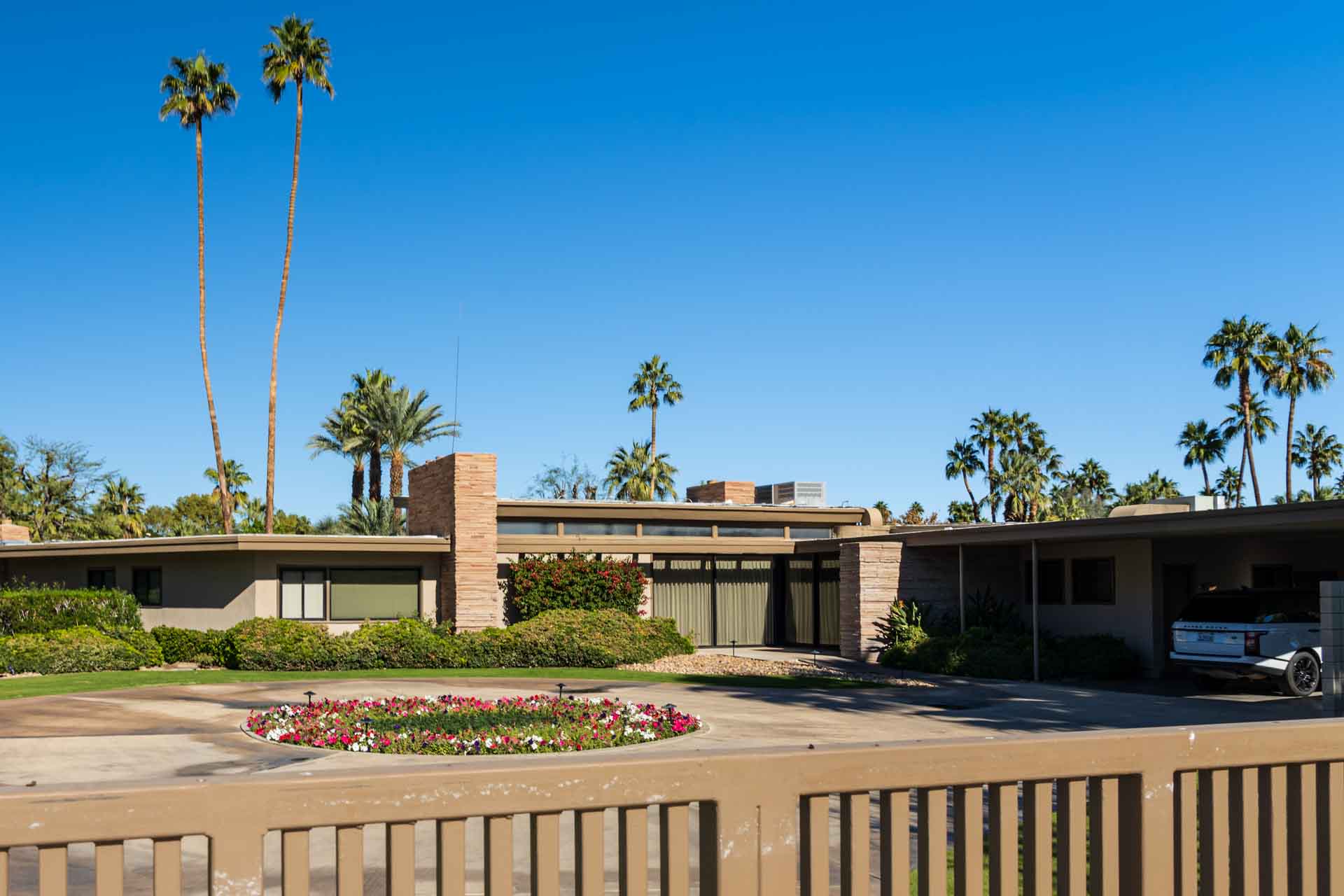 You may wonder why I haven't mentioned some of the most iconic and groundbreaking homes of the Desert Modernist movement in Palm Springs. That's because they're a lot more difficult to see than just pulling up curbside. Here are a few ideas on how to get a glimpse of these elusive homes.
Two iconic structures dreamed into reality by architect John Lautner, are locked up in gated communities. However, if you're willing to leg it up the Araby Trail, you might catch a glimpse of Elrod House (referring to interior designer Arthur Elrod) and Bob Hope House.
Frey House II is owned by the Palm Springs Art Museum, however bequest of the home to the Museum was conditional on it being used as a residence. Some fortunate staff member gets to call this place home! Occasionally tours are held around the property, but you'll have to jump on those tickets fast because it's guaranteed to be a sell-out season every time!
DOWNLOAD A PRINTABLE COPY OF THIS ITINERARY HERE: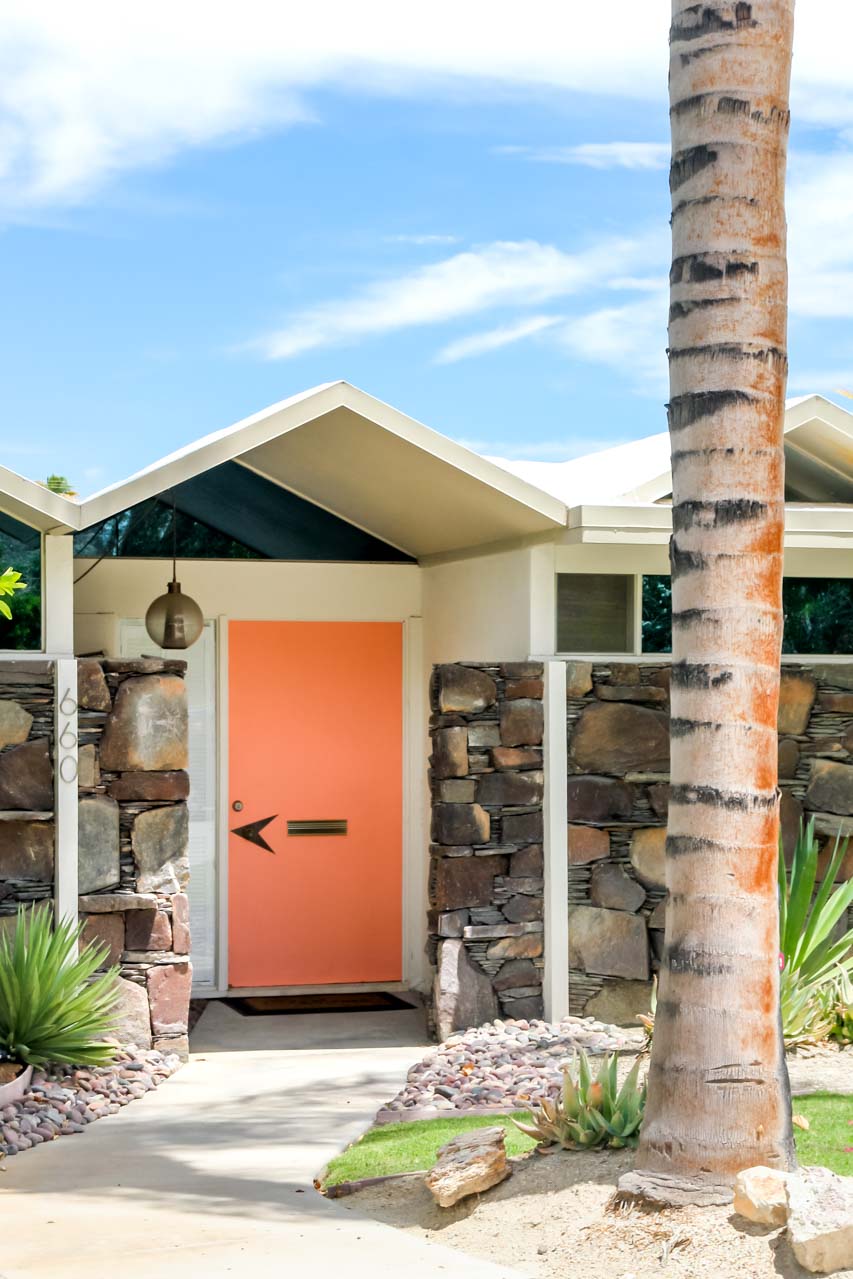 More Desert Modernism in Palm Springs
Here are some more ways to experience Mid-Century Modern architecture in and around Palm Springs:
Choose a boutique hotel or vacation rental with Mid-Century roots to stay. We adored the Del Marcos, an adults-only resort designed by William Cody in 1947.
Take a guided tour. Just remember to book well in advance!
To get inside a Mid-Century Modern home in Palm Springs, look up real estate listings and open days. We got to see a beautifully restored Palmer & Krisel in the Racquet Club Estates.
Take a caffeine break at Koffi Central Palm Springs, located in Kaptur Plaza, so named for its architect.
Enjoy cocktails and/or dinner at the Tiki-kitsch, Tropicale Restaurant and Coral Seas Lounge at 330 E Amado Rd or Kings Highway diner at the Ace Hotel & Swim Club.
Ride the Aerial Tramway from the Albert Frey, Robson C. Chambers and John Porter Clark-designed Valley Station, all the way up to the E. Stewart Williams Mountain Station at 2485m (8516 ft).
Meanwhile, E. Stewart Williams was in charge of creating Mountain Station (1961-1963), a ski-type lodge, if you will, perched high atop Mt. San Jacinto (elevation 8,516 feet), with its own mid-century modern sensibility.
Time your visit for Modernism Week in February each year, or the autumn preview in October for additional mid-century themed tours and events.
Download the Palm Springs Mid Century Modern Tour App from Apple iTunes or Android Marketplace for $4.99.
Finally, if you just can't get to Palm Springs, take the addresses provided and drop them into Google street view and go on a virtual tour.
Palm Springs self-guided architecture tour map
Get yourself a copy of this Palm Springs Modern architecture map with suggested driving route taking in most of the properties on this list. Just click in the top right corner to open it in Google MyMaps and save a copy to use on the road.
Enjoy your Palm Springs self-guided architecture tour and let me know your favourite home, building or architect in the comments below. If you love Mid-Century architecture, you might also appreciate these posts:
Peace, love & inspiring travel,
Madam ZoZo