Take a desert break and soak up some sunshine in the Coachella Valley with these unique things to do in Palm Springs. Make like a classic Hollywood film star, hike the oases, explore the San Andreas Fault and see great architecture all within a short distance of the Californian town.
Disclosure: I may earn compensation from the purchase of any product or service linked on this website, at no extra cost to you. I only link to products I use and love, therefore feel comfortable recommending.
Best time to visit Palm Springs
"Anytime is a good time to visit Palm Springs" – would be my answer. But if you don't like the heat, then definitely avoid Summer – it is the desert after all. January through April sees the most hospitable weather but higher prices and crowds. October to December is almost as nice weather-wise but with lower prices (except during the holidays).
Where to stay in Palm Springs
Accommodation varies considerably in quality and price. The further you get from downtown, the more likely you are to find an affordable stay but you'll need wheels to get around, especially during the day when it's hot.
We've had great experiences at the Mid-Century Modern Del Marcos and gorgeous Hacienda-style Best Western Las Brisas. Both properties are close to downtown with very comfortable rooms and lovely staff. Not to mention, great pools which are a Palm Springs-essential!
Unique things to do in Palm Springs and its surroundings
Head for the hills with the Palm Springs Aerial Tramway
Take in panoramic views from Palm Springs Aerial Tramway as you ascend more than 3000m (10,000ft). The world's largest rotating aerial tramcars will take you from Coachella Valley to high up San Jacinto Mountain (not quite the summit which requires an additional 8.8km/5.5mi hike to reach). From the Mountain Station you can have a meal, enjoy the view or go for a hike. In winter, it is very possible you'll find snow up there providing a complete contrast!
The Aerial Tramway is also one of the cool things to do in Palm Springs at night. Take the Tram late in the afternoon and watch the Coachella Valley turn from day to night.
Tour the San Andreas Fault!
Remember those high school science lessons about plate tectonics? If the answer is no, then this is a way more engaging refresher than anything you'll get in a classroom. Quick reminder: The San Andreas Fault is where the Pacific Plate moves alongside the North American Plate. It was the cause of the big 1906 San Francisco earthquake and the reason LA and San Francisco are slowly inching closer to one another.
The Coachella Valley is where the fault is widest (hence the term "fault zone") which gives us an opportunity to get inside and take a look around. Discover the many facets of living near a major fault with a knowledgeable guide from Red Jeep Tours. They'll take you onto a private ranch inside the fault zone, to show you around rocky canyons and a pretty palm oasis where you'll learn lots of fun facts about the flora, fauna, geology and humans in the area.
Explore Palm Springs Art Museum
The Palm Springs Art Museum was founded in 1938 and has a growing permanent collection that encompasses 12,000 plus objects. The core collection is housed in the main Museum building at 101 Museum Drive, including a large sculpture garden.
Also, don't miss the Architecture and Design Center, Edwards Harris Pavilion at 300 S Palm Canyon Drive. Palm Springs boasts the world's "largest concentration of preserved mid-century modern architecture". The Edwards Harris Pavilion features temporary exhibitions and education programs that highlight this aspect of Palm Springs' history and influence.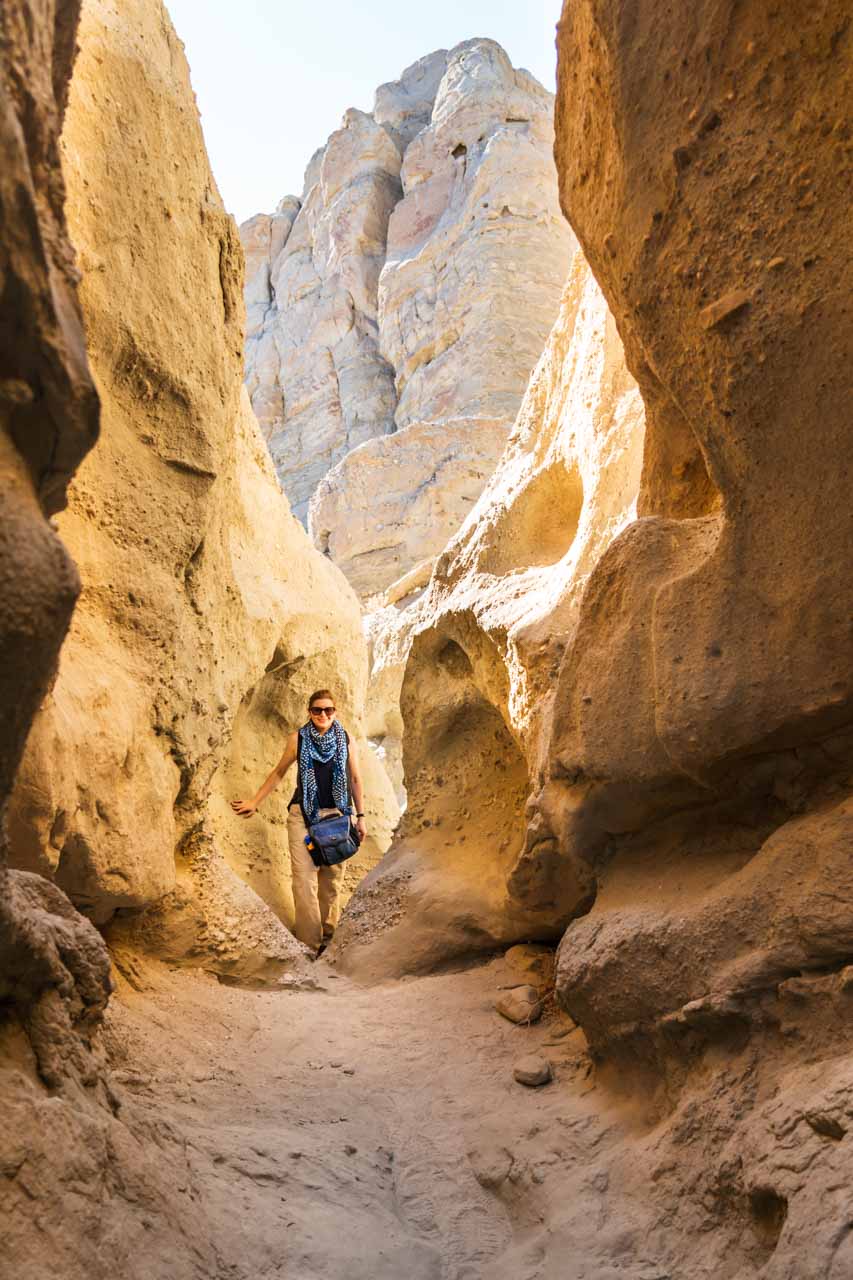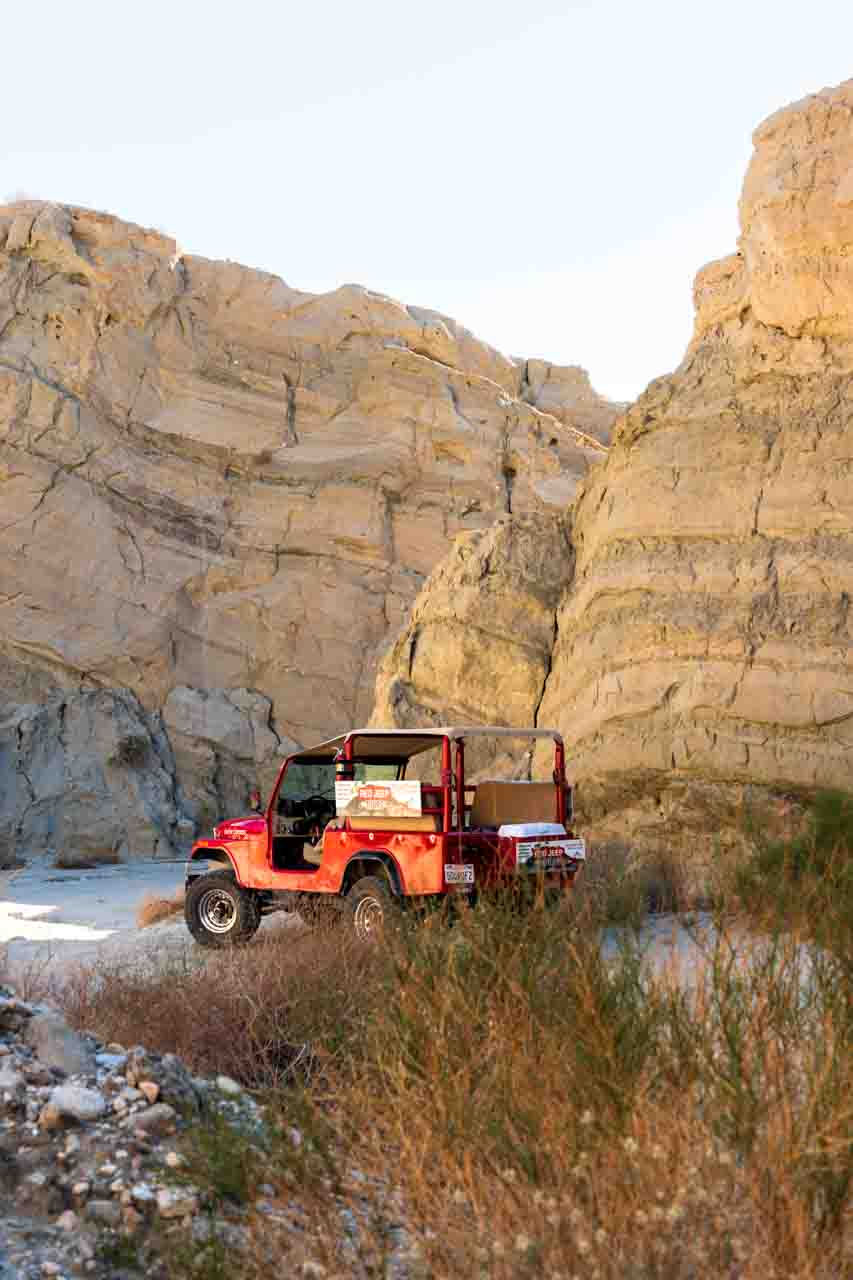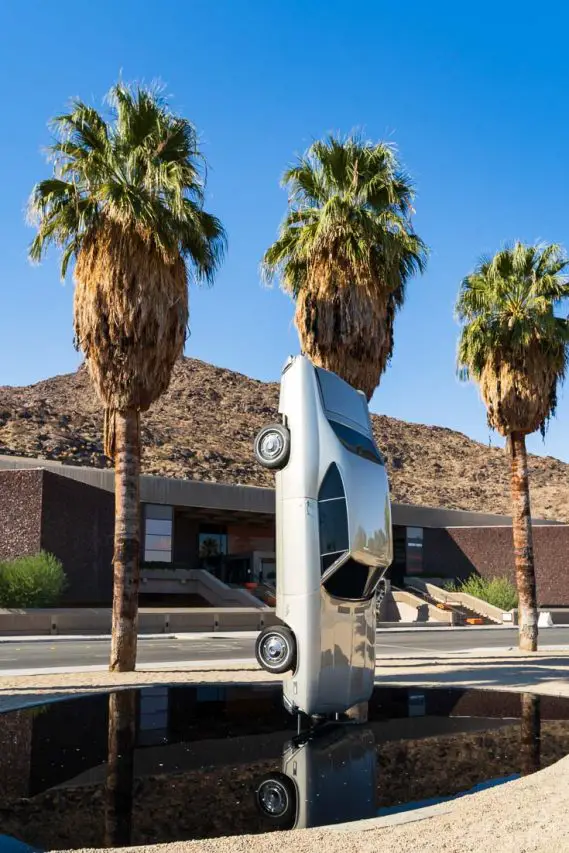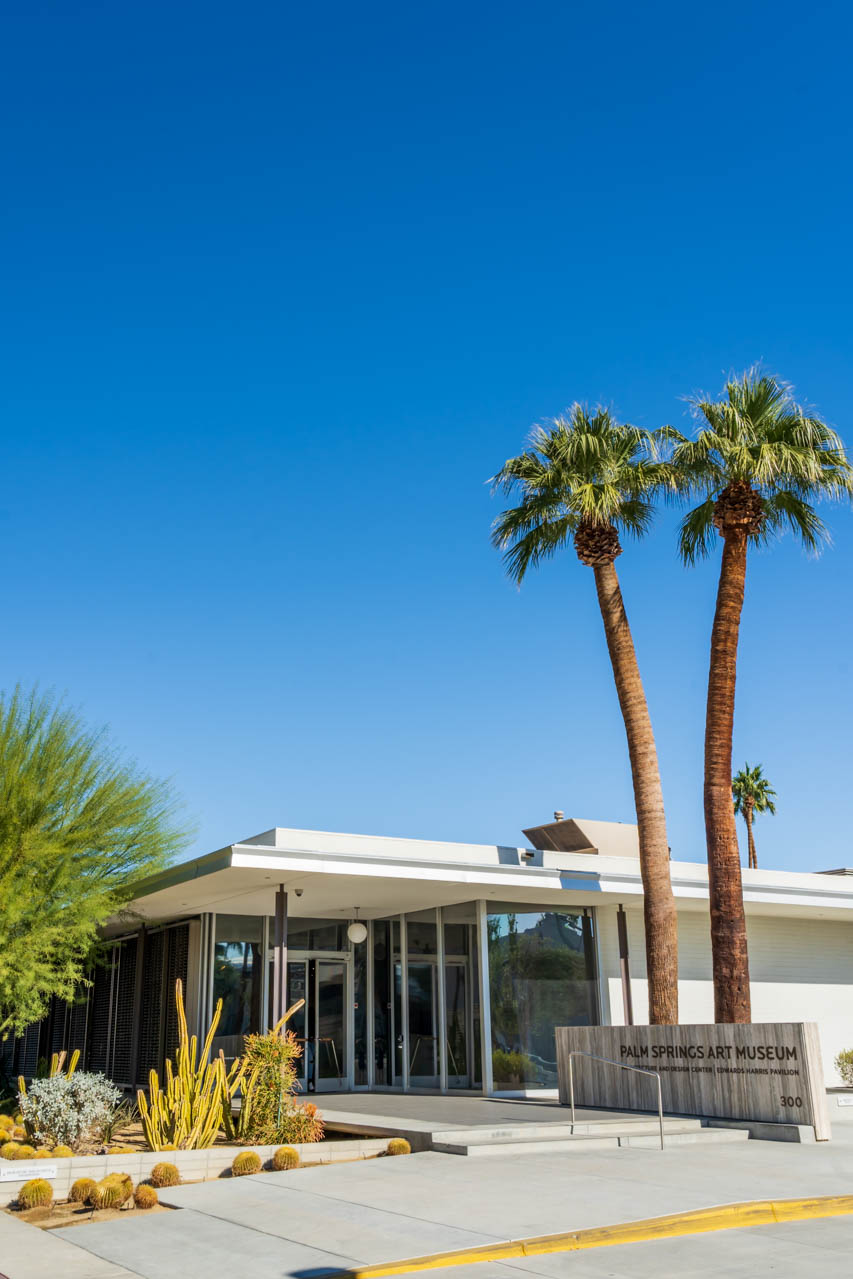 See some of the world's finest remaining mid-century architecture
I mentioned a moment ago that Palm Springs is a mecca for mid-century modern architecture and its enthusiasts (including myself). In fact, Modernism Week is a popular annual festival held to celebrate the town's fabulous design heritage. If you want to see some of the best mid-mod buildings the city has to offer, check out my self-guided tour here.
Drop into the Palm Springs Historical Society
The Palm Springs Historical Society has a modest museum right in downtown, housed across two neighbouring 19th-century buildings. A permanent display tells the history of Palm Springs, while temporary exhibitions feature personalities who had a great impact on the town. The museum itself is free and the Historical Society offers a range of paid walking and cycling tours to learn more.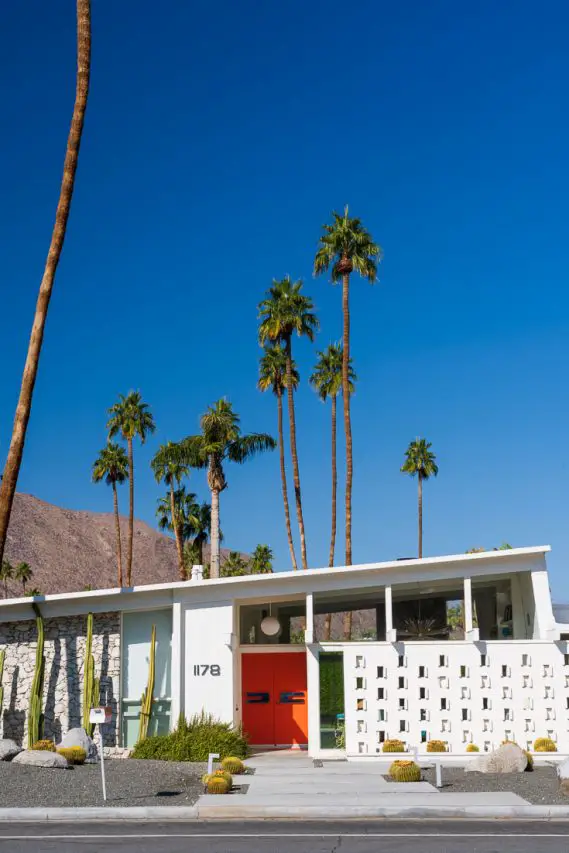 Take a hike
In addition to nearby Joshua Tree National Park, which makes a terrific day trip from Palm Springs, there are hikes in the more immediate surrounds that you can also enjoy. The Tahquitz Waterfall (3km/1.8mi), North Lyyken (5.7km/3.7mi), Araby Trail (4.1mi/6.5km), and Cactus to Clouds Trails (34km/21.2mi) all start right on the edge of town. Expect plenty of elevation gain as these trails head straight up into the Jacinto Mountains for great views of Palm Springs and the Coachella Valley below. Remember to get started early; tell someone where you're are going; take plenty of sun protection; and water, heaps and heaps of water.
Picnic in a palm oasis at Indian Canyons
A little further from town (you'll need a car), you can visit Andreas Canyon, Palm Canyon and Murray Canyon, collectively known as Indian Canyons. These rocky canyons and palm-filled oases are the ancestral home of the Agua Caliente Band of Cahuilla Indians. Not only will you enjoy the natural beauty of the area, but you will also find historic rock art, house pits, irrigation and trails.
Each of the three Canyons offers something different:
Andreas Canyon is a lush oasis that can be enjoyed whether or not you take the short, easy hike among its amazing fan palms. It's the perfect spot for a picnic.
Murray Canyon varies from easy to moderate hiking, as well as equestrian trails. As the less visited Canyon, it is a good place to spot wildlife such as Mule Deer or Big Horn Sheep.
Palm Canyon offers the longest and most challenging trail if you choose to take on the entire hike. Most people just walk the first couple of miles through the groves of California Fan Palms, staying within the shade of the Canyon. If you want a little extra, the Victor Trail takes in both the oasis and a ridgeline with incredible views all in a compact 4.3km/2.7mi round trip.
Take to the streets for Village Fest
Another fun thing to do in Palm Springs at night is experience the weekly Village Fest. Each Thursday evening, a large section of Palm Canyon Drive is closed to traffic for the street fair with local makers, artists, food markets and entertainment. Hours vary during the year, so check the Village Fest website for details.
Explore the unusual world of desert plants at Moorten Botanical Gardens and Cactarium
Just 2.4km/1.5mi from downtown Palm Springs, this small, private arboretum is almost guaranteed to make a cacti devotee out of anyone. The Moorten Botanical Garden was established by Chester "Cactus Slim" and Patricia Moorten in the 1930s. The couple collected rare and interesting succulents from around the world, as well as offering desert-inspired landscape design services. The Cactarium has now been passed onto a second generation with the couples son, Clark Moorten, taking over the gardening duties. You can take a tour around the arboretum or wander around on your own. Check the website for hours and admission fees. Allow about an hour for your visit here.
Get starry-eyed with a celebrity homes tour
You are probably aware that Palm Springs was a magnet for Hollywood celebrities in the mid-20th century, including such recognizable names as Marilyn Monroe and Frank Sinatra. Many of whom had custom homes and estates built for them. Others rented a particular abode for a time. There are a few celebrity house tours on offer including my free, print-and-drive version right over here. Most of these homes are concentrated within a few neighbourhoods closest to downtown, so you can also cycle the route (make sure you take plenty of water).
Be blown away (metaphorically speaking) by the Windmills
You can't spend time in the Coachella Valley without noticing its wind farms. You won't be alone if you choose to watch the sunset from the parking lot of Palm Springs Train Station. You can also get up close and personal with Palm Springs Windmill Tours who offer both a self-guided driving tour or a free photo pass to go onsite and snap your Insta shots without trespassing. Remember, wind farms equals a lot of wind. I've been there when you almost couldn't stand upright and at other times with barely a breeze – just be prepared.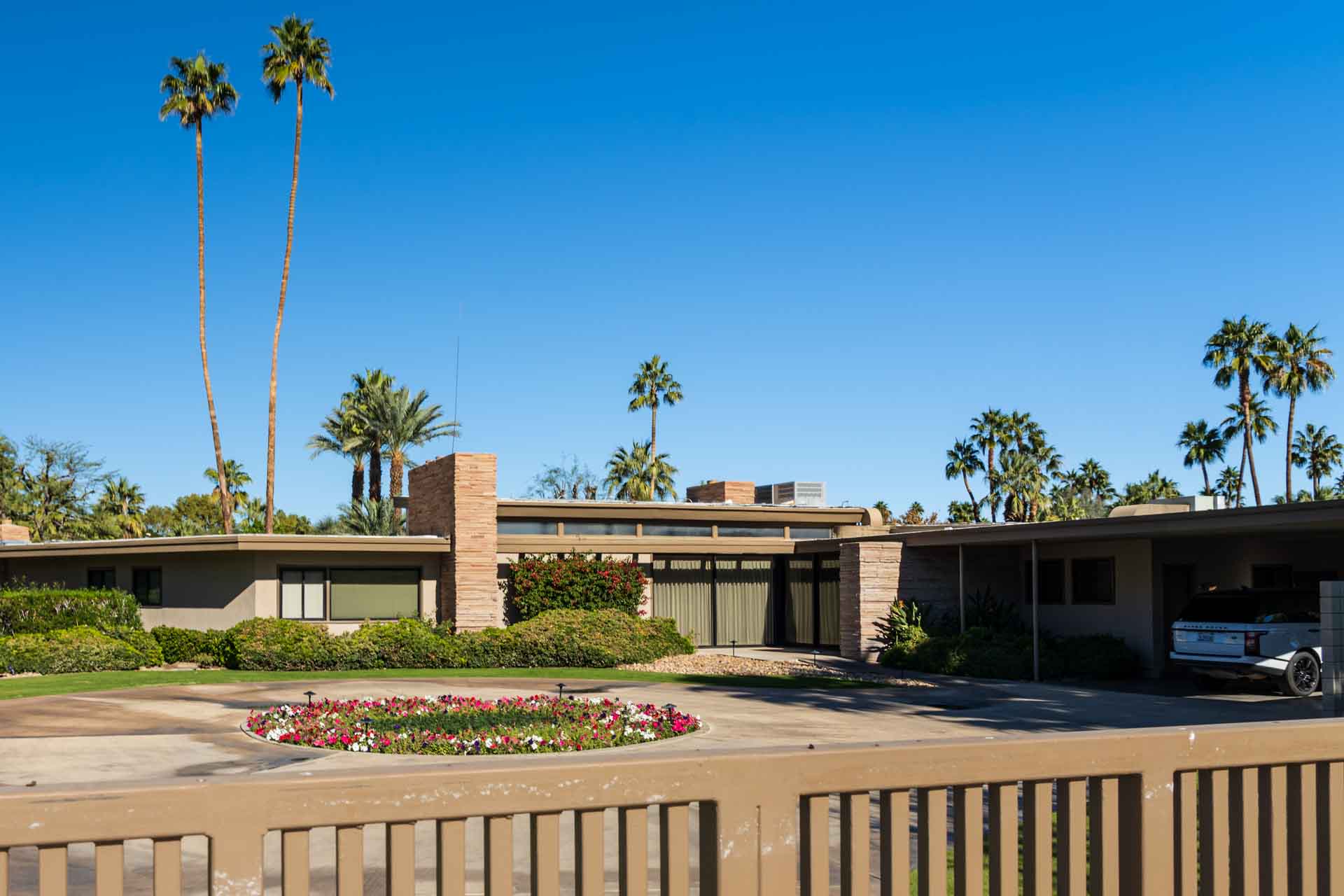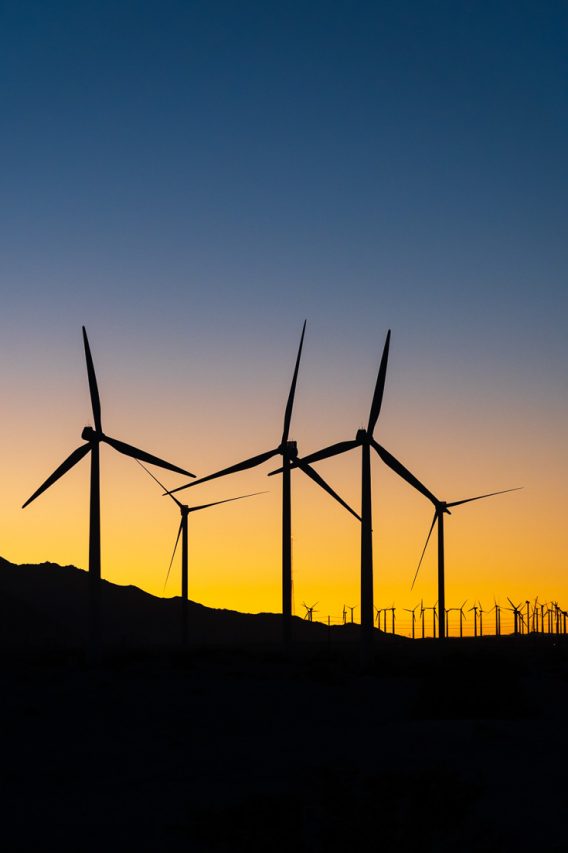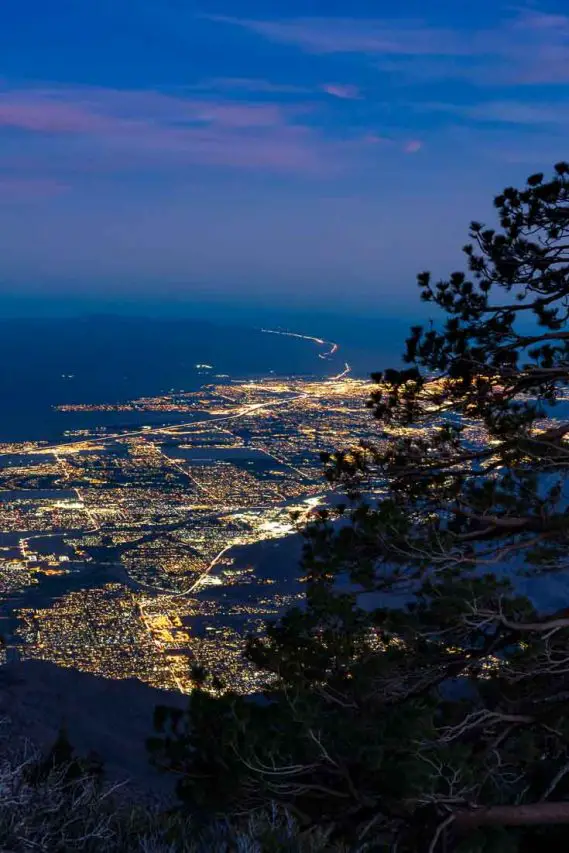 Where to eat, drink & be merry
Here are some of the places we ate, drank and loved while in Palm Springs:
Koffi (South, Central or North) – Coffee and grab-and-go breakfasts. Central is my favourite because it has a lovely patio outside the Hugh Kaptur-designed Tahquitz Plaza.
Grand Central – Brunch, lunch or dinner.
Ernest Coffee Co – Good coffee. Which was surprisingly hard to come by in Palm Springs. We sampled plenty of coffee shops and this, alongside Koffi, are the only ones I recommend.
Jus Chillin' – Acai and smoothies.
il Corso – Higher end Italian in the centre of town.
The Tropicale – The decor is a 1950s time warp (in a good way). Generous servings and an electic menu seemingly inspired by tropical places around the world. Cocktails with plenty of buzz.
Rooster and the Pig – Don't be discouraged by the strip mall setting. This funky little spot serves delicious Vietnamese. I highly recommend ordering a passionfruit Saigon 75 too!
FARM – Higher end Provencal-style. Wear your stretchy pants and bring your stuffed wallet. Order a Jalisco Mule if you like your cocktails spicey rather than sweet!
Tac/Quila – Same owners as FARM. High end Mexican joint with great food and excellent service.
The Sandwich Spot – Fresh, casual lunches.
On The Mark – Gourmet deli with short but delicious sandwich menu.
Palm Greens Cafe – Brunch and casual lunches. Love their salads and acai bowl.
Pack your biggest sun hat and get down to Palm Springs for an amazing winter escape, fall frolic or spring sojourn. You will find plenty to do (when you're not luxuriating by the pool, of course).
Peace, love & inspiring travels,
Madam ZoZo