Fiji is truly nothing short of paradise, especially if you get off the mainland Viti Levu, to one of the smaller islets. The other good news is that it's really easy to decide what to wear in Fiji because the tropical climate and inviting waters will have you living in your swimwear. Nevertheless, you don't want to forget any essentials, like a large bottle of sunscreen, so here is a comprehensive packing list, with a printable download for you to check off as you go.
Disclosure: I may earn compensation from the purchase of any product or service linked on this website, at no extra cost to you. I only link to products I use and love, therefore feel comfortable recommending.
General notes on what to wear in Fiji
Climate
Check the yearly temperature and rainfall averages and adjust your packing according to the time of your visit. See the weather charts here.
Clothing
Fiji's climate is tropical, so lightweight, natural fabrics such as cotton, linen and silk are ideal because they are breathable.  Synthetics like polyester (which is essentially plastic) will make you sweat.
Etiquette
Due to the hot and humid climate, the everyday dress is more casual than in cooler climates. However modesty is culturally important, and for the ladies, it is best to follow local women's lead in covering knees and shoulders when outside your resort. A bikini is fine inside the confines of your accommodation, but outside I would advise to cover up – you don't want to offend your hosts. FYI: Public nudity is illegal in Fiji. If topless sunbathing is important to you, best to visit French Polynesia instead.
Health
There is a risk of Zika Virus, Dengue Fever and other mosquito transferred illnesses in Fiji. Pack an insect repellent that contains recommended amounts of DEET, picaridin or other approved products e.g. RID Tropical Strength or OFF Deep Woods. Another trick is to wear light colours because mosquitos are attracted to darker tones.
Officially, the tap water in Nadi and Suva and most mainland resorts is safe to drink. You might not like the taste much though. Check with individual resorts on smaller islands. I drank the water at the Outrigger Sigatoka (I boiled it first as extra security and to improve the taste). The tap water at Matamanoa Resort was filtered on-site and was also drinkable. It tasted fine too.
Environment
Responsibly disposing of rubbish on a small island is challenging, small island resorts must ship their garbage in and out. Think about minimizing packaging and disposables as much as possible – this guide will help: 8 Essential Eco-Friendly Travel Products.
Furthermore, consider the environmental impact of the toiletries you take to Fiji and opt for as many natural products as you can to reduce the chemicals that end up in wastewater. For example, some ingredients in typical sunscreen can be harmful to reefs, which is why island nations like Palau and Hawaii are banning them. Here is a thorough review (by snorkelers) on coral-safe sunscreens that are also water-resistant.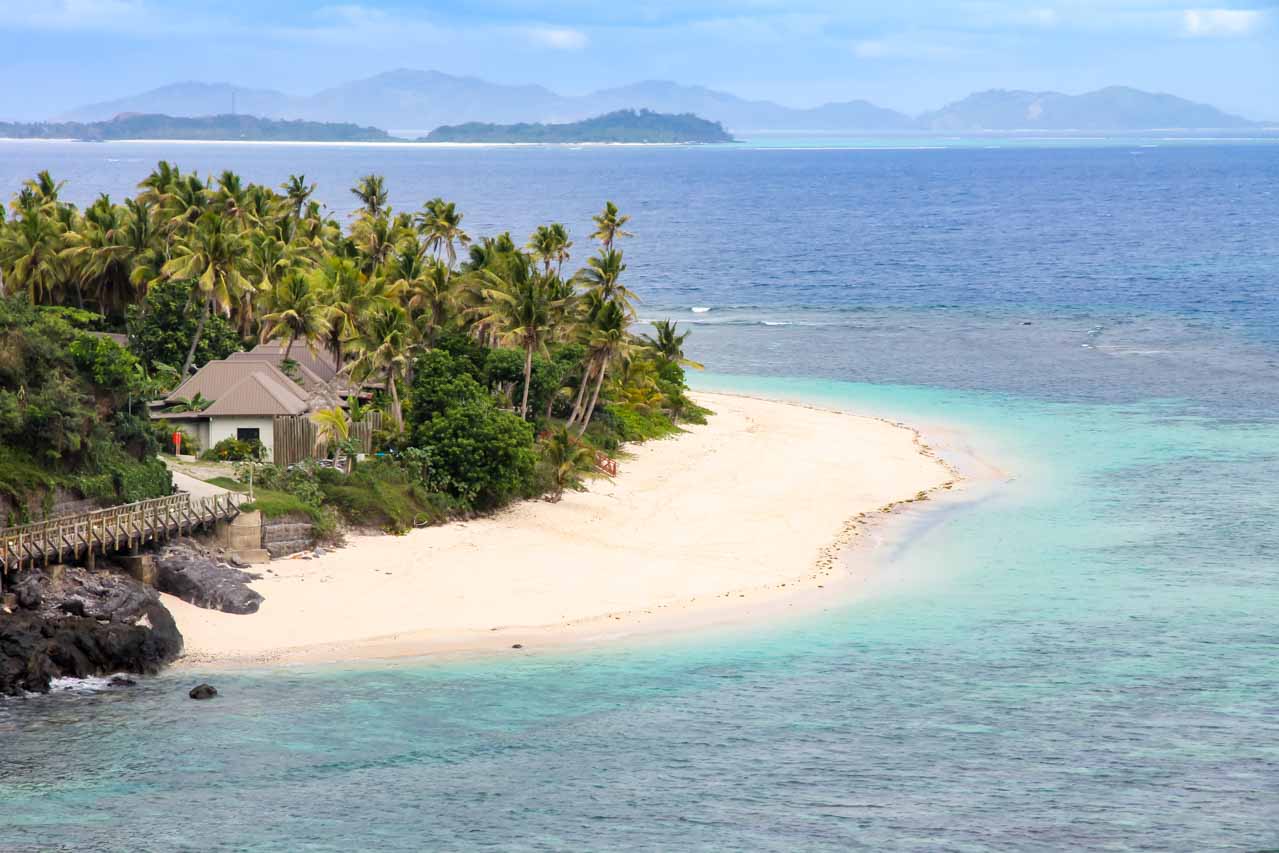 Your Fiji packing list
Basics
Underwear and socks
Sleepwear
Shirts – You will spend most of your days in swimwear, so don't go too heavy on other clothes, 2-3 shirts are fine.
Shorts/Midi-skirts – 2 pairs that will be cool, provide sun protection, and comfortable for light walking.
Zip-off khakis – Only if you plan to do extended hikes.
Full-length pieces – 1-2 pairs of lightweight pants/ maxi skirt/ maxi dress or kaftan to wear in the evening when mosquitos are biting and you want to dress up a little for dinner.
A light jumper (sweater) or pashmina is good to have especially in the cooler months (May-September) if you are doing any mountain hiking and the plane trip there and back.
Rain jacket or poncho, especially for wet season (November-April)
Shoes  – Depending on the activities you have planned, a pair of sturdy shoes for mountain hiking or lighter walking shoes, and a nice pair of sandals. Water shoes for activities such as reef walking and exploring around rivers/waterfalls.
A wide brim hat with a fit that won't blow off with a breeze or movement of a boat. Note that if you are visiting a village, wearing a hat is considered disrespectful.
Sunglasses, preferably UV rated to protect your eyes and polarized to cut glare.
A swimsuit, or two. Everything takes a long time to dry out in the humidity, so if you prefer to put on a dry suit in the morning, alternate.
A rash guard is good for added sun protection during long stints in the water.
Sarong or cover-up to keep you shielded from the sun and modest between swims.
Toiletries
Deodorant
Toothpaste and toothbrush
Shampoo and conditioner
Aloe vera – doubles as sunburn relief and body moisturizer
Face wash
Body wash
Moisturizer
Hair accessories (ties and pins)
Menstrual cup/ tampons
Light makeup and perfume (I took nothing more than some bronzer)
Laundry soap – I pack a cake of laundry soap as a standard for all travel, so I can wash underwear and socks in the hotel basin if need be.
Day bag/ Beach bag
Refillable water bottle
Hand sanitiser
Bandana/cloth napkin
Toilet paper in a ziplock bag to keep it dry
Headphones
First aid kit
Medications and prescriptions
Dry bag for keeping your camera, phone and other water sensitive valuables dry, during water activities
Sunscreen
Lip balm with SPF 15+
Insect repellent
Making memories and filling spare time
Book
Sketchpad and pencils/paint
Notebook
Tablet device
Diary
Download a printable copy of this Fiji packing list here:
You may also like to read 5 Steps to More Sustainable Travel for tips and products that will reduce your environmental impact while exploring the exquisite nature of Fiji. Enjoy your island getaway and remember to take only photos, leave only footprints.
Peace, love & inspiring travel,
Madam ZoZo