New Orleans, aka NOLA, The Big Easy, Crescent City, is undoubtedly one of my favourite cities in North America. When you make that first venture into the French Quarter, it almost feels like you've arrived in another country. The culture and history of NOLA is unfathomably unique and cannot be compared to anywhere else in the world.
This guide is mostly for first-time visitors who really want to dive deep into the remarkable history, architecture, food and music of this great city. There is so much on offer, it can be overwhelming especially on a short timeframe! Let me help you narrow down what to do in New Orleans so you can cover the essential experiences.
Disclosure: I may earn compensation from the purchase of any product or service linked on this website, at no extra cost to you. I only link to products I use and love, therefore feel comfortable recommending.
Begin in the French Quarter
There is no better place to begin than New Orleans' vieux carré ("old square" in French). Of course, this is the home of infamous Bourbon Street and you will want to take a look at that even just out of morbid curiosity. You need to do nothing more than walk Bourbon and its surrounding streets to find entertainment. Not only is the architecture and urban landscape a spectacle, but the people it attracts are a diverse bunch of revellers, entertainers and scoundrels. You will find great musicians busking on the sidewalk, party animals stumbling between bars, people in strange costumes and more often than not, some sort of parade or festival. Make sure you check out Jackson Square, window shop the gorgeous antique stores and recharge with some beignets and a café au lait at Café Du Monde or our favourite Café Beignet.
Taste the melting pot
Dive headfirst into the local food scene! Louisiana's history has seen many different cultural influences and New Orleans is the centre of the melting pot. As a result, there are many unique dishes that have been born in the region, and that are rarely found anywhere else in North America or the world for that matter. Take this opportunity to try as much of the local fare as you can. Fill up on dishes like gumbo, jambalaya and po'boys. Don't know where to start? See my recommendation in this list of must-eat New Orleans foods.
Sip and sightsee
Some insist New Orleans is the birthplace of the cocktail. That has been proven false, but it is the origin of some really great mixed drinks that you should absolutely investigate while in town. Try these classic New Orleans cocktails while out and about in The Big Easy. If you are short on time, you might even like to combine your drinking with a historic tour of the French Quarter. There are several walking tours that offer a chance to sip your way around the historic district and learn some its heritage along the way.
Music! Music! Music!
Less disputed is that New Orleans is the birthplace of jazz, and nowhere is it easier to find great live music than The Big Easy. Make your way to one of the nightly shows at Preservation Hall where the house Jazz Band preserve and perform traditional New Orleans Jazz (also referred to as Dixieland Jazz). Then move on to Frenchmen Street where you'll find wonderful live performances in a number of styles throughout the restaurants and bars.
Take a breather in the Garden District
Take a couple of hours to explore beyond the French Quarter by taking the trolley down to the Garden District. The largely residential area is a peaceful place to take a breather after a couple of days spent in the French Quarter flurry. Wander through Lafayette Cemetery No.1 and take in the unbelievable architecture along oak-lined streets. Magazine Street is a great place to shop and dine. Take a NOLA Architecture Tour if you want to know more about what you are seeing. Their Garden District tour is a great option for those with limited time because it includes the Cemetery as well.
Rollin', Rollin', Rollin' on the River
If you still have time in your itinerary, make your way down to the banks of the Mississippi River and even take a ride on the Steamboat Natchez. Unfortunately, our schedule didn't line up with the cruise timetable so we missed out, but I'm longing to go out on the Mississippi and sing "left a good job in the city…" Do it for me, will you?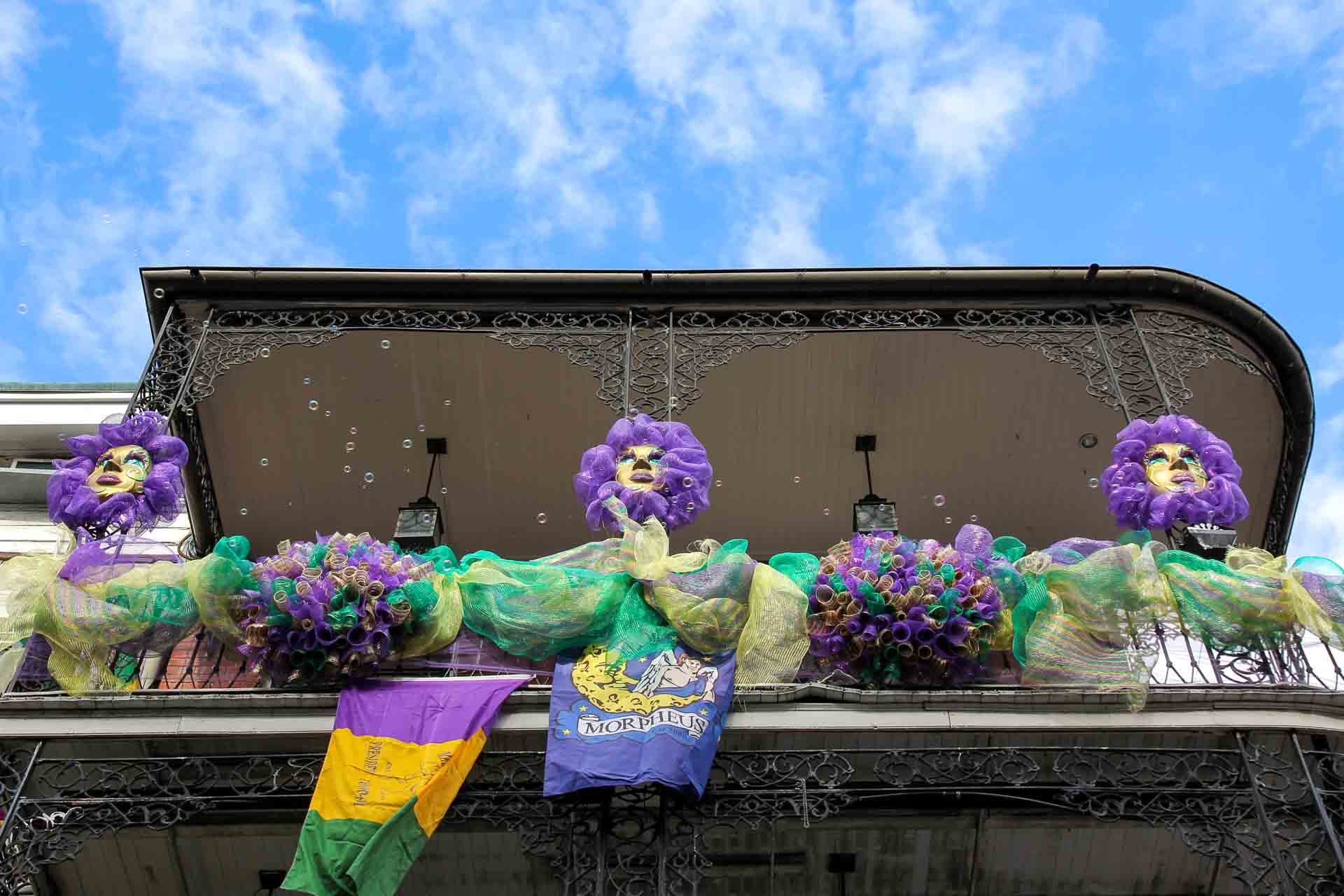 Additional notes on what to do (or not do) in New Orleans
When to visit New Orleans
New Orleans is the city of festivals. Carnival (Mardi Gras), Jazz Fest, French Quarter Fest… the list goes on. Chances are that if you visit during one of these events, you will be caught up in the festivities (rightly so) and won't get a chance to see much of the city. Consider what you want to experience when planning the timing and length of your stay. See a list of upcoming festivals here. Also, be wary of summer heat and humidity if you don't cope well with hotter temperatures. Find more detailed climate information here.
Where to stay in New Orleans
We have stayed both on the CBD side of Canal Street and in the French Quarter. If you are a light sleeper, choose the CBD side for a better night's rest, it will cost you a mere 5-10mins extra walk. For those staying in the French Quarter, take a pair of earplugs. I sleep like a log and was still woken during the night, by a weed seller doing 2am laps around our hotel block blasting his music.
Safety and security
New Orleans has a lot of high crime-rate neighbourhoods. Do a little research on which places to avoid. You only have to wander a block or two in the wrong direction to end up in a risky location.
Unfortunately, like many highly touristed places, New Orleans also draws the hustlers and petty crooks. Take time to read my tips on travel security and be conscious of common scams and pickpockets.
Have a blast absorbing everything in New Orleans. I hope you find this guide helpful and if you think I've missed any essential things to do in New Orleans, please drop me a line in the comments below.
Peace, love & inspiring travel,
Madam ZoZo