In the summer of 1969, 400,000 people descended on a muddy field in the Catskills, New York. They were there to enjoy "3 days of peace and music" at Woodstock. Although some of the events of that August are blurred by the drug-fueled haze, the music endures clear as a bell, by the entire world. Take a road trip to this hallowed turf and learn a little more about the festival Aquarian Expostion, that defined a generation.
Visiting the Woodstock festival site
The 1969 Woodstock site is now called Bethel Woods Center for the Arts. The 800-acre campus incorporates the legendary field where the event was held, plus an outdoor amphitheatre, museum and conservatory. The complex is used for arts education as well as hosting visitors to the Woodstock site, now enscribed on the National Register of Historic Places.
The Museum at Bethel Woods walks through the social and political context of the time leading up to Woodstock, in addition to information, exhibits and videos of the Aquarian Exposition. We were fortunate enough to be guided through the Museum by an original Woodstock attendee. Following our tour, we took a walk out onto the grassy field where it all happened. Though there was a lot more peace than music happening the summer day we attended, I would recommend the experience to any music devotee.
Bethel Woods Center for the Arts is located at 200 Hurd Road, Bethel, New York, about 177km (110mi) from New York City. Depending on traffic, it should take you just over 2-hrs drive time.
Are you ready for those 5 things you didn't know about Woodstock? Keep reading…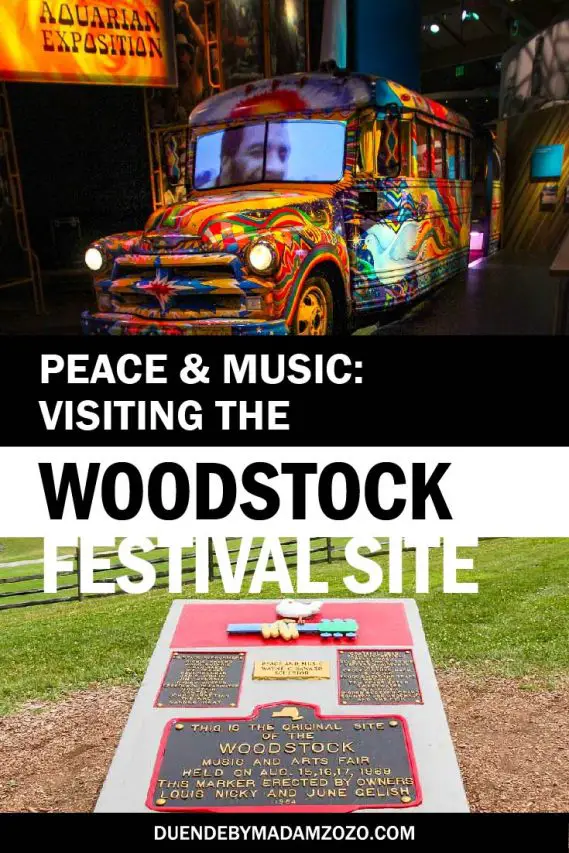 5 things you didn't know about Woodstock
Here are 5 quick facts you'll learn about Woodstock at the Museum at Bethel Woods:
1. Woodstock location, location, location
The namesake of Woodstock is the town of Woodstock, New York. The town was initially set to host the festival, but pulled their permit just months from the event, due to resident protests. The second location was Wallkill, but again residents opposed the plan. Finally, the festival found its place in Bethel, where dairy farmer Max Yasgur rented some of his land to festival organisers at the displeasure of some of his neighbours.
2. A rose by any other name
Though commonly referred to as Woodstock Festival, due to a pre-existing fête of that name, the music event was dubbed Woodstock – An Aquarian Exposition.
3. The Woodstock line up is a purple haze
Due to spontaneous changes to the line-up and its programming, the order bands played is to this day still unconfirmed and changes as new evidence comes to light. Richie Havens opened Woodstock because the scheduled band was stuck in traffic. He ran out of songs and ad-libbed "Freedom" now one of his most famous tunes.
4. Three days of peace and music
The recognisable Woodstock poster featured a catbird perched on the neck of a guitar and the tagline "Three Days of Peace and Music". It was designed by Arnold Skolnick an artist and publisher from New York City. He was inspired to create the papercut design by a Matisse exhibit he had seen shortly before. He also drew from sketches of catbirds he had created on Shelter Island, New York. Skolnick was paid $6000 for his original design however has received less than $15 in royalties since.
5. Before text messages, there was a tree
Festival-goers pinned messages to a particular tree in order to communicate with each other, to arrange meeting spots, rides etc. That tree is still standing and is known as the Messenger Tree.
For our full road trip route including a detour to the Museum at Bethel Woods, see Your New England Summer Road Trip Itinerary.
Peace, love & inspiring travel,
Madam ZoZo