Enjoy a Bavarian-inspired bash at home with these fun party ideas for Oktoberfest. Whether you're planning a family-friendly backyard event, an adults-only Oktoberfest dinner party or a beer tasting with lager-loving friends, there's some authentic Bavarian inspiration here for you.
First, I'll take you through a brief Oktoberfest 101 so you know all the essential traditions and terminology of the Bavarian beerfest and look like an expert in front of your guests. Then we'll transform this inspiration into a fun and authentic Oktoberfest party including food, decorations and music.
Disclosure: I may earn compensation from the purchase of any product or service linked on this website, at no extra cost to you. I only link to products I use and love, therefore feel comfortable recommending.
Oktoberfest history and traditions
What is Oktoberfest?
Oktoberfest is an annual festival held in Munich, Germany. The festival runs for 16-18 days, ending on the first Sunday in October. Therefore, Oktoberfest actually begins in September – I'll explain why in a minute.
What does Oktoberfest celebrate?
The very first Oktoberfest was held on October 12, 1810. The original celebration was a kind of public wedding reception marking the marriage of the crown prince of Bavaria, the future King Ludwig I, to Princess Therese von Sachsen-Hildburghausen. The 5-days of drinking and feasting was concluded with a horse race attended by the royal family, in an open area called Theresienwiese, meaning "Therese's Green" located just outside the city gates.
It seems that the party was so enjoyed by all, that they decided to do it all again the following year. This time horse races were combined with an agricultural fair, and booths serving up food and drink appeared. The festival continued to evolve year-upon-year, adding a carousel and swings in 1818, leading to a fully-fledged funfair by the 1870s. In 1896, the food and drink booths started to become the large beer halls of today's Oktoberfest. Throughout its history, the festival was also extended and brought forward to September to take advantage of better weather in early autumn.
Today, there is no longer a horse race, but the "Bayerisches Landwirtschaftsfest" — Bavarian Central Agricultural Festival, continues to be held one in every four years. The length of the festival has also become slightly variable. In years when the first Sunday of October correlates with the 1st or 2nd of the month, then the festival runs through to German Unity Day on October 3—taking advantage of the public holiday for a longer celebration.
Oktoberfest traditions and terminology
Lebkuchenherzen – The heart-shaped gingerbread cookies worn on ribbons as necklaces at Oktoberfest.
Märzen – The type of beer served at Oktoberfest, named after the month it is brewed, März, German for March. Märzen is a low fermentation beer that is strong and dark, with up to 6% alcohol content. Its closest beer kin is a lager.
Maß or Mass– The one-litre mugs used to serve beer at Oktoberfest. Since 1892, Oktoberfest beer mugs have been made of glass and have a line denoting where beer is to be filled to, allowing for a head (that frothy foam) to develop. The traditional glass has several rows of circular dimples and a flat band around the top.
Oompah – A colloquial term referring to a type of Volkstümliche Musik – German folk music – played by a Bavarian-style brass band.
O'zapft is' – Oktoberfest is officially opened each year when the mayor of Munich taps the first barrel in the Schottenhamel Tent and declares "O'zapt is'!"—"it is tapped!"
Prost – The German word for "cheers".
Reinheitsgebot – A historic set of regulations limiting the ingredients used to brew beer in Germany to barley, hops and water. The law was enacted in Bavaria in 1516 and though it has been modernized, brewers providing beer for Oktoberfest must adhere to the current regulation AND must brew within Munich city limits. Hence there are only six approved beer providers for the festival:
Augustiner
Hacker-Pschorr
Hofbräu
Löwenbräu
Paulaner
Spaten
Tracht – "Traditional dress" worn by Oktoberfest revelers. Bavarian traditional dress is a Dirndl for the ladies and Lederhosen for the men. Dirndl are a peasant-style dress worn over a blouse and accessorized with an apron. Lederhosen are leather trousers or shorts held in place by a pair of braces with a chest panel, usually decorated with embroidery.
Wiesn – Locals often refer to Oktoberfest simply as "wiesn" (literally translating to "meadows"), which is a reference to Therese's Green, the fairground where the festival is held.
Party ideas for Oktoberfest at home
Oktoberfest dinner menu– what to serve for Oktoberfest
If you aren't hungry now, you are going to be after you read these Oktoberfest menus based on real Bavarian food! I've created three menus to help you decide what to serve for your Oktoberfest at home. These cater to different styles of celebrations: a grazing platter fit for a beer tasting afternoon or an appetizer to a larger meal; a casual, minimum-prep menu for a larger gathering; and an Oktoberfest dinner party menu for an intimate soiree (i.e. Oktoberfest with your lockdown nearest and dearest lockdown buddies).
NOTES: Sourcing some of the ingredients/dishes can be difficult depending on whether you have much of a German community living around you. I recommend doing a Google search for a German or Continental deli near you and/or German/Bavarian butcher which will help save time trying to find some of these items. Depending on where you are in the world, you can also source items online, as long as you place your order well in advance.
Another option is to make some of these yourself. There are some great food blogs created by German ex-pats, particularly living in the US. They are a good source for both recipes and suggesting substitutes for more specialty items that might not be available outside Germany. The official Bavaria tourism website is also a good source for genuine cultural advice including recipes.
Brotzeit – An Oktoberfest grazing platter
Brotzeit means "bread time" and is a typical mid-morning or mid-afternoon snack. It's the German answer to a grazing platter. Here are some typical items that would appear on this German-style antipasti:
Breads – usually served in a basket beside your platter.

Soft, Bavarian-style pretzels are the first choice of course but substitute the hard cracker type at your convenience or pleasure. Lye rolls, as some bakers may call them, are a bread roll or loaf made in the style of a soft pretzel, just not in the classic pretzel shape.
Slices of rye bread.

Butter – For your bread or alternatively Griebenschmalz, which is a spread made from rendered animal fat to which pork crackling is added.
Cold cut meats – Landjäger snack-sized sausages, slices of Bavarian Schinken (substitute Black Forest Ham), liverwurst.
Cheeses – Emmental, Gruyere or Swiss, Gouda, Münster. If you've near a good deli you might even be able to source some more specialist varieties such as Almdammer, Butterkäse, Weisslacker, Bruder Basil, Chiriboga Blue, Rauchkase and Quark.
Obatzda – A cheese and beer dip that is an essential Oktoberfest accompaniment to your soft pretzels.
Radishes – Both the small, red variety usually served whole and sprinkled with salt; along with German beer radishes aka Radi or Münchener Bier radishes (you can substitute Daikon radishes) served shaved or spiral cut these into thin slices.
Pickles – Store bought or make your own.
Bavarian Sweet Mustard
Hard boiled eggs – Slice in halves or quarters.
Garnish with a sprinkling of chopped, fresh chives.
Dessert – Brotzeit usually doesn't come with any dessert, we know you want some sweet treats. Keep it snackable and authentically Oktoberfest with candied almonds and Lebkuchenherzen (which translates to gingerbread hearts).
Casual Oktoberfest party menu
This menu is a family-friendly, self-serve style for larger gatherings like a backyard beer garden. Most of it can be prepped in advance and doesn't necessarily have to be served or kept warm. This is walk-around food that will allow your guests to mingle to their hearts' content.
Brotzeit – Start with the above Brotzeit as an easy, self-serve grazing platter.
Sausage sampler – Cook up some German sausage—a combination of Bavarian Weisswurst, Nuremburg Bratwurst and Knockwurst.  Weisswurst and Knockwurst are generally pre-cooked so you only have to reheat them in warm, salty water keeping your kitchen time to a minimum. Bratwurst may be fresh or smoked, requiring different preparation – check the label for instructions.
Mustard – A selection of mustards to compliment above sausages:

Bavarian Sweet Mustard (sweet) – usually served with Weisswurst.
Mittelscharfer (medium hot) – commonly served with Bratwurst, you can substitute Dijon.
Lowensenf (extra hot) – another common pairing for Bratwurst

Sauerkraut – The sour cabbage dish provides the perfect flavour balance to the fatty richness of sausages.
Brötchen – Small, crusty bread rolls like a dinner roll. You can also substitute for Kaiser rolls or pretzel (lye) buns.
Kartoffelpuffer – German potato pancakes, traditional served with apple sauce.
Dessert – Bayerische Ausgezogene (Bavarian donuts) and Lebkuchenherzen (hear shaped gingerbread). Toffee apples for the kids and children at heart.
Oktoberfest dinner party menu
Lastly, an Oktoberfest dinner menu for couples, small groups and kid-free occasions. Food is still served family style, but for the most part it requires a seat at a table, and a knife and fork. Here we dig a little further into Bavarian cuisine beyond the typical Oktoberfest fare.
Appetisers:
Pretzels – Soft Bavarian style, served with Obatzda cheese dip.
Main course:
Brathendl  – Bavarian roasted chicken with a spice rub including paprika.
Rotkohl – Braised red cabbage with bacon, apple and onion.
German Potato Salad – Potato, bacon and onion with an oil and vinegar dressing.
OR
Schweinshaxe – Crispy pork knuckle with beer gravy.
Spätzle – German egg noodles.
Krautsalat – German coleslaw.
Dessert
Apfelsturdel (apple streudel) – A sweet, apple stuffed pastry which goes down well with a scoop of vanilla ice cream.
Bayerische Crème (Bavarian Cream) – A silky egg custard served with fresh fruit or syrups.
Oktoberfest drinks
As mentioned previously, there are only six official Oktoberfest brewers: Augustiner, Hacker-Pschorr, Hofbräu, Löwenbräu, Paulaner and Spaten. Some of these export to other parts of the world and others do not. Craft brewers around the world often take advantage of the marketing opportunity that Oktoberfest presents and will brew a special, seasonal beer which you may find a lot easier to access.
For those partaking in the traditional line up of Oktoberfestbier, why not follow tradition and begin with Spaten which is the beer tapped in that opening "O'zpat" moment!
If, like me, you don't actually like beer, here are a few more suggestions:
Radler – beer mixed with lemonade or soda water.
Bowle – A fruit punch.
Apfel Schorle – Sparkling apple juice.
Oktoberfest decorations
Take a look at pictures of the genuine Oktoberfest beer halls and you'll find a common theme that is fairly easy to replicate at home for a genuine Wiesn feel. Colour schemes generally revolve around the sponsoring breweries branding. Ceilings are decorated in bold swagging and/or garlands of greenery. Wreaths are suspended horizontally, with ribbons or streamers hanging from them. Sometimes oversized pretzel or gingerbread props are used. Picnic-style tables and benches in blonde woods provide seating and a bandstand is usually featured. Outside, Bavarian maypoles decorate the festival grounds.
Keeping that beer hall inspiration in mind, here are some decoration suggestions for your Oktoberfest party at home:
Use inexpensive blue and white streamers or bunting to recreate the swathed ceiling of the beer hall marquees.
Oktoberfest takes place at the beginning of autumn, so consider fall colours as an alternative to a strictly Bavarian colour palette. Another colour scheme alternative might be the yellow and black of Munich.
Hang banners and flags featuring the signature Bavarian blue and white diamond print and/or Munich's coat of arms.
Line your table with blue and white linens or natural textures of wood and burlap/hessian.
Add some greenery with evergreen boughs or hops vines.
For a more formal affair, wooden napkin rings like these are reminiscent of pretzels.
Think beer ingredients! Dried wheat stems or faux hops cones spilling from beer mugs or rinsed beer bottles is an easy and affordable table centrepiece.
Hang Lebkuchenherzen (gingerbread hearts) and pretzels, real or fake.
Use personalized Lebkuchenherzen with each of your guests names to mark placesettings.
Suspend wreathes horizontially from your ceiling.
Set your table with Oktoberfest-style, dimpled glass beer mugs.
Festoon or fairy lights never fail to bring about a festive atmosphere.
NOTES: Don't forget to raid your existing holiday decor and dinnerware to see what you can use, such as fairy lights and evergreen garlands. I chose not to buy anything specifically Oktoberfest and just used an existing white tablecloth and skyblue napkins I already owned to create the Bavarian colour scheme.
Your local thrift stores can be real money-saving resources when it comes to décor and serveware. My local Goodwill has a huge kitchen section with endless choices. While I wanted to be as true to the original as possible, I wasn't going to pass up the set of Bavarian-blue beer mugs I found in my local op-shop for $4! They even had a huge inflatable pretzel available and it took all my restraint not to buy it.
Lastly, compare prices and consider what you can reuse later. For the price of one faux hop stem I would probably use one a year, I bought an entire hops plant at my local nursery and trimmed off the vines to use on my table and popped the remainder in my compost – no plastic waste or storage required.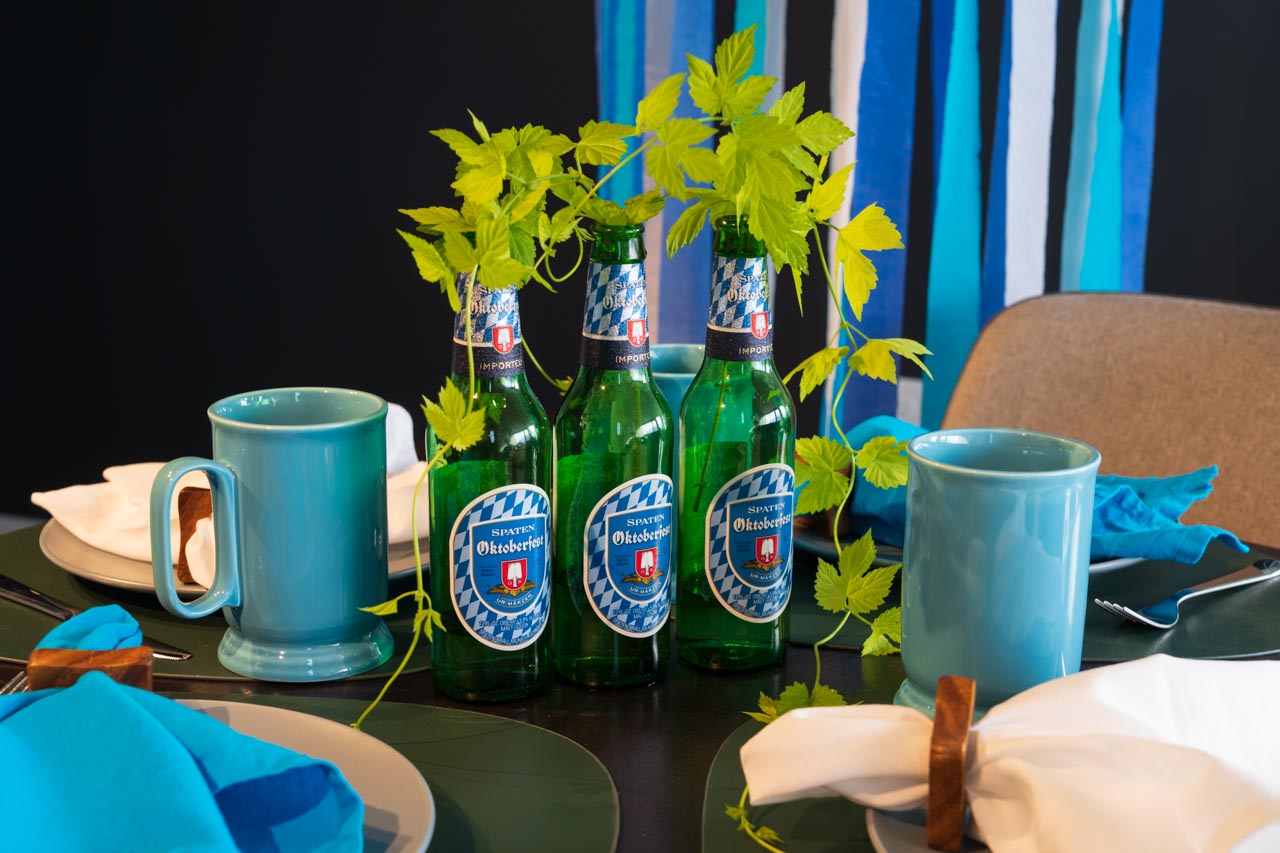 Oktoberfest at home kits
Here are various kits for helping you recreate Oktoberfest at home with ease, including beer, food and decorations. Not all of these suppliers ships worldwide, so be sure to check and order well in advance of your Oktoberfest party at home.
Oktoberfest music
Music is an essential part of the Oktoberfest celebration and all are encouraged to sing along. A mixture of traditional Oktoberfest tunes such as Fliegerlied are played alongside retro classics both German and international, covers and originals.  As long as you play the sing-along "Ein Prosit" every half hour, it probably doesn't matter what else is in between. For the purists, I have a Spotify playlist you can access right here!
Have a wonderful time hosting your Bavarian bash and let us know which Oktoberfest party ideas you liked the best in the comments below.
Peace, love & inspiring travel, Madam ZoZo