Make your next Seattle to Spokane drive an unforgettable one! Try one of these three scenic routes and see more of the incredible landscapes and history of Washington State. Discover hidden gems, historic towns and State Parks with breathtaking vistas. Whether you're travelling Seattle to Spokane or Spokane to Seattle, we have you covered with the best places to stop and stay along the way.
Seattle to Spokane transit options
Before you decide to drive from Seattle to Spokane or vice versa, here are a few other transit options you might consider.
Seattle to Spokane bus
There are three bus lines offering routes from Seattle to Spokane: Northwestern Stage Lines (Megabus), Flixbus and Greyhound. Here's a breakdown:
Northwestern Stage Lines
Northwestern Stage Lines takes about 7.5-hours to cross Washington State. It departs 1-2 times daily and a ticket costs around $50 including booking fee. Start/end points include Seattle Amtrak Station, Seattle Greyhound Station and Spokane Greyhound Station. Stops along the route include: Everett, Monroe, Skykomish Junction, Skykomish (Stevens Pass), Leavenworth, Wenatchee, Quincy, Moses Lake and Ritzville.
Note, you can also book this trip through Megabus.  You might save a dollar or two booking direct with Northwestern but the ticket price is roughly the same.
Flixbus
Flixbus takes a little over 5-hours Spokane to Seattle with tickets starting at $23 but are generally closer to $35. Departure/arrival points include Seattle Amtrak Station, Seattle Greyhound Station and Spokane Greyhound Station. Stops along the way include Ellensburg and Moses Lake. The Flixbus route is operated by MTR Western but there is no direct booking option with MTR, so you'll need to go through Flixbus.
Greyhound
The Greyhound bus takes roughly 8.5-hours to cross WA with tickets cost from $32-$55. Greyhound buses depart and arrive at the Greyhound bus stations in Seattle and Spokane. There are five stops including Ellensburg, HYakima, Sunnyside, Hermiston and Pasco.
Spokane to Seattle flight
If you need to get there in a hurry, flying between Spokane and Seattle takes about 1-1.25-hours. Direct flights are operated by Delta and Alaska Airlines. Ticket prices can be as low as $60 if you plan ahead.
Spokane to Seattle train
Amtrak Empire Builder route links Seattle and Spokane. The daily train travels between King Street Station in Seattle and the Amtrak Station in Spokane. There are five stops along the way: Edmonds, Everett, Leavenworth, Wenatchee and Ephrata. Travel time is about 7.75-hrs. It leaves in the afternoon and arrives into Spokane a little after midnight.
Spokane to Seattle drive
In comparison, driving direct from Seattle to Spokane by the most direct route is 450-km (280-mi) and takes a smidge over 4-hours non-stop. Of course, if you want to take it at a more leisurely pace and see some of what Central and Eastern Washington have to offer, keep reading. We have three incredible scenic routes for you to consider. Turn your commute into an incredible road trip with these ideas.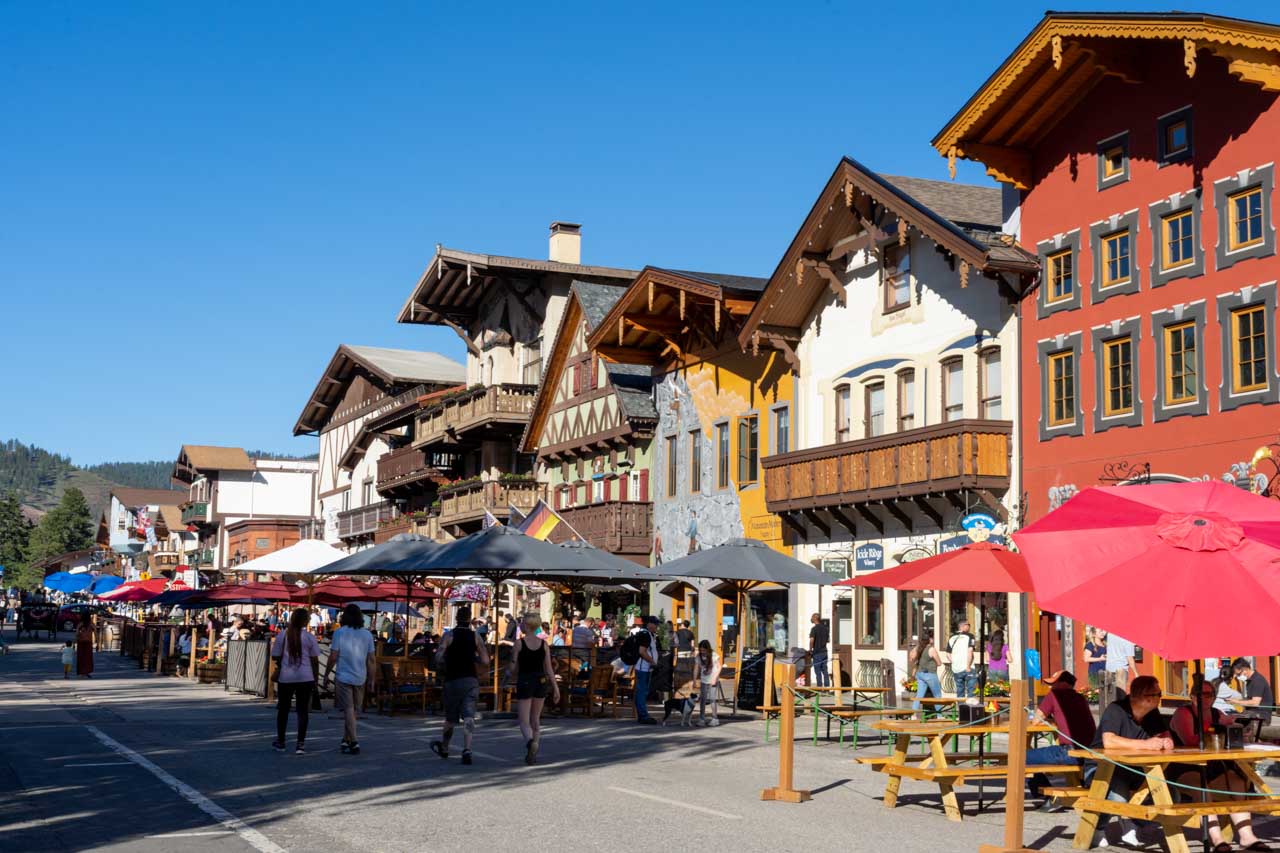 Scenic routes for your Seattle to Spokane drive
These itineraries are written in west to east direction – Seattle to Spokane. They work just as well if you choose to reverse them for your Spokane to Seattle drive.
Route 1: Southern Route via Cayuse Pass and Chinook Pass
Seattle – Mt Rainier National Park – Yakima – Walla Walla – Palouse Falls State Park – Steptoe Butte State Park – Spokane
From the astounding mountaintop views of Mt Rainier and the Cascades, to wine tasting in Walla Walla and the incredible Palouse Falls—this itinerary is my favourite of the three. This is best spread over 3-days so you can really enjoy the scenic waypoints. Ideal overnight locations are Yakima and Walla Walla for amenities and proximity to sights.
Beginning in Seattle, traverse the Cascades via Chinook and Cayuse Passes in Mount Rainier National Park. Stop for a leg stretch at Tipsoo Lake and hike the short 5-km/3.2-mi Natches Peak Loop for outstanding views of Mt Rainier.
Carry on to Yakima. During the summer, take a few hours to enjoy a leisurely float down the Yakima River. Onward toward, Walla Walla, take a short detour to Twin Sisters Rock on the Columbia River and hike up to the rock for panoramic views of the River Valley.
In Walla Walla, make some time to explore the vineyards and sample some of Washington's great wines. Pack a picnic before you leave Walla Walla, to enjoy in Lyons Ferry State Park. Minutes from the Park you'll take in the incredible Palouse Falls from the rim of the canyon.
From Palouse, make your way towards Colfax and admire the rolling loess hills from the peak of Steptoe Butte—best viewed at sunrise or sunset golden hours. Finish up your journey an hour away in Spokane.
Seasonal travel note: This is an ideal summer through early-fall route. Cayuse Pass and Chinook Pass in Mt Rainier National Park are generally closed from mid-November through to late May due to snow. Check the pass reports here and here if you're not sure of the current conditions.
Through winter, an alternative would be to drive further south and cross the Cascades via the Columbia River Valley. This is an incredibly scenic drive and its many roadside waterfalls will be free-flowing with winter rain. You'll need to budget for an extra couple of hours drive time and more fuel as this will take your journey up to 975-km/605-mi.
Driving distance: 760-km/470-miles Drive time: 8.5-hrs
Route 2: Central Route via Snoqualmie Pass
Seattle – Snoqualmie – Roslyn – Ellensburg – Ginkgo Petrified Forest State Park – Hanford Reach National Monument – Spokane
This Seattle-Spokane drive will take you from one of Washington's best-known waterfalls to some of its least known history. Split this route over a full 2-days, spending overnight in Ellensburg.
Stop in at Snoqualmie Falls as you ascend the Cascade Mountains from Seattle. Continue over Snoqualmie Pass and make your way into the adorable small town of Roslyn for lunch. If you remember the 90s tv show Northern Exposure, you'll recognize this as the setting of the show. Roslyn played the part of an Alaskan town named Cicely. Onward another 35-minutes driving to historic Ellensburg, a great place to spend the night.
Before departing Ellensburg, make sure you have plenty of fuel, water and a picnic lunch as we're going to visit a very cool but very remote part of Washington State.
It's a short drive to the first stop in Vantage. Visit the Ginkgo Petrified Forest State Park Visitor Center for a cool exhibit on petrified wood and panoramic views across the Columbia River (Wanapum Lake). Cross Vantage Bridge and check out Wild Horse Monument and the scenic lookout just north of the Bridge.
Turn back south toward Hanford Reach National Monument. You'll enter the Monument on the gravel road off the WA-24 E. Visit the Hanford Reach North Trailhead to get views of the last non-tidal, free flowing stretch of the Columbia River. You can also see across to the secured area of the monument which houses the historic nuclear reactors. These reactors produced the plutonium for the WWII atomic bombs. If you book well enough in advance, you can also tour the disused reactor.
From Hanford Reach you have a 2-hour drive through to Spokane to finish up your journey.
Seasonal travel note: Snoqualmie Pass is usually open year-round however you may be required by law to have traction tires and carry chains throughout winter. You also need to be comfortable driving in snowy/icey conditions. Check current conditions on Snoqualmie Pass here and get winter driving tips and information here.
Driving distance: 535-km/331-miles Drive time: 5-hrs
Route 3: Northern Route via Stevens Pass
Seattle – Wallace Falls State Park – Leavenworth – Wenatchee – Chelan – Steamboat Rock State Park – Grand Coulee – Spokane
Last but absolutely not least is the northern route via Stevens Pass. This Seattle to Spokane drive includes an adorable Bavarian-themed town, gorgeous lakeside vineyards of Chelan and the Apple Capital of Wenatchee. I recommend drawing this route out over 3-days with a night in Leavenworth and another in Chelan.
Start out your day with a hike to Wallace Falls. The Falls have lower, mid and upper falls so you can choose your own adventure according to your time and energy levels.
Grab a coffee and bigfoot cookie from the Espresso Chalet as you make your way up US Route 2 towards Stevens Pass. Make sure you park the car, don't just drive through. Walk around the rear of the chalet for views to Bridal Veil Falls and get your photo with Harry, as in Harry and the Hendersons. This was a location used in the 1987 movie.
Proceed over Stevens Pass to Leavenworth, the mill town turned tourist-magnet inspired by its Alp-like location. Spend some time here exploring the quaint downtown, beer tasting and enjoying the natural scenery along the river.
From Leavenworth, continue to Wenatchee. Located just below the confluence of the Wenatchee and Columbia River, this area is known for its apple orchards. Visit the Pybus Public Market for breakfast and rent a bike for a short cycle around the Apple Capital Loop for terrific views of the River confluence set against the Cascade Mountains.
Drive on to the town of Chelan at the foot of Lake Chelan. Explore the vineyards and wineries and take a short hike at Lake Chelan State Park for stunning water views.
Continue to Steamboat Rock State Park for more lake scenery with ice age canyons and a basalt butte to boot. You can hike to the top of the rock or just enjoy the views from the picnic area with bbqs.
Seasonal travel note: Like Snoqualmie Pass, Stevens Pass is usually open year-round however the same laws around traction tires and chains apply. Again, you or your drive need to be feel comfortable with navigating snowy/icey conditions. Check current conditions on Stevens Pass here and get winter driving information here.
Driving distance: 555-km/345-miles Drive time: 6.75-hrs
Spokane to Seattle Map
Important notes and tips
Seasonal travel – A reminder to consider the time of year when deciding on your route. Check weather and road conditions and take the necessary precautions.
State Parks & Sights – Some of the State Parks and other natural areas require payment or passes. The Discover Pass will get you into most, if not all of these. Passes are per vehicle (not per person) and cost $10 per day or $30 annually. You can usually purchase them via a machine in the parking lot. Remember to display them on your vehicle so you don't get a fine.
Flexibility—Road trips are all about adventure and spontaneity. Embrace detours and unexpected discoveries along the way.
Accommodation – Hotels can be sparse in some areas of Central and East Washington, therefore I've recommended the best places to stay within these itineraries. There are plenty of campgrounds around the lakes and State Parks.
Planning – For more helpful road trip planning tips, tools and packing lists. See these posts:
The Easiest Way to Plan a Road Trip With Google Maps in 2023
Don't Leave Home Without These 37 Road Trip Essentials
How to Plan a Trip | A Simple 9-Step Travel Planning Guide
Enjoy your scenic, Seattle to Spokane drive. If you have anything to add to the above or feedback on the suggested routes, please let us know in the comments below.
Peace, love & open road,
Madam ZoZo