Central America inspires visions of white-sand beaches, aquamarine waters, lush tropical rainforests and brooding volcanoes. If you want to go adventuring in Belize, Costa Rica, El Salvador, Guatemala, Honduras, Nicaragua and/or Panama, this Central America packing list has you covered – from snorkelling the Mesoamerican Barrier Reef to roasting marshmallows on a lava flow.
Disclosure: I may earn compensation from the purchase of any product or service linked on this website, at no extra cost to you. I only link to products I use and love, therefore feel comfortable recommending.
General Central America packing tips
Climate
Central America is generally tropical in climate with distinct wet and dry seasons. However, additional consideration is required for adventures at altitude. Mountainous areas can be much cooler than sea level regions. Also remember that hurricanes can whip up a frenzy any time between June and November, and are most likely from August through October. Examine the climate of the different destinations in your itinerary, coinciding with the particular time of year you are travelling. You can search climate information for different locations here.
Clothing and comfort
Due to Central America's tropical climate, pack lightweight, breathable fabrics for comfort. Think cotton, linen and silk.  Synthetics such as polyester and nylon will make you sweat. If you are travelling to cooler areas, Merino wool is perfect. It will keep you warm during cool nights and mornings, and wick away heat as the day warms up.
Currency
Small amounts of US dollars (USD) are ideal for most destinations in Central America. They are accepted widely in tourist areas, but it can get more complex once you get further off the beaten track. Withdrawing local currency from an ATM on the ground can be the best option. However, due to the prevalence of card skimming it may be worthwhile getting a travel card for the trip (e.g. Travelex Money Card) to limit your vulnerability if someone gets access to your account.
Etiquette
Central America is culturally diverse. Avoid unwanted attention or offending your hosts by erring on the side of relative conservativism. Bikinis and short-shorts are fine in beach resorts, but out in the public space keep your chest and shoulders respectfully covered, as well as down to your knees.
Electronics
Electricity in Central America is delivered at 110-127 volts, 60Hz (same as in the US). Depending on where you are travelling from and what kind of appliances you are bringing, you may need a voltage converter. Generally, modern phones, tablets and laptops are made for both 110-127V and 220-240V, but it pays to check this detail. Due to variances in plug configurations, you will almost certainly need an international adaptor.
Luggage
Though I'm generally pro roller bags, there are a few places where a backpack is ideal. Luggage wheels don't roll so well on sand or cobblestones and stairs are more common than elevators. A smaller backpack or cross-body style are good day bag options depending on your activities. A dry bag can be useful for water-based excursions—we pack a Field & Stream 5L dry bag, which is plenty big enough for our DSLR camera, money, phones and even a small towel if necessary.
Environment
You are no doubt interested in some of Central America's natural beauty, so consider the environment when packing. Think about minimizing packaging and disposables as much as possible – these guides will assist: 8 Essential Eco-Friendly Travel Products and 5 Steps to More Sustainable Travel.
Furthermore, consider the environmental impact of the cosmetics and bathroom products you take on coastal ecosystems and waterways. For instance, some ingredients in typical sunscreen can be harmful to reefs. This thorough review (by snorkellers) on water-resistant, coral-safe sunscreens will run you through the best options.
Health
There is a risk of mosquito-transmitted diseases such as Zika Virus, Dengue Fever and Malaria in Central America. Pack an insect repellent that contains recommended amounts of DEET, picaridin or other approved product e.g. RID Tropical Strength or OFF Deep Woods.
Consult a doctor or travel clinic about your specific itinerary and whether you need vaccinations or preventative medications. You will also need to see what COVID-19 requirements are currently in place for your destinations as these are constantly in flux.
Passport and visas
Ensure your passport has at least 6 months of validity and plenty of pages for your new passport stamps. Check whether you require a visa for the countries you are visiting (it will depend on the country of your passport) and if there are any entry or exit fees.
Security
Central America is a developing region. In places such as Guatemala, the minimum wage is about the equivalent of USD10 per day. As someone who can afford an international vacation, you are assumed to be wealthy in the eyes of locals. Pickpocketing, theft and muggings can be a problem. Keep your valuables to a minimum, secure those you must take, and don't flash them around. It also helps to dress casually, in line with what the locals would wear.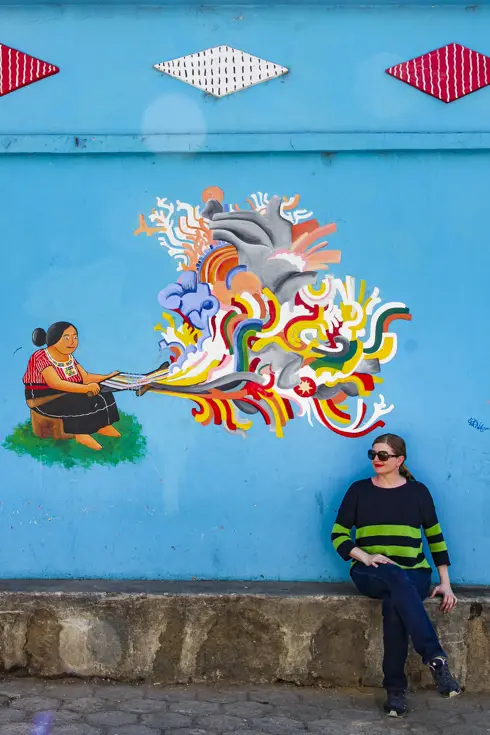 Central America Packing List
Clothing and accessories
Underwear, bras and socks – pack just a week's worth and wash in the shower or bathroom sink.
Sleepwear – including sleep mask and earplugs
Shirts – pack 1 t-shirt for every 2 days of your trip.
Shorts – pack 1 pair of shorts for every 3 days of your trip. I recommend shorts that will be cool, provide sun protection, and are comfortable for extended walking.
Midi-Skirt or dress- maybe substitute a pair of shorts for a midi-skirt if you feel its appropriate for your itinerary.
Zip-off khakis – 1 pair or zip-off, quick-dry khakis are great for more adventurous pursuits like caving and hiking.
Jeans – 1 pair of jeans for the evenings and early mornings.
Fleece or light down jacket – good to have all year round, particularly in the temperate mountainous areas.
Rain jacket or poncho during the wet season (May-October).
Shoes  – depending on the activities you have planned, you need a pair of sturdy hiking shoes or comfortable walking shoes, and a nice pair of sandals for the evening. Water shoes are recommended for activities such as caving.
Hat – preferably with a wide brim that is fitted and won't blow off easily.
Sunglasses – UV rated to protect your eyes and polarizing to cut glare.
Swimsuit – due to the conservative nature of some countries, I would recommend a one-piece swimsuit for women. Also, in the tropical humidity, everything takes longer to dry, so if you prefer to put on a dry suit in the morning pack two and alternate.
Sarong – or cover-up to keep you sun protected and modest between swims.
Boardshorts – for sun protection and remaining covered while caving (caves in areas such as Belize and Guatemala are often sacred to the Maya and you need to be reasonably modest). I used my quick-dry zip-off khakis for this purpose.
Rash guard – added sun protection during long stints in the water and great for caving – see this post on preparing for ATM for more specific advice on clothing for caving excursions.
Accessories – jewellery (preferably costume jewellery) or other accessories to dress up an outfit in the evening. I travel with one chunky necklace and a light scarf.
Toiletries
Deodorant
Toothpaste and toothbrush
Shampoo and conditioner
Aloe vera gel – doubles as sunburn relief and body moisturizer.
Face wash
Body wash
Moisturizer
Hair accessories (ties and pins)
Menstrual products
Light makeup and perfume
Laundry soap – a cake of laundry soap is great for washing your smalls in the hotel basin and doesn't add to your liquids if you're travelling carry-on only.
 Gadgets
Camera – along with accessories such as charger, spare batteries; SD cards; and tripod. Polarizing and neutral density filters for your DSLR would also be helpful for photographing.
Waterproof camera – we currently use a ProShot case for our phones and a GoPro Hero 11 for underwater photography and video respectively.
Phone – and accessories such as a charger.
Day bag
Refillable water bottle – many hotels offer filtered water stations where you can refill.
Waterless hand sanitizer
Bandana – alternatively a cloth napkin or handkerchief
Toilet paper – kept in a ziplock bag to keep it dry.
Headphones
First aid kit
Medications and prescriptions
Dry bag – for keeping your camera, phone and other valuables dry, during water activities.
Sunscreen
Lip balm with SPF 15+
Insect repellent
Flashlight or headlamp – ideally a headlamp to keep you hands-free.
Money belt – alternatively a bra pouch or other secure wallet.
Lightweight beach towel – a microfibre travel towel or peshtemal (cotton Turkish towel) are ideal. Note, even in the dry season the humidity prevented things from drying
Guidebook
Making memories and filling spare time
Book
Sketch pad and pencils/paint
Notebook or diary
Tablet device
Playing cards or travel games
Inside my suitcase
The items below made up the core clothing and accessories that I packed for my trip through Central America. including Guatemala, Honduras and Belize. As I mentioned in my notes about clothing and comfort, I selected garments in natural fibres and layer-able pieces in a cohesive colour scheme.
1. Levis 314 jeans
2. 3/4 Sleeve cashmere sweater – thrifted
3. Marc by Marc Jacobs cotton dress – thrifted
4. Colombia rain jacket
5. Strand Australia pop-over dress
6. Levi's denim shorts
7. Everlane cotton t-shirt
8. Jets by Jessika Allen surf suit
9. Everlane cotton t-shirt
10. Cotton seersucker midi skirt – DIY
11. Abeo Walking sandals
12. Salomon trail runners
13. Tory Burch polarised sunglasses – gifted by a friend
14. Aleader water shoes
15. Mimco roll-up sun visor
See this international travel checklist for additional considerations for your Central America travel.
Peace, love & inspiring travel,
Madam ZoZo