When people think of architectural ruins in Central America, they generally think of Maya archaeological sites like the amazing Tikal. However, there are a series of lesser-known ruins in Antigua, Guatemala that hark back to the days of Spanish colonialism when the city was the country's capital. That is until massive earthquakes forced a relocation and left the city all but abandoned for an extended period of time. Today Antigua presents many of its colonial ruins as monuments to the past, restored to a point where visitors can safely walk among their tumbled columns and gaze up at their blue-sky ceilings. Enjoy these quiet places of beauty and reflection.
Disclosure: I may earn compensation from the purchase of any product or service linked on this website, at no extra cost to you. I only link to products I use and love, therefore feel comfortable recommending.
A brief history of La Antigua Guatemala
Antigua was founded in the Valley of Panchoy in 1543 as Santiago de Guatemala after two former cities in other locations were decimated by natural disasters. Santiago de Guatemala was to be the seat of ruling colonial Spain, from which they would preside over their new Kingdom of Guatemala. The city lasted 200 years before the 1773 Santa Marta earthquakes drove the Spanish to establish Guatemala City as the new, somewhat more seismically stable, capital.
From this time, Santiago de Guatemala was referred to as "la Antigua Guatemala," meaning "Old Guatemala City". The town was almost abandoned and its population dropped to 9000 mostly indigenous residents before it was reinvigorated in the mid-19th century by investment in local agriculture.
Crumbling Antigua through the lens of a prince
Prince Wilhelm of Sweden visited Antigua, Guatemala in April 1920, which was no mean feat due to the terrible condition of roads between the capital and the old city. He described the state of Antigua in his book Between Two Continents: "Compared to Guatemala City at the time, Antigua was quite nicely kept, although all the churches were equally dilapidated and left entirely to themselves, as rebuilding since 1773 was confined to the strictly necessary. For the most part, only blank walls and shattered domes remained to greet the visitor by 1920, and some of the churches were in pitiful conditions. In Santa Clara, for example, a mule was grazing, and in the Church of Grace a native family had taken up its quarters, along with their varied collection of domestic animals."
Antigua started to regain prominence through a boom in coffee production. Some of the colonial buildings were being renovated, and in some cases, partially rebuilt. Finally, in 1944 the town caught the government's attention and it was declared a National Monument. Restoration efforts were all but undone by another major earthquake in 1976. The city, picked itself up, dusted itself off and started all over again and in 1979 it was World Heritage Listed by UNESCO. This recognition would guide and fuel further restoration efforts. Today, Antigua remains a living museum of colonial architecture.
Exploring colonial ruins in Antigua, Guatemala
Depending on the amount of time you have in Antigua and your level of interest in history and architecture, I suggest you explore at least two of the beautiful ruin sites. They are mostly former churches and monasteries, and they do charge a few dollars to get in, but consider that ongoing restoration and preservation is expensive work.  Also, the ruins are often tucked behind the facades of working churches, so if you don't know where you're going you could miss them altogether. This mystery and seclusion make them all the better, as lesser-researched tourists pass right on by, leaving the ethereal beauties to the few who will truly appreciate them.
On our visit, we looked inside the ruins of Antigua Cathedral (Catedral de San José in Spanish), Santo Domingo Monastery, La Merced and the old San Franciscan convent. We also passed by the standing facades of El Carmen and Antiguo Colegio de la Compañia de Jesús. Other recommended sites (that we couldn't squeeze in) include La Recoleccion, Santa Clara, Santa Rosa, Ermita de la Santa Cruz and Capuchins Monastery – all with their own unique charm.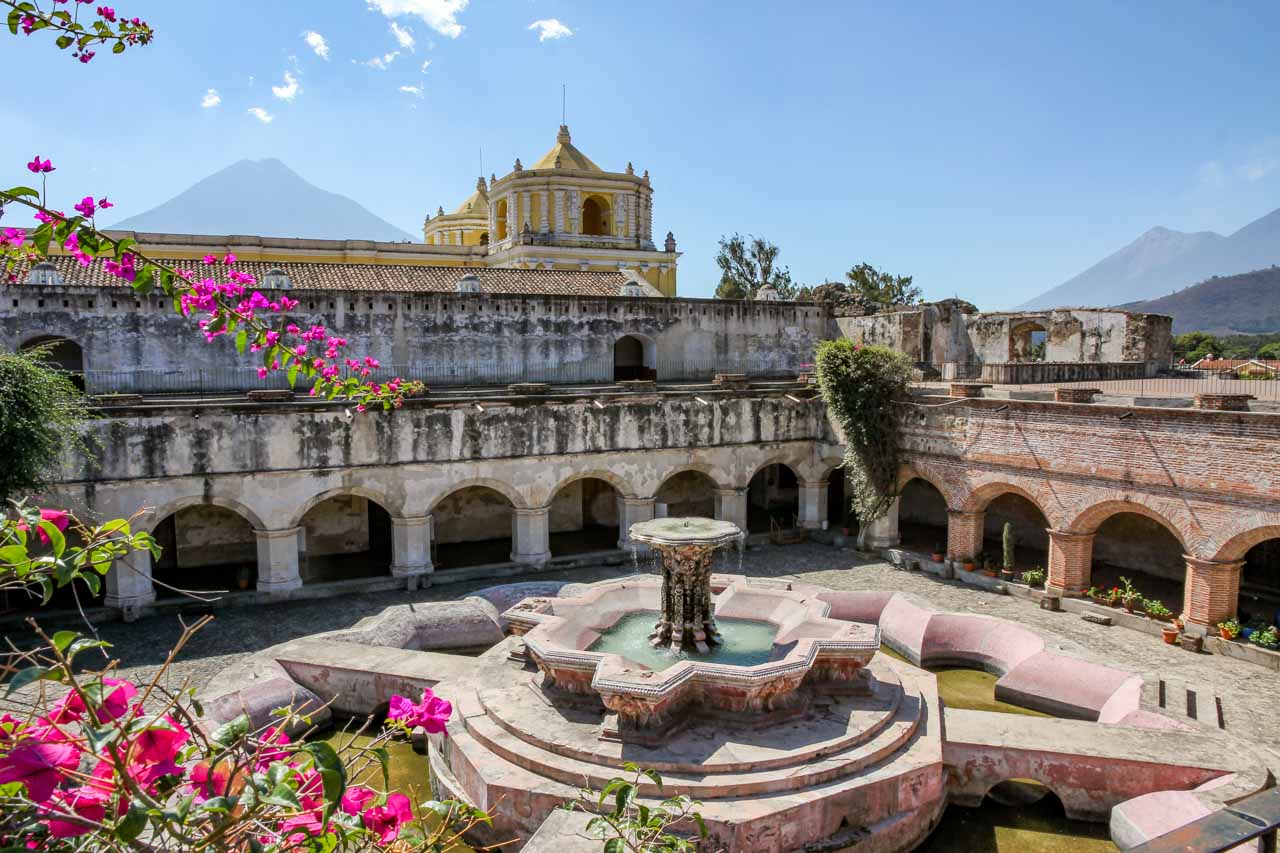 No trip to Antigua is complete without exploring some of its colonial ruins. These really are the most ethereal and stunning places to sightsee or sit in awe of the architecture, and power of mother nature that tore them down—at least in part. Not to mention contemplating the tenacity and courage of Antigua's long-term residents, who didn't abandon her when the earth shook and volcanoes flared. For more to do and see in Antigua, Guatemala – check out this list of my favourite sights and activities.
Peace, love & inspiring travel,
Madam ZoZo