Hong Kong is a region of contrasts – old and new, rich and poor, tradition and technology. Though it can be sweltering, smelly and crowded, Hong Kong has an addictive buzz. The city with the world's largest number of skyscrapers is also surrounded by sub-tropical outer islands that reflect its historic, fishing-village vibe. You will need more than 2-days to discover all the wonderful things to do in Hong Kong, but if 2-days is all you have, then this is how to make the best of it.
Disclosure: I may earn compensation from the purchase of any product or service linked on this website, at no extra cost to you. I only link to products I use and love, therefore feel comfortable recommending
Day 1 – Hong Kong Island
Discover a century of architecture
Walk among the architectural gems of past and present, from the neoclassical Court of Final Appeal opened in 1912, to the contemporary HSBC Building heavily influenced by the principles of feng shui. The Hong Kong skyline is a fascinating time capsule of architecture and design.
Tea-drinkers rejoice at Flagstaff House
Flagstaff House alone is a lovely Greek-Revival colonial building built in 1846 but has been infinitely improved (IMHO) by the fact that it is now a Museum of Tea Ware. I love the collection of ornately decorated teapots, delicate porcelain cups and other tea-related paraphernalia in this Museum, along with the snippets of history learnt along the way. It won't take you long to walk through, and best of all, it's free! While you're there, take a walk through the surrounding Hong Kong Park for a green break inside the concrete jungle.
Travel the world's longest outdoor escalator system
A series of escalators step 800m (about 2,600ft) from Central to the Mid-Levels of Victoria Peak. The escalators were installed in 1994 to serve commuters. They run downhill from 6-10am and uphill from 10:20am to midnight, so note that if you take the escalators, you will have to walk the return trip. It takes roughly 20mins to travel the whole 800m and there are various restaurants and bars along the way, particularly in the SoHo (South of Hollywood) area.
Wander the eclectic wares of Hollywood Road
Hollywood Road is a mishmash of stores selling everything from funerary items to antiques and artwork. This is where you will find great antiques and plenty of fakes. Make a short detour into Hollywood Road Park for a short break among the carp ponds and Chinese pavilions. Also note, Possession Street which borders one side of the Park was the landing place of the British in 1841 (before land reclamation moved the coastline).
Explore unusual herbal medicines
Continue down to Ko Shing Street where a line up of herbal medicine stores peddle various natural remedies ranging from flowers and roots to snake gall bladders and dried sea horses. Many of these ingredients are intended to be boiled to create a healing tea. Your friendly herbalist will prescribe a fitting formula, but generally only if you can communicate in Cantonese. It's a fascinating place to just wander and observe.
Search for antiques and souvenirs in Cat Street
Cat Street has long been famous for its antiques, though you'll find a plethora of knock-offs and replicas too. There are tables of round-faced Buddha's, brass kettles and birdcages among other curios for sale. Haggle with street vendors for unique souvenirs here Monday to Saturday.
Marvel at Man Mo Temple
Be charmed by the spiralling incense, glowing lanterns and smoky sunbeams of Man Mo Temple. The 1840s built Taoist temple is dedicated to Man, the god of literature, and Mo, the god of war. There is a bronze bell dating back to 1847 and sedan chairs carved in 1862, though the ethereal atmosphere is good enough reason to step inside.
Symphony of Lights
Come nightfall, take to a waterfront vantage spot to watch the "Symphony of Lights" show starting at 8pm. The display of lights and lasers on both sides of Victoria Harbour runs for about 10mins every night. Golden Bauhinia Square is a good (but busy) spot to watch from on Hong Kong Island, or you might even like to take a special Ferry ride to get a Harbour perspective. The special Ferry departs at 7:55pm and will set you back about USD30.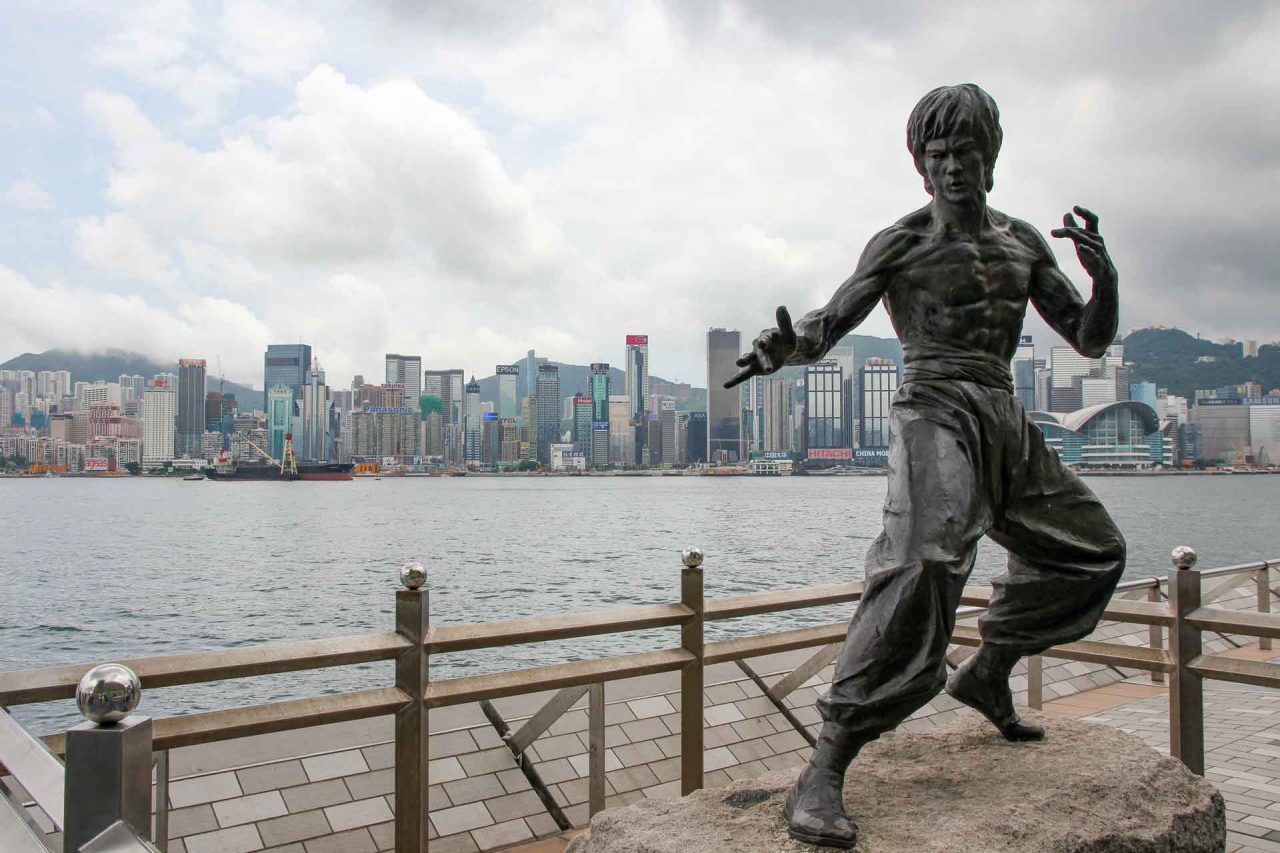 Day 2 – Victoria Peak and Kowloon
Take to the heights of Victoria Peak
Start day 2 bright and early, and get to the Victoria Peak Tram right when it opens, to avoid a potentially long wait. The funicular railway has been climbing 396m (roughly 1,300ft) up and down the steep slope since 1888. Once you reach the top there are various nature trails that offer different views of the surrounding landscapes including Hong Kong, Kowloon, Victoria Harbour and outer islands. Take the Hong Kong Trail to skirt the peak in under an hour.
NOTE: The tram is currently undergoing upgrades, check The Peak website for more information.
Cruise across Victoria Harbour
Take the Star Ferry for a 5-minute ride across Victoria Harbour to Kowloon, the northern part of Hong Kong situated on the mainland. Star Ferries have been boating people across the Harbour since 1898. During the ferry trip you are likely to pass a few of Hong Kong's iconic junks.
Tsim Sha Tsui Promenade
Take a walk down Tsim Sha Tsui Promenade for Harbour views and see the Avenue of Stars. This is where you'll find the handprints of celebrities of the Hong Kong film industry and THAT Bruce Lee statue. The Promenade is also a good place to return after dark to watch the Symphony of Lights.
Mosey Hong Kong's "Golden Mile" and Reclamation Street
Nathan Road is the most famous street in Kowloon, known for its boundless shopping opportunities. The proverbial "Golden Mile" runs about 3.6km (2.2mi) through the heart of Kowloon with a number of landmarks along the way. These include the Peninsula Hotel, Chungking Mansions, Saint Andrew's Church, former Kowloon British School, Kowloon Masjid and Islamic Centre and the Ladies Market. There are also megamalls: iSquare and Miramar. Also, take a brief detour off Nathan Road and walk the markets that run down parallel Reclamation Street. See locals on their daily shop among the various fresh food vendors including butchers, and fruiterers.
Yuen Po Street Bird Garden & Mong Kok Flower Market
Once you hit Prince Edward Road, take a right and make your way down to the Mong Kok Flower Market for a dose of botanical goodness. Continue to the Yuen Po Street Bird Market only if it doesn't break your heart to see winged beauties in tiny cages.
Enjoy the many things to do in Hong Kong and as always, drop any questions or comments below.
Peace, love & inspiring travel,
Madam ZoZo