Explore the colonial heritage and crumbling beauty of Havana. Cuba's capital is so rich with history and culture—one visit just won't be enough to cover all the amazing things to do in Havana, but you can definitely cover the highlights with help of this guide!
Disclosure: I may earn compensation from the purchase of any product or service linked on this website, at no extra cost to you. I only link to products I use and love, therefore feel comfortable recommending.
Take a walking tour of Old Havana
One of the first things to do in Havana, Cuba is a walking tour of Old Havana. This will introduce you to its history, museums, public art and brilliant architecture. Old Havana was designated a World Heritage Site in 1982 for its colonial architecture including beautiful churches, 16th-century fortresses, and largely original urban plan. It is one of those cities that makes you glad you're not restricted to a 24-exposure roll of film in your camera anymore.
Marvel at 1930, art deco Bacardi Building, Havana's tallest at the time it was completed. Discover fort Castillo de la Real Fuerza and the legend of its weather vane—La Giraldilla, which you will recognize from another famous Cuban rum brand. See the bronze statue of El Caballero de Paris, the never-completed Capitol and Plaza Vieja among other points of interest.
Experience Havana's Camera Obscura (Cámara Oscura in Spanish)
There are two reasons the Camera Obscura is one of the best things to do in Havana. Firstly, located on the rooftop of Edificio Gómez Vila in Plaza Vieja, the position alone gives you a spectacular view of your surrounds. Add to that the quirky science of the Camera Obscura which provides another dimension of wonder to the vista. The Camera Obscura will give you a 5-minute tour of Old Havana near and far from this rooftop vantage point—great, especially if you don't have a lot of time in the city—and all for CUC2 (USD2) per person.
Drink at Hemingway's favourite bars
Author Ernest Hemingway is quoted as saying "My mojito in La Bodeguita. My daiquiri in El Floridita" – summing up the two must-visit bars and classic Cuban cocktails you must sample in Havana. Of course, you can drink sip these cocktails in less tourist-frequented locations, but these have bars do have some historic and pop-cultural significance. Nowhere in Cuba really has that over-touristed vibe of other destinations (yet), though you won't see any locals in these bars apart from tour guides.
Take a ride in a classic car
Cuba is known for its collection of classic American cars, the shiniest and best-preserved of which are used to offer tours to tourists. Cost and route will vary depending on how long you choose to cruise around. Most classic car tours will take you via Plaza de la Revolución (Revolution Square) and down the Malecon. I recommend taking a tour that finishes at Hotel Nacional—an icon in its own right—for a sunset mojito looking out at the Caribbean.
Visit a cigar factory
Partagas Cigar Factory is situated in a working-class neighbourhood of Havana. Watch hundreds of young workers hand roll cigars on a guided tour of the factory floor. Learn about what goes into making a great Cuban cigar.  Some of the rollers may try to sell you their allocation, as they are allowed to take home 5 cigars per 8-hour day in addition to their wages. According to our guide, most Cubans don't smoke so they are often sold to tourists as a side-hustle for extra income. There are no visitors allowed in R&D where new flavours are being created, nor in the packaging department. Note that no photos are allowed on the factory floor.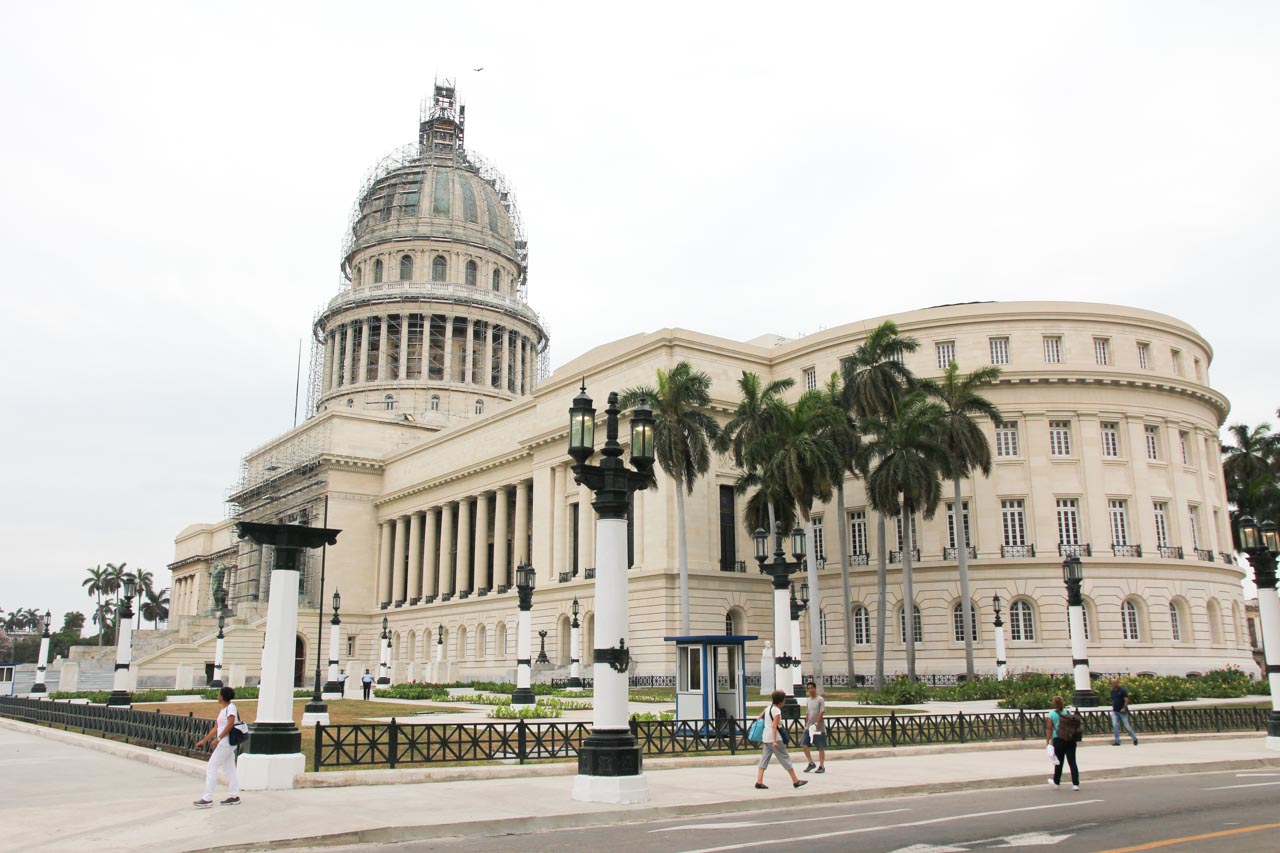 Listen to live music
Spend an evening at one of Havana's best live music venues such as jazz club La Zorra y el Cuervo (The Vixen and the Crow) or El Gato Tuerto (The One-Eyed Cat) for musical styles such as bolero, trova and jazz. Music is synonymous with Cuba, so you mustn't miss the chance see some live.
Explore Havana museums
There are many museums to visit in Havana depending on where your interests lie. I suggest starting with the National Museum of Fine Arts (Museu Nacional de Belas Artes de Cuba) and the Museo de la Revolución. Drop into the Museum of Pharmacy Habanera for a short visit also, while you are exploring Old Havana. If you are an art enthusiast or graphic designer, make a brief stop at the Taller Experimental de Gráfica, a printmaking workshop and gallery in Plaza de la Catedral.
The only one we visited that I suggest you skip is the Havana Club Museum of Rum. The Museum offers tours through exhibits that explain the rum-making process and finishes with a tasting. The tour is fine for those who have never been to a rum distillery before or have only a superficial interest in the libation. However, if you consider yourself a rum connoisseur or have experienced a distillery tour previously, I would recommend skipping the Museum.  Visit Appleton Estate next time you're in Jamaica instead!
Rumba down to Callejón de Hamel
Callejón de Hamel is an alley of art created by Salvador González Escalona, a Camaguey-born artist. The two-blocks of decorated laneway began in 1990 when he began to create murals and sculptures to represent Afro-Cuban culture and history. The vibrant street has attracted musicians and rumba dancers who perform on Sundays for onlookers. For more pictures of Callejón de Hamel and other Havana street art, check out this Art on the Street – Cuba post.
Walk the Malecón
Take a sunset wander along Havana's 8km oceanside promenade and sea wall. Along the way you'll see passing classic cars, locals hanging out and fishing, great architecture and public art. At the mouth of Havana Harbour are great photo opportunities with the fortifications of Castillo de San Salvador de la Punta and the lighthouse of Faro Castillo del Morro. My favourite piece of art along the Malecón is the sculpture entitled "Primavera" but Cuban sculptor Rafael San Juan.
Take in Paseo del Prado
Another perfect place to take a leisurely saunter is the leafy promenade of Paseo del Prado. The tree-lined street was originally constructed in 1772 and reworked in 1925 by a French landscape architect. It features bronze lions, lampposts, and marble seating, and is a typical place to find local artists selling their work. The boulevard passes by some incredible buildings such as the Gran Teatro de La Habana and Hotel Sevilla.
Where to eat in Havana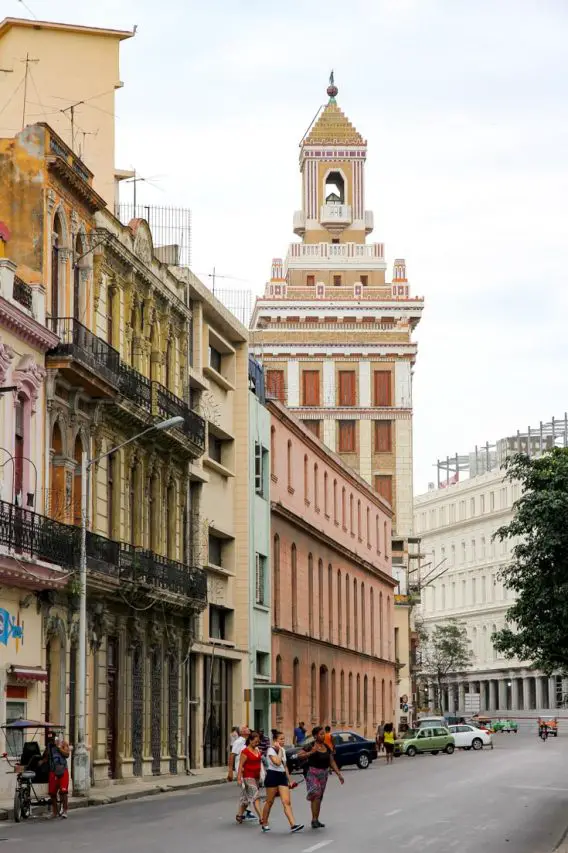 Cuba isn't the foodie destination it should be. Unfortunately, most of the country is still living on food stamps and the once rich traditional cuisine has somewhat died out due to lack of ingredients. The best food in Cuba is reserved for tourists and we rooted out a few favourite establishments while in Havana:
O'Reilly 304 in Old Havana is great for cocktails and delicious, tapas-style small plates. Great for gin lovers.
Los Mercaderes, also in Old Havana serving Mediterranean cuisine in a renovated colonial circa 1890.
Café Laurent is a paladar hidden in the penthouse of an unassuming 1950s, Vedado apartment block. The restaurant serves a Spanish Basque-inspired menu for lunch and dinner.
El Concinero in Vedado is great for dinner and cocktails at their rooftop bar (reservation recommended).
Atelier is another great spot in Vedado with a rooftop terrace. Handwritten menus that change daily.
Where to stay in Havana
Casa particulares ("casas" for short) are the main form of accommodation for visitors to Cuba. They fall somewhere between a homestay and a bed and breakfast. As casas are private homes, each experience is unique to the owner and its occupants. Here are two very different Havana casas, both of which we stayed in and loved.
Casa Alta – Comfortable, minimalist, modern rooms with references to the colonial buildings historic past. Casa Alta is located centrally in a very walkable spot in Old Havana. The Casa has a fabulous rooftop terrace where breakfast is served and happy hour mojitos at sunset. However, be aware you will need to climb several flights of stairs – no lift available. http://www.casaaltahabana.com/
Portería – A wonderful, art and antique-filled bed and breakfast in the Vedado, a suburb of Havana that in its heyday was home to wealthy Cubans and foreigners. When the Revolution struck, many of the homes and contents were abandoned as their owners fled the country. The properties were distributed to remaining residents by the Cuban government. Casa Porteria is a lovely hacienda-style accommodation in this quiet area of town just a few blocks walk back from the Malecón. The casa has lovely staff, clean, comfortable rooms and a delicious breakfast in a beautiful setting. http://www.porteriabbb.com/en/
For more, see these Five Fantastic Places to Visit in Cuba, and please drop any questions below in the comments, I'd love to help!
Peace, love & inspiring travel,
Madam ZoZo