Colombia is sooo hot right now! With popular tv shows dramatizing recent history and much-improved security of late, travellers are flocking to the South American nation. Blessed with both Caribbean and Pacific coastlines all the way through to high Andean peaks and an equatorial climate, Colombia has a lot to offer. Here is your guide on what to wear in Colombia for a trip that explores the diverse environments and cultures of this beautiful country.
Disclosure: I may earn compensation from the purchase of any product or service linked on this website, at no extra cost to you. I only link to products I use and love, therefore feel comfortable recommending.
General packing tips for Colombia
Climate
Colombia has a tropical climate however temperatures vary with altitude – mountainous areas can be much cooler than sea level regions. It's best to look at the climate information for your specific destinations here. This Colombia packing list will cover for the cool heights of Bogota to the balmy coastline of Cartagena.
Clothing and comfort
Colombia's tropical climate means lightweight, breathable fabrics are a must. Think cotton, linen, silk and wool.  Avoid synthetics such as polyester and nylon (except for swimwear and wet weather gear) as they will make you sweat. If you're travelling to cooler areas, Merino wool is perfect. It will keep you warm during cool nights and mornings, and wick away heat as the day warms up.
Currency
Due to problems with card skimming, it is best to deal mostly in cash while in Colombia. Take a small amount of cash to exchange when you arrive at the airport, so you can cover your taxi. Buy something small like a bottle of water before you leave the terminal to acquire change, as taxi drivers won't provide change for larger bills.
Then withdraw local currency from an ATM on the ground in your destination. Ensure you understand the fees associated with your cards and which brands of ATMs to look for, before you leave home. Using ATMs at banks is the safest option. Note ATMs have small transaction and daily withdrawal limits. Take out as much as you can each time to avoid excessive fees. Also note that due to the limited withdrawal amounts, ATMs often have long queues, so plan to visit ATMs first thing in the morning.
Etiquette and style
Take a cue from Colombian ladies who prefer body-hugging silhouettes to bearing excessive amounts of skin – at least if they want to avoid unwanted attention. Grooming and dress are important to Colombians, so leave beachwear on the beach and go for a more elegantly casual look when in larger cities. Colombian men tend to dress in long trousers (rarely shorts) and wear covered shoes. No flip flops!
Electronics
Power in Colombia is delivered at 110-127 volts, 60Hz and plugs have two flat input pins with a third round earth pin (similar to the US). Depending on where you are travelling from and what kind of appliances you are bringing, you may need a voltage converter and/or adaptor. Generally, modern phones, tablets and laptops are made for both 110-127V and 220-240V, but it is wise to check this detail.
Luggage
Usually, I'm an advocate of roller bags, but there are a few places where a backpack is ideal. Luggage wheels don't fair so well on uneven footpaths and stairs are more common than elevators.
A smaller backpack or cross-body style are good day bag options depending on your activities. A dry bag can be useful for water-based excursions—we pack a Field & Stream 5L dry bag, which is big enough for our DSLR camera, money, phones and even a small towel if necessary.
If you are taking domestic flights within Colombia, note that airlines are very strict on weight and size limits. Budget carriers like Viva Air have a 10kg, 40x35x25cm limit for hand luggage, and 15kg, 158cm linear restriction for checked bags. A personal item must not exceed 6kg, 40x35x25cm. Yes, they will measure each and every bag.
Environment
Respect Colombia's natural beauty and consider the environment when packing. Look for ways to minimise packaging and disposables – these guides will help: 8 Essential Eco-Friendly Travel Products and 5 Steps to More Sustainable Travel.
Furthermore, consider the environmental impact of the cosmetics and bathroom products you take on coastal ecosystems and waterways. For example, some ingredients in typical sunscreen can be harmful to reefs. This thorough review (by snorkellers) on water-resistant, coral-safe sunscreens will run you through the best options.
Health
There is a risk of mosquito-transmitted diseases such as Zika Virus, Dengue Fever and Malaria in Colombia. Pack an insect repellent that contains recommended amounts of DEET, picaridin or other approved product e.g. RID Tropical Strength or OFF Deep Woods. Consult a doctor or travel clinic about your specific itinerary and whether you need vaccinations or preventative medications.
You also need to provide evidence of your Yellow Fever vaccination, particularly if you are travelling from other parts of South America. See more details about Yellow Fever vaccine requirements here.
Passport and visas
Ensure your passport has at least 6 months validity and plenty of pages for your new passport stamps. Check whether you require a visa – it will depend on the country of your passport. Also, check for entry or exit fees.
Security
Colombia is a developing nation. As someone who can afford an international vacation, you are assumed to be wealthy in the eyes of impoverished locals. Pickpocketing, petty theft and muggings are a problem in prominent tourist areas. Keep your valuables to a minimum, secure those you must take and don't flash them around. It also helps to dress casually. As the Colombians say "no des papaya" which translates to "don't give papaya". In other words, be careful, don't make yourself vulnerable.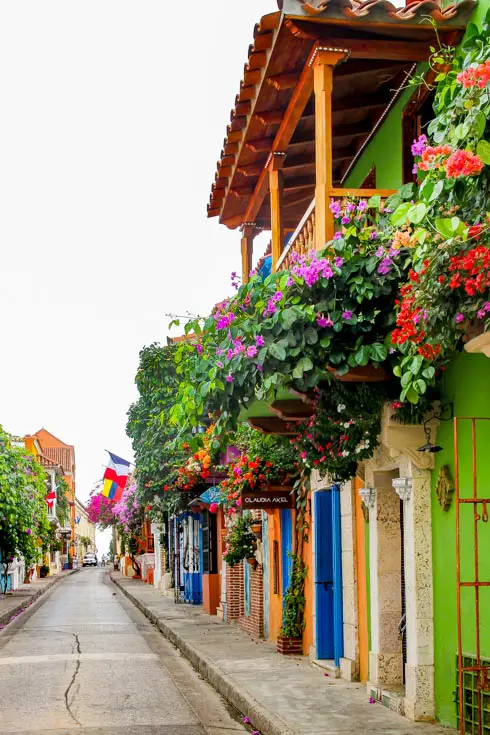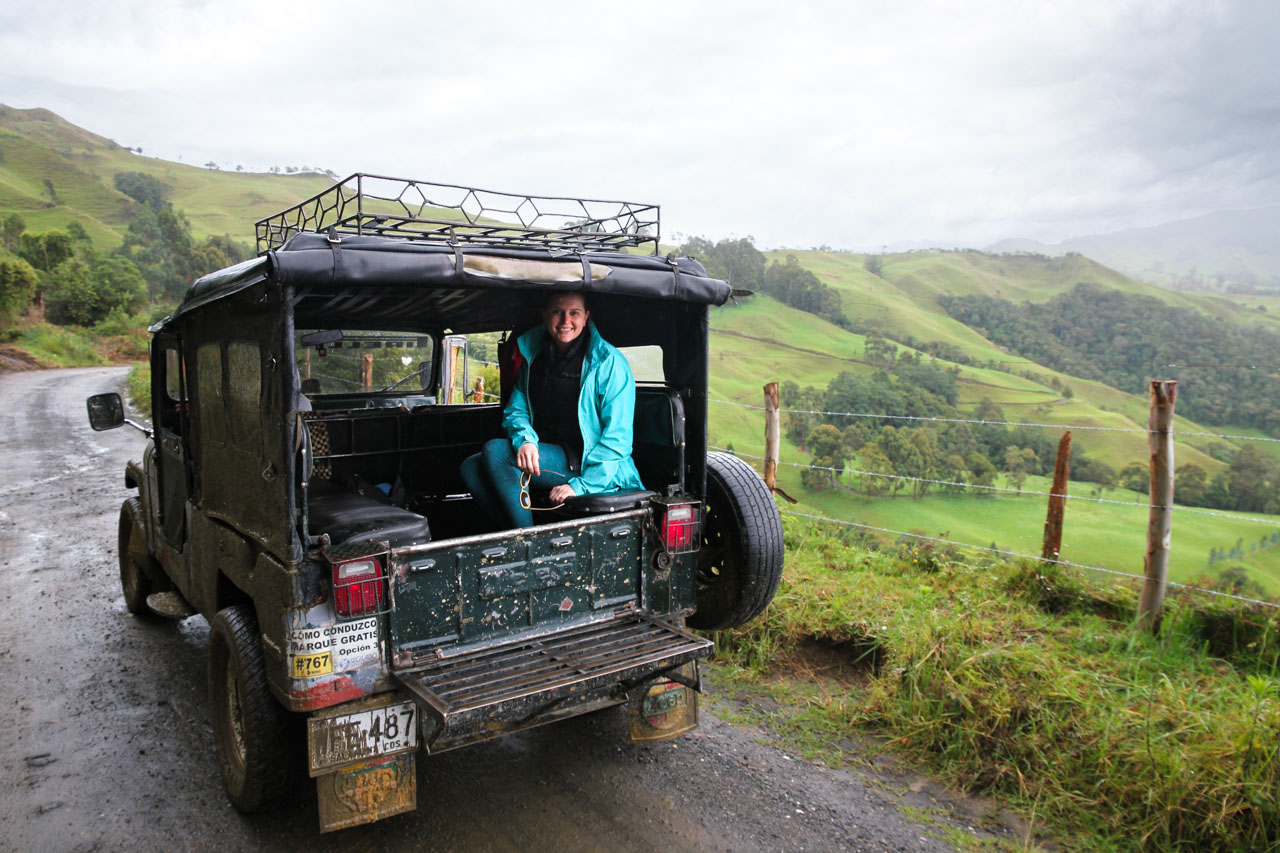 What to wear in Colombia – packing list
Basics
Underwear, bras and socks – pack just a week's worth and wash in the shower or bathroom sink.
Sleepwear – including sleep mask and earplugs
Shirts – pack 1 t-shirt for every 2 days of your trip.
Shorts – pack 1 pair of shorts for every 3 days of your trip. I recommend shorts that will be cool, provide sun protection, and are comfortable for extended walking.
Midi-Skirt or dress- maybe substitute a pair of shorts for a midi-skirt if you feel it's appropriate for your itinerary.
Activewear or preferred hiking clothes, such as zip-off khakis, depending on activities.
Jeans – 1 pair of jeans.
Fleece or light down jacket.
Rain jacket or poncho.
Shoes – depending on the activities you have planned, you will need a pair of comfortable walking shoes and a nice pair of sandals. Heavier duty hiking boots may be ideal depending on your activities.
Hat – preferably with a wide brim.
Sunglasses – UV rated to protect your eyes and polarizing to cut glare.
Swimsuit – pack 1-2 because in the tropical humidity everything takes longer to dry, so if you prefer to put on a dry suit in the morning pack two and alternate.
Rashguard – may provide more fool-proof sun protection than just sunscreen for us fairer skinned folk.
Sarong – or cover-up to keep you sun protected and modest between swims.
Accessories – jewellery (preferably costume jewellery) or other accessories to dress up an outfit in the evening. I travel with one chunky necklace and a light scarf.
Toiletries
Deodorant
Toothpaste and toothbrush
Shampoo and conditioner
Face wash
Body wash
Moisturizer
Make up
Razor
Hair accessories (ties and pins)
Menstrual cup/ tampons
Sunscreen 30+ or above – don't forget that the sun at altitude can be as vicious on the skin as it is on tropical beaches.
Lip balm with SPF 15+ minimum
Insect repellant
Aloe vera – doubles as sunburn relief and body moisturizer.
A cake of laundry soap to wash underwear and socks in the hotel basin if required.
Gadgets
Camera and accessories including charger, spare batteries; SD cards; and tripod. Polarizing and neutral density filters for your DSLR would also be helpful for the harsh tropical light.
Waterproof camera is ideal if you plan to kayaking, snorkelling, diving etc. We pack the Olympus TG-3 Waterproof which has been fantastic though it is a few years old now. (Latest model is the Olympus TG-5)
Unlocked phone and charger
International adapter
Step-down voltage converter
Portable charger
Portable hard drive
Day bag/ backpack
Refillable water bottle – many hotels offer filtered water stations where you can refill.
Waterless hand sanitizer
Bandana – alternatively a cloth napkin or handkerchief
Toilet paper – kept in a ziplock bag to keep it dry.
Headphones
First aid kit
Medications and prescriptions
Dry bag – for keeping your camera, phone and other valuables dry, during water activities.
Sunscreen
Lip balm with SPF 15+
Insect repellent
Flashlight or headlamp – ideally a headlamp to keep you hands-free.
Money belt – alternatively a bra pouch or other secure wallet.
Lightweight beach towel – a microfibre travel towel or peshtemal (cotton Turkish towel) are ideal.
Guidebook
Making memories and filling spare time
Book
Sketch pad and pencils/paint
Notebook
Tablet device
Laptop
Diary
Recording equipment
What I Packed for Colombia
Here are some of the key items that I packed and wore during our Colombia adventure, crossing a range of climates from tropical Cartagena to the more temperate Andean mountaintops and valleys of the Coffee Region.
Marc by Marc Jacobs cotton shift dress
Merino wool thermal base layer
Camixa linen button-up
Kathmandu puffer vest
Cotton tees
Grana silk shorts
Sunglasses
Mimco rollable hat
Denim shorts
Cotton seersucker midi skirt
Swimwear
Cynthia Steffe dress
Canvas tennis shoes
Abeo Brynn walking sandals
Salomon trail runners
See this international travel checklist for additional considerations for your travel through Colombia, along with these things travellers often forget!
Peace, love & inspiring travel,
Madam ZoZo