I laugh thinking of the days I conscientiously carried around a pegless clothesline that was recommended to me as a "travel essential" the very first time I jet-setted away from home (and that I never, EVER used). That was back when I carried a film camera and social media didn't exist. Now with years of experience and wisdom acquired from all types of adventures, my packing list looks a lot different to how it did back then.
If I was to sit down now with my younger self and recommend travel essentials to invest in, it would look something like the following: a list of indispensable items that rides shotgun in my luggage no matter what the destination or activities involved, and that I now recommend to you, dear traveller.
Disclosure: I may earn compensation from the purchase of any product linked on this website, at no extra cost to you. I only link to products I use and love, therefore feel comfortable recommending.
1. Packing Cubes
No one wants to waste time digging through a bag to find the thing they need – packing cubes are a simply genius way to keep everything organized. Some travellers pack cubes by outfit, but I prefer to keep like items together. For example, all tops in one, bottoms in another, one for underwear and another for accessories such as scarves, sarong etc. Cubes make it so easy to pack, unpack and lay your hand on the right item quickly. Get my full guide to packing a suitcase here.
2. Headwear
If it's summer, a wide brim for sun protection is best and in winter, something to keep you warm – just make sure you pack a hat wherever you go! Not only will it protect you from aging sun rays or frostbitten ears, but a hat is also great for disguising a bad hair day or creating a "do not disturb" vibe when you need quiet time.
For water activities, pack a hat that can survive getting wet, and a chin strap may seem like a fashion faux pas but they are a necessary evil for windy locales and boat trips.
3. Sunglasses
Sunglasses are a no-brainer but don't just pack the kind that looks good, ensure they provide 100% UV protection (also labelled as UV 400 protection). I would add that polarized shades are best if water sports or snowy/icy destinations are your jam as they cut down on glare from these kinds of reflective surfaces.
4. Secure wallet
Pickpocketing and theft are a risk wherever you travel in the world – don't get caught out! Use a money belt and/or crossbody bag with two closures (zip AND button/clip). A scarf that has a hidden pocket like these ones from Pierron Designs, is another way to fashionably secure your valuables close to your body. More on travel security here.
5. Air security approved liquid bag
I got sick of wearing through ziplock bags and finally purchased a reusable, air security compliant bag. The stand-up, wide-bottom design of this bag makes it much more useful for packing and worth the small investment alone! Now that I'm flying carry-on only most of the time, this is a travel essential.
6. GoToob carry-on size liquid containers
I broke and leaked my way through a few sets of cheaper, more flimsy, carry-on toiletry bottles and containers until I came across Humangear's GoToobs. Since using GoToobs for over a decade now, I have never had a leak or a break and I'm still using my original set.  I've even bought them as gifts for others.
The wide opening makes refilling them easy, and the twist top has inbuilt labels. I now have two sets: 3oz for extended travel or products I need more of, and 1.25oz bottles for shorter trips.
7. Hand sanitiser
My (almost) public health degree wasn't wasted! Especially the microbiology and communicable diseases units. I will always choose soap and water as a first preference because I hate overusing antibacterials (if you want to know why this article sums it up), but there are situations where sanitation isn't readily on hand and you'll be glad you carried hand sanitiser.
A bottle of travel-size hand sanitiser with a carabiner that attaches to the outside of your bag makes for better accessibility and helps keep hygiene top of mind. Since the pandemic started, I have also added a face mask to my travel essentials kit.
8.Eye mask and earplugs
I didn't buy anything special here, I actually made my own eye mask with scrap fabric from home and kept some earplugs I received on a flight years ago and didn't use. Though I have never used the earplugs, I have come close enough that I always have them on hand. They are so small and light, it's worth it.
9. A pen or two
Pack a pen in your carry-on to ensure you can fill out a customs form while you're still on board and save time later. I pack two, as I inevitably end up lending one to someone else and sometimes don't get it back (i.e. don't want to stand around waiting for it while the customs queue is growing).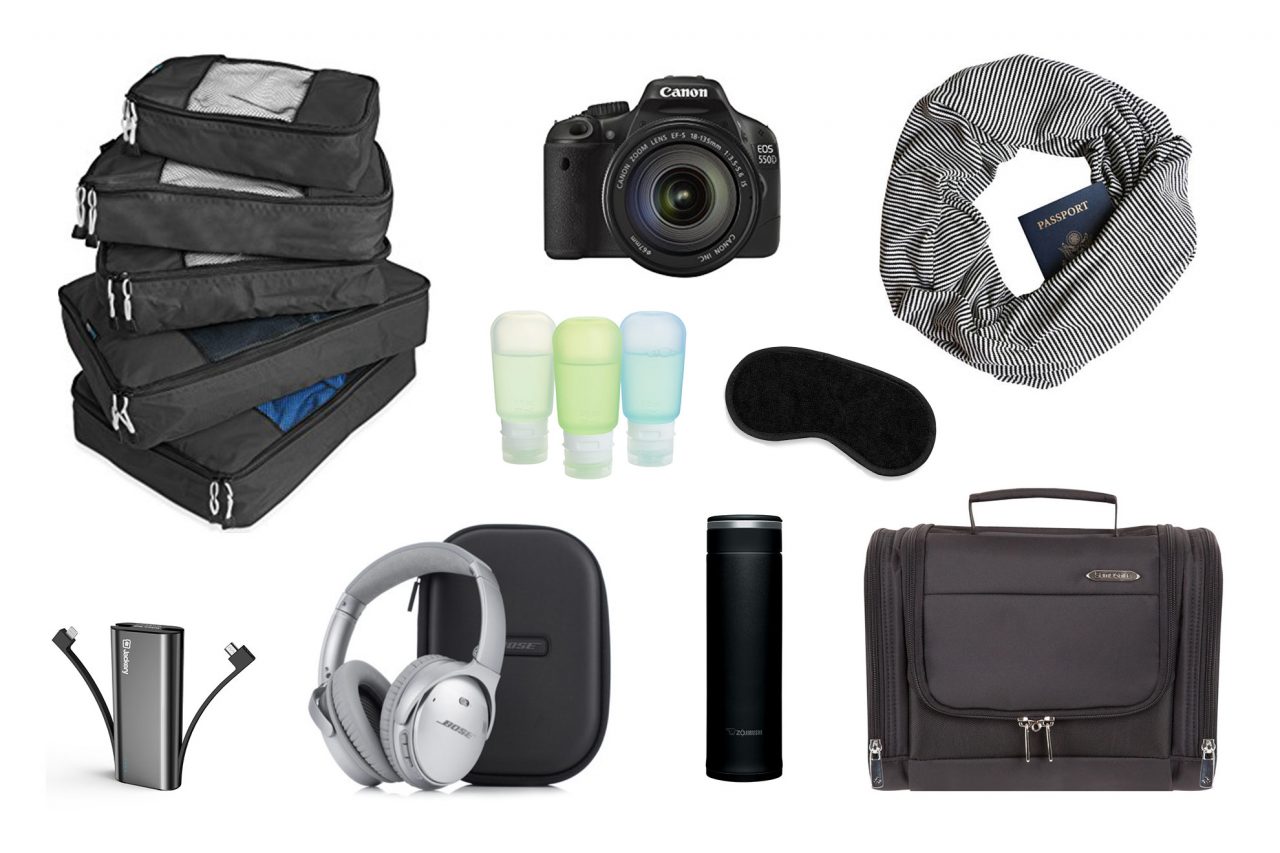 10. Fully sealable travel mug/thermos
Like me, you probably always carry a refillable water bottle, but I also carry an insulated travel thermos for hot and cold drinks. I made the change initially to save the world hundreds of non-recyclable take-out coffee cups but I've found it has other wonderful benefits.
Firstly, I tend to drink less tea/coffee because I drink it over a longer period without needing to skol it when it starts to get too cool. Secondly, I can buy a proper tea/coffee at the airport (once through security) and take it on board – no more revolting onboard drink service – and it will keep warm in that over-zealous air conditioning for hours.
11. Headphones
Headphones are essential for keeping entertained and sane during long commutes. Earbuds will do, but if you splash out for some good quality, wireless, noise-cancelling headphones you will find they are also an excellent sleep aid (i.e. replace the need to carry the aforementioned earplugs).
I pack Bose QuietComfort 45 which are not only at the forefront of noise-cancelling technology, but they fold down flat into a slimline case perfect for travel. They also come with the plugs and cables you need to charge them and connect up to the in-flight entertainment system.
If you like to go walking/jogging with headphones, I recommend still packing your earbuds because it's safer to hear a little of what is going on around you, and over-ear headphones get very sweaty.
12. Power bank
For those who work from the road or use their phone as their camera, you will be glad to have some extra juice at the ready when that dreaded low battery indicator starts flashing. Charge this travel essential before departing and pack in your carry-on.  I have fortunately acquired a couple of free power banks over time but if your looking for a recommendation The Wirecutter recommends Zendure Mini Portable Power Bank which has the capacity to charge a midsize smartphone 2-3 times.
13. Camera
It goes without saying really. If you want to capture those wonderful, crazy and indescribable moments on the road, a camera is a travel essential. Whether you're using your phone, point-and-shoot style or something more specialized, a camera is an absolute non-negotiable travel essential.
I use a Sony A7III and bought a ProShot case to transform my smartphone into a waterproof camera (although I recently upgraded to a GoPro for underwater and general video). My phone still comes in handy for panorama shots and I find it the simplest for making short videos.
14. Travel insurance
Insurance is a travel essential! Don't believe me? Here I dish the the drama on five recent circumstances where we were really, really relieved to have purchased travel insurance. I also delve into how I go about choosing a policy and making claims.
15. Drybag
If you overturn your canoe, get caught in a torrential downpour or have to make a wet landing to go ashore, it is a relief to know at least your valuables are dry. Additionally, though I haven't tried it myself, long-term travellers and campers are known to use dry bags to do their laundry. Drybags come in various sizes depending on whether you just want to keep your camera/phone/wallet dry or you want to put in a towel and a change of clothes.
I picked up a basic Field & Stream 5L dry bag at the last minute before our trip to the Galapagos Islands, which has served its purposes so far especially considering the price point of USD10. My fellow travellers commonly recommend Såk Gear waterproof dry bags for their great quality and extra features.
16. Microfibre towel
Though most accommodations provide towels, you may need an extra one for activities like watersports, camping and swimming,. Microfibre is the way to go. It's soft, lightweight, quick-drying and rolls down very small to preserve space in your luggage. My original Kathmandu microfibre towel bought over ten years ago is still going strong.
17. Headlamp
When I began travelling many years ago it was all about the Maglite flashlight, but I can tell you there's nothing better than being handsfree when you're stumbling around in the dark. Whether you are caving, or just trying to find the bathroom in the middle of the night in a new hotel room, a headlamp makes life easier.
18. Laundry soap bar
Travelling light has many virtues – a carry-on size bag is easier to lift and maneuver; incurs fewer, if any, baggage fees; and a light pack means you can save room for souvenirs. As per my travel capsule wardrobe formula, I generally recommend packing for a one-week block, then wash and re-wear your core 7-day pack over as many weeks as you travel.
Sometimes you need a laundromat or service for a bigger wash. However, if it is just a few small items like underwear and socks, or maybe you need to clean up a small spill, then you will find a bar of laundry soap very handy. While bathroom soap or hotel shampoo might do the trick in a pinch, a heavier duty laundry soap does the job better.
Being a solid bar, it won't add to your liquid count for air travel. It also lasts forever! You can even cut the bar into smaller pieces if you don't want to travel with the entire thing.
I guess that brings us right back to the pegless clothesline – well, you don't need one. Between chair backs, doorknobs, towel rails and bathtubs etc there are plenty of places to hang things to dry.
Long, short, near or far, flying, driving, hiking or swimming – these are the travel essentials you need to pack. If you have any questions or would like to suggest additional items, drop me a comment below.
Peace, love & inspiring travel,
Madam ZoZo