Spend a weekend in Indianapolis discovering the motor history, creativity and culture that keeps "Indy" firing. Beyond the famous race circuit is a city filled with history and art to uncover. Pack your walking shoes, because much of Indy is a city best experienced by foot – when you're not in an Indy car that is!
Disclosure: I may earn compensation from the purchase of any product or service linked on this website, at no extra cost to you. I only link to products I use and love, therefore feel comfortable recommending.
The start line
If you are interested in attending a Motorsport event or driving/riding in an Indy car, then this will be your first priority. Check dates and availability before you plan your trip, and book well in advance. Indy Racing Experience offers various options for riding or driving an Indy car at Indianapolis Motor Speedway, a track so significant in Speedway lore it's been designated a National Historic Landmark.
I was happy to ride with a professional driver in a modified, two-seat car, while James wouldn't settle for anything less than taking the wheel himself. Indy Racing Experience allowed us to split their Ultimate Package between the two of us, saving us approx. $300 on purchasing the experiences separately.  The 2-3 laps fly by at 290km per hour, but you won't get this same experience anywhere else!
Tread the Cultural Trail
The Indianapolis Cultural Trail links many of the city's, cultural and heritage hotspots. You can walk or cycle the 8-mile trail which is the perfect introduction to the city and its cultural districts, each with their own distinct personality. If you don't have the time or inclination to complete the entire trail, I recommend the beginning at Monument Circle and wandering the Canal and Mass Ave portions of the trail. These offer the best public art and architecture and will take you passed Indiana State Museum and the Eiteljorg Museum of American Indians and Western Art.
Experience three in one
What most impressed me about the Indianapolis Museum of Art was that it's not just a gallery, but shares grounds with a historic country estate and garden, and completing the trifecta is the nearby 100 Acres: Virginia B Fairbanks Art & Nature Park.
Indianapolis Museum of Art
The Museum itself is the ninth oldest art museum in the United States and the eighth largest. Since it was founded in 1883, the Museum has amassed a permanent collection of 54,000 pieces, including African, American, Asian and European works. I found the Modern & Contemporary Art collection to be particularly inspiring and will be sharing more of the Museum highlights here.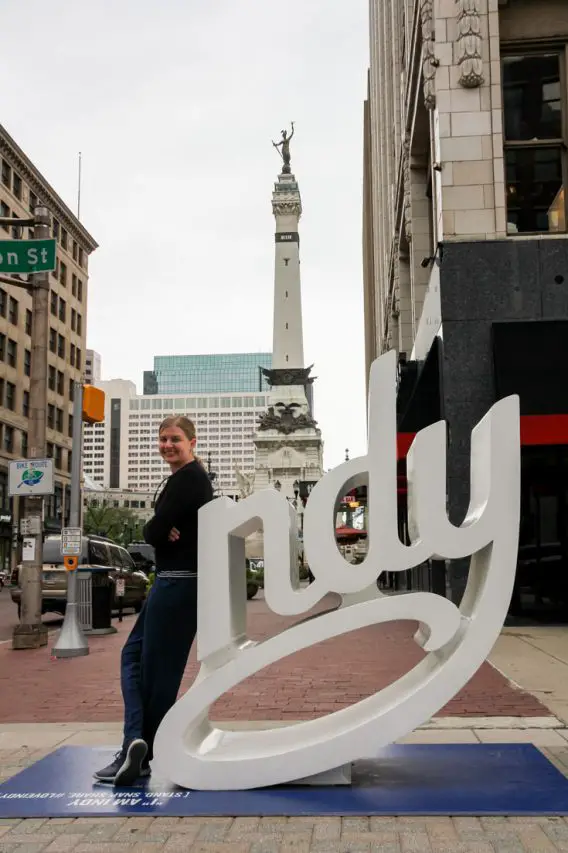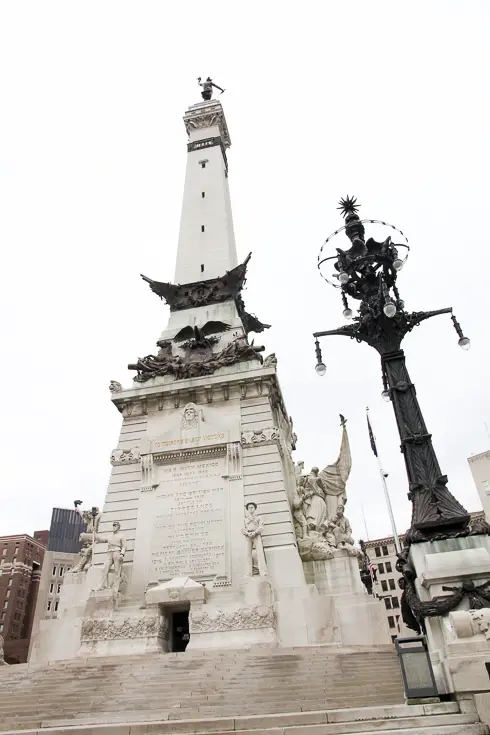 Lilly House
In the same location, you can walk through Lilly House – formerly "Oldfields"- a divine 22-room mansion and its 26-acre estate. The home was originally commissioned by Indianapolis Water Company executive, Hugh McKennan Landon in the 1910s. In 1932, he sold the home to J. K. Lilly Jr. and his wife Ruth Brinkmeyer Lilly who made a number of extensions and renovations.
The home now has eight rooms beautifully staged with historical accuracy, using mostly décor owned and used by the Lilly's themselves. Additional rooms are used as museum exhibition space. Lilly House is included in Museum admission and definitely worth a walkthrough! If the weather is fine, make sure you take a walk through the surrounding gardens and Madeline F. Elder Greenhouse.
100 Acres: Virginia B Fairbanks Art & Nature Park
Virginia B Fairbanks Art & Nature Park is 100 acres of nature studded with site-responsive artworks. The Park encompasses various ecosystems including wetlands, woodlands, meadows, and a 35-acre lake. There are approximately 3mi of trails to explore in the dog-friendly Park. Picnics are encouraged, however, no grills or fires allowed.
Broad Ripple
The formerly mentioned Cultural Trail links up to the Monon Rail Trail, which will take you out to Broad Ripple – is it just me or does that sound like the name of an ice cream flavour? For weekend travellers, I recommend driving out the village and getting a bite to eat. Grab an ice cream at BRICS and wander a smaller section of the trail to get a feel for the cultural district which is home to Indy's creative class. You will see why it is referred to as a "village" with its quaint, suburban feel, towpath views and the Patachou Foundation veggie patch.
Top tips for planning your Indianapolis weekend
If you're looking for a weekend getaway incorporating adrenaline, art and nature, Indianapolis is the right choice! Indy will provide you with the means to get your fill of motorsport, culture and history, all in one walkable city. See more Midwest Weekend Getaways here.
Peace, love & inspiring travel,
Madam ZoZo