Before you rush off to the Peruvian highlands to hike in the footsteps of the Incas, soak in the panoramic Andean vistas and explore the revered, Machu Picchu—you'll need to consider carefully what to pack. Preparation for this kind of adventure is not something you want to leave to chance or leave to the last possible moment. Don't worry, I've got you covered with this all-season Inca Trail and Machu Picchu packing list.
We'll cover the weather and the conditions you might expect when trekking; how to adapt your clothing choices to the different seasons; what kind of bag to take; a full checklist of items for both men and women; and a few optional/luxury items that will make your experience a little more comfortable.
If you don't find the information you are looking for here – check out this guide where I answer all your questions about hiking to Machu Picchu.
Disclosure: I may earn compensation from the purchase of any product or service linked on this website, at no extra cost to you. I only link to products I use and love, therefore feel comfortable recommending.
General notes on this Machu Picchu packing list
Climate
Peru experiences two well-defined seasons: wet (May to September) and dry (November-March). As you can see from these climate charts, average maximum temperatures only vary a couple of degrees throughout the year (19-22C/66-72°F). The big variables are minimum temperatures and rainfall.
Most hikers prefer to take the Inca trek during the dry season which coincides with the winter months: May through October. The benefits are warm days and sunny skies with less chance of rain. The downside is that temperatures drop significantly in the evening (can be as low as -3°C/27°F).
April and October are considered the shoulder seasons, when you may have fewer fellow hikers but weather can be unpredictable.
Throughout summer, minimum temperatures are higher (typically 7°C/45°F) but rainfall is much more likely. The Trail is closed completely in February (the second rainiest month) for restoration. Despite the wet weather, December is another favourite with hikers, as the mountains are covered with blooming wildflowers
We trekked in March because we also wanted to visit Rio for Carnival in the same trip and we couldn't go before Carnival because that would have been when the Trail was closed during February. We experienced mixed weather, with quite a lot of rain. The greatest disadvantages were a slippery Trail and views marred by rain clouds.
Luggage
Each Inca Trail tour provider is going to vary a little, so I'm going to brief you based on our experience which admittedly was probably a little more luxurious than most because it was just my husband and me in the group. That said, the key logistics are similar across all tours.
Your main luggage will stay locked in a storage space in your Cusco hotel and you will take only what you absolutely need on the Trail, plus any valuables which should not be left in your stored luggage.
Prior to departing Cusco, most agencies will provide a briefing of the Trail and leave you with a duffel bag to pack the items you would like to be carried by the porters. This has a weight limit of around 6-10kg (again depending on your provider). In this duffel bag you would typically pack a minimum of 1-2 changes of clothes, essential toiletries and a second pair of shoes. Also, possibly a sleeping bag and mat. More details on exactly what to pack in a minute.
The second bag, which you will need to supply is your day pack – I took a Black Wolf pack similar to this one that I'd had for years and lasted me almost another decade after the Trail. This will contain the things you need to have on your person at all times, such as medication, camera, passport, valuables, water bottle and snacks. You will be carrying this one, so be mindful of how much you load up.
Clothing
I will give you an itemized list of things to pack for the Inca Trail further below—these are some more general notes on selecting clothing items.
You will not have the opportunity to shower on the Trail, which means changing your clothes can help you feel fresher but you're going to be a little stinky at the end no matter what. I found one set of thermals to sleep in and one full change of clothes (aside from the fresh outfit I started the trail wearing) was sufficient for the 4-day Classic Inca Trail.
Layering is key. Even in winter, days are relatively warm, particularly when you get that heart rate up on the Trail. Though mornings and evenings around camp will be cold, not to mention that final day, standing at the checkpoint at 5am… brrrrr.
If you've followed any of my other packing lists, then you will know I am a great proponent of natural fabrics, especially in the tropics and most certainly when active. Clothing made of breathable, natural fabrics like Merino wool and cotton are great to pack for the Inca Trail. The only caveat is if you have an allergy to particular natural fibres and for wet weather gear, which requires polyester/nylon for waterproofing.
I recommend cotton items for the daytime and Merino wool for the evening. A warm outer layer made of down (or down alternative) is also worthwhile but remember that if down gets wet it is not as effective as an insulator. It needs to have a water-resistant/proof outer, particularly if you are hiking in the wetter months.
Why Merino wool? Merino sheep produce wool that is thinner and softer than regular wool. It is also a great temperature regulator. I won't go into the technicalities here, you can find them all over the interwebs, just know that Merino wool will keep you warm in the cold and transport sweat away from your skin, keeping you dry and cool when the temperatures heat up. Wool also has that wonderful natural water resistance where rain beads on the outer surface, further keeping you dry. Merino wool is not cheap, it's an investment that will give you a lot of mileage if you care for it as per manufacturers' recommendations.
Health
The Inca Trail is above 3000m (10,000ft) where the air has a lower oxygen content and this can cause breathing difficulties, nausea etc. Your body needs time to acclimatize and you can aid the process by staying hydrated, drinking the local's coca tea and resting. Consult with your doctor or travel clinic about risk factors, symptoms and possible preventatives relating to altitude sickness.
Ensure you have all necessary medications with you in your day pack during your hike. Porters will often be ahead or behind on the Trail, so you aren't guaranteed access to your duffel bag while hiking.
We always carry a standard traveller's first aid kit like this one wherever we roam. You can buy these online or at your travel clinic. I recommend getting a kit from your travel clinic as the doctor can provide you advice and scripts for additional medications to treat headaches, vomiting, diarrhoea and other common but relatively minor travel health issues.
Environment
As of December 2018, Peru has banned all single-use plastics and non-biodegradable materials from Machu Picchu and other tourist sights. There are a few exclusions for medical items and snack packaging – however, you and your porters will need to pack out everything you take on the Trail, so think about minimizing packaging and disposables as much as possible when you are packing for Machu Picchu and the Inca Trail- these guides will help: 8 Essential Eco-Friendly Travel Products and 5 Steps to More Sustainable Travel.
Electronics
There is no access to internet or electrical outlets to charge devices along the Trail. Ensure all your batteries are fully charged in advanced, and you may like to take a portable power bank—especially if you plan on using your phone as a camera or listening to music.
Security
As previously mentioned, your main luggage will be stored in Cusco and you should not leave any valuables in that bag. As an extra precaution, we wrapped our main bags in these metal mesh, bag protectors. Though someone could easily hack through these in the 4-days your luggage is in storage, it is a deterrent – if there are 20 bags not wrapped in mesh and 1 bag that is, which would you try to break into?!
NOTE: You must carry your passport with you on the Trail as it is used to verify the information on your hiking permit (and there is a cute novelty passport stamp you can get).
Currency
The Peruvian currency is the Sol (plural: soles) and 1 Sol typically equates to around USD0.30. Tour inclusions vary, so the amount of cash you take on the Inca Trail will depend. You can read more in my aforementioned guide to hiking to Machu Picchu.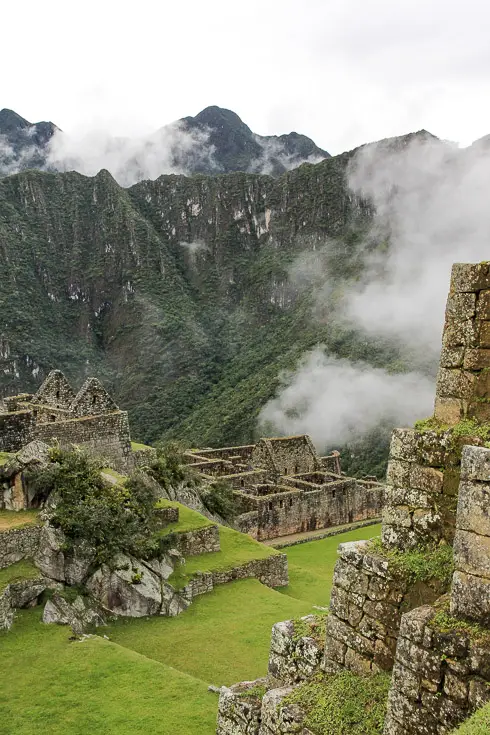 Inca Trail & Machu Picchu Packing List
The following list includes notes about individual items. There are two versions of the clothing list for different seasons, and the rest of the list remains the same for all travellers. There are buttons at the end of the Machu Picchu packing list to download a simplified, print-ready version of each seasonal checklist.
Clothing for May to September
Underwear and socks—A fresh pair of socks for each day is a lightweight luxury that I recommend to feel a little more fresh on the Trail. Again, Merino wool socks are the bees-knees.
Thermal base layer – 1-2 sets of full-length thermal base layers are warm and comfortable for sleeping in and an added layer if you need it during the day.
Tracksuit – An additional sleeping layer and warm clothing to wear around camp at night.
Shirts – 2 long-sleeve cotton shirts or Merino wool shirts for hiking in.
Long pants/khakis or leggings – 2 pairs. Zip-off style khakis may be preferable if you tend to overheat or…
Shorts – I-2 pairs.
Shoes – 2 pairs, one for hiking during the day and another pair to slip into around camp at night. More on shoe selection here.
Accessories – Beanie (or chullo – the Peruvian beanie with ear flaps) to keep your head and ears warm. As well as gloves and scarf.
Clothing for October through April
Underwear and warm socks—4 pairs. A fresh pair of underwear and socks for each day of the trek is a small, lightweight luxury that I highly recommend.
Bras – 2 Sports bra or similarly comfortable support for hiking.
Thermal base layer – 1 set of full-length thermal base layers is warm and comfortable for sleeping in and an added layer if you need it during the day.
Hoodie or down vest – An added layer of warmth for cooler mornings and evenings.
Shirts – 2 long-sleeve cotton shirts for hiking in.
Long pants/khakis or leggings – 2 pairs.
Shoes – 2 pairs, one for hiking during the day and another pair to slip into around camp at night. More on shoe selection here.
Accessories – Beanie (or chullo – the Peruvian beanie with ear flaps) to keep your head and ears warm.
Toiletries
Deodorant
Toothpaste and toothbrush
Face/body wash
Moisturizer
Hair accessories (ties and pins)
Menstrual cup/ tampons and biodegradable disposal bags – Throughout most of South America, local women use pads, making tampons difficult to come by at times. Best to BYO. Also, take along biodegradable disposal bags, as you will need to pack out the used items.
Biodegradable wet wipes – These are a good idea for freshening up mid-Trail when there is little opportunity for a shower. Try to select biodegradable wipes or use my favourite reusable muslin cloths.
Day pack
Reusable water bottle.
Hand sanitiser.
Bandana/cloth napkin/handkerchief.
Toilet paper in a ziplock bag to keep it dry.
Headphones if you would like to listen to music. Speakers are not permitted on the Trail.
First aid kit.
Medications and prescriptions.
Sunglasses – Preferably UV-rated to protect your eyes.
Sun hat.
Sunscreen – Remember even in overcast conditions you can get sunburnt, especially at altitude.
Lip balm with SPF 15+.
Insect repellant.
Rain gear – A rain jacket or reusable poncho are appropriate. I decided on a reusable poncho, because I could borrow it rather than purchase and it was large enough to cover my daypack so I didn't have to worry about a separate backpack rain cover.
Torch – A headlamp is invaluable for allowing hands-free movement around camp at night, just direct it downwards so it doesn't blind other people.
Camera – Including accessories such as fully charged batteries and SD cards.
Phone.
Portable power bank.
Passport and valuables.
Snacks.
Additional
Sleeping bag liner – If you are renting a sleeping bag from your tour provider, I recommend a sleeping bag liner for hygiene reasons and it's an added layer of warmth depending on the type of fabric it is made of.
Inflatable pillow – For added comfort.
Travel towel – Small (hand towel-size), quick-dry, lightweight towel.
Hiking poles – If you passed over my last two links regarding shoes, I highly recommend you click on this one, which will also explain why hiking poles are a really good idea!
Bag security – Mesh bag protector for your main luggage staying in Cusco.
Female urination device – All toilets on the Trail are squat-style and shared by many people—it's going to get messy! A GoGirl or similar device (there are cardboard disposable versions too) can be very helpful especially during the night when you are juggling toilet paper, possibly a flashlight and trying to keep your clothes off the wet floor – ick! I wish I discovered these devices that allow you to pee standing up, much sooner.
Is there anything else you recommend adding to this Inca Trail and Machu Picchu packing list? Share it with our community in the comments below.
Peace, love and inspiring travel,
Madam ZoZo